Some cheap PS4, Xbox One and Switch consoles are available now at eBay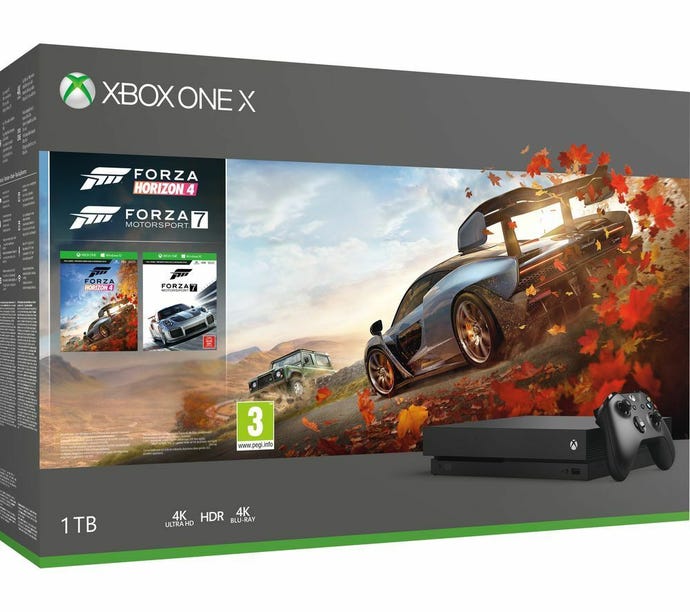 Until this Sunday, eBay is offering 10% off a whole host of electronic goods, so you can take full advantage to get some cheap PS4, Xbox One and Switch console bundles.more
When buying from one of the included sellers – such as Argos, Currys/PC World and AO – you can use the voucher code 'PRICEWIN' to get 10% off your order. These retailers and many more have some strong console bundles available so with the voucher code you'll save quite a chunk of change off the normal price!
For example, take this Xbox One X 1TB with Forza Horizon 4, Forza Motorsport 7 and Apex Legends Founders Pack that's now just £332.10. The console often comes with just the two racers included, so the addition of the Apex gubbins is a nice bonus extra. There are many Xbox One X bundles with other games available, too.
Elsewhere, you can also pick up the recently-released Xbox One S All-Digital Edition with Minecraft, Forza Horizon 3, Sea of Thieves is just £152.10 when using the 'PRICEWIN' voucher as well. Perhaps one to go for if you're thinking of adopting the Game Pass Ultimate approach in the future.
You can have a flick through the catalogue of those listed retailers and many more to find all the offers. To save you some time, we've rounded up some of the best PS4, Xbox One and Switch console bundles below:
As the voucher can be used across a whole host of tech goodies you might also want to have a look at the 4K TVs, wireless headphones and other bargains to be found across the site. Just remember that the maximum saving you can get is £100. Be sure make the most of it while you can if there's something you've been looking to pick up lately!
Maybe you've been wanting to get one of the best external hard drives for PS4 from out Jelly Deals roundup? The good news is the 4TB WD My Passport Portable Hard Drive is only £76.49 while the eBay code is active and it's one of our top picks from the list.
The 'PRICEWIN' code will be live until midnight on Sunday. Take the weekend to head on over to eBay and have a good look-see!