Champions Online open Beta gets a date with preorder goodies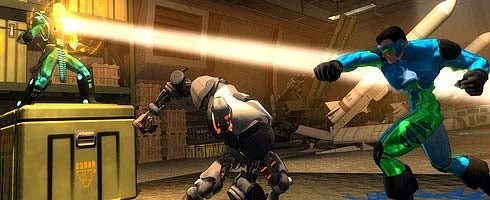 Champions Online goes into open Beta on August 17, and if you want in on all the fun, all you have to do is preorder the game to guarantee access to the Beta.
There are four different preorder options to choose from:
GameStop: Receive access to the Early Start Program. Battle an alien menace, collect exclusive items, and join the early start weekend to get a jump on the action! GameStop customers also receive the exclusive Insectoid Airfoil costume piece and Experimental Anti-Graviton Generator flight travel power at character creation for an early boost in mobility.
Wal-Mart: Exclusive Limited Edition Package with collectible lenticular cover that includes an exclusive zone map, iron-on decal and an additional ten in-game micro-transaction dollars! Check online and in-store for more details and other potential offers.
Best Buy: Get the fun and functional Lil' Champ Pack. These persistent pets are iconic, knee-high characters from the Champions universe! Best Buy Customers receive their own Lil' Champ. In addition, Lil' Champ owners also receive a functional damage resistance item. Best Buy preorder customers will also receive access to the Early Start Program and head start weekend.
Amazon: The High Roller Pack is perfect for players who insist on the finest accouterments for their avatar. With three unique, exclusive apparel options (harlequin headpiece, black knight helmet, grenade chest strap), and an additional five in-game microtransaction dollars, you'll have plenty of options to push your "High Roller" look.
The Beta is being sponsored by IGN, and all preorders - no matter which you choose - net 30-days of free play and five in-game microtransaction bucks.
Game launches September 1. Thanks, Massively.