Cast your vote to reveal next song for Guitar Hero: Smash Hits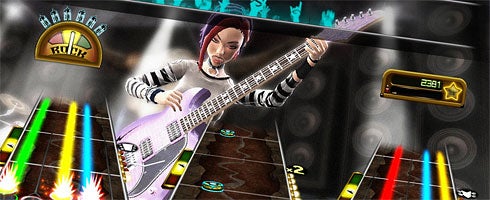 Guitar Hero fans are being asked to cast their votes onlineto determine the order songs will be revealed for Guitar Hero: Smash Hits.
It's no longer titled Greatest Hits, in case you didn't notice.
Previously announced tracks can be found here.
Read on for the press release.
SANTA MONICA, Calif., April 9 /PRNewswire-FirstCall/ -- Guitar Hero® fans can now cast their votes online at SmashHits.GuitarHero.com to determine the order in which songs will be revealed for Activision Publishing, Inc.'s (Nasdaq: ATVI - News) Guitar Hero® Smash Hits. Guitar Hero Smash Hits takes the most exciting, recognizable and fun to play music from genre-defining titles Guitar Hero®, Guitar Hero® II, Guitar Hero® Encore: Rocks the 80s and Guitar Hero® III: Legends of Rock, which were previously available for guitar-only in-game play, and delivers them as a compelling and dynamic full band experience.
(Photo: http://www.newscom.com/cgi-bin/prnh/20090409/LA97098)
Starting today, music and video game fans alike can visit SmashHits.GuitarHero.com to cast their votes for which previous Guitar Hero game they would like the set list unveiled from first. Each week, a portion of the Guitar Hero Smash Hits set list will be revealed based on which prior game captures the most votes.
Guitar Hero Smash Hits feature the most memorable songs from Guitar Hero games together in one epic set list, including these tracks:
* Guitar Hero
o "Killer Queen" - Queen
o "I Love Rock N Roll" - Joan Jett and The Blackhearts
o "Bark At The Moon" - Ozzy Osbourne
* Guitar Hero II
o "Them Bones" - Alice in Chains
o "Killing in the Name" - Rage Against The Machine
o "Message In A Bottle" - The Police
o "Carry On Wayward Son" - Kansas
o "Free Bird" - Lynyrd Skynyrd
* Guitar Hero Encore: Rocks the 80s
o "I Wanna Rock" - Twisted Sister
o "Nothin But A Good Time" - Poison
* Guitar Hero III: Legends of Rock
o "Barracuda" - Heart
o "Through the Fire and Flames" - DragonForce
Turn down the lights, crank up the amps and prepare to command center stage as some of the most famous AND infamous tracks from Guitar Hero, Guitar Hero II, Guitar Hero Encore: Rocks the 80s and Guitar Hero III: Legends of Rock step into the spotlight in the most epic, full band jam session to-date - Guitar Hero Smash Hits. The #1 best-selling video game franchise of 2008 presents the best of the best to music video game aficionados so they can join together for guitar, bass, drums and vocals in-game and rock to master tracks of their favorite Guitar Hero music.
Featuring 48 master recordings, Guitar Hero Smash Hits delivers exciting online and offline gameplay modes including Band Career and 8-player "Battle of the Bands," which allows two full bands to compete head-to-head online. Players' rock n' roll fantasies turn to realities as they create their rocker, compose original music and share it with the world through the innovative Music Studio, GHTunes(SM) and robust Rock Star Creator gameplay modes first introduced in Guitar Hero® World Tour.
Developed by Beenox Studios, Guitar Hero Smash Hits for the Xbox 360® video game and entertainment system from Microsoft, Wii(TM) home video game system from Nintendo, and PLAYSTATION®3 and PlayStation®2 computer entertainment systems are scheduled for release in June. For more information about the game, visit www.GuitarHero.com.