Captain Tsubasa: Rise of New Champions is the return of weird football games - preview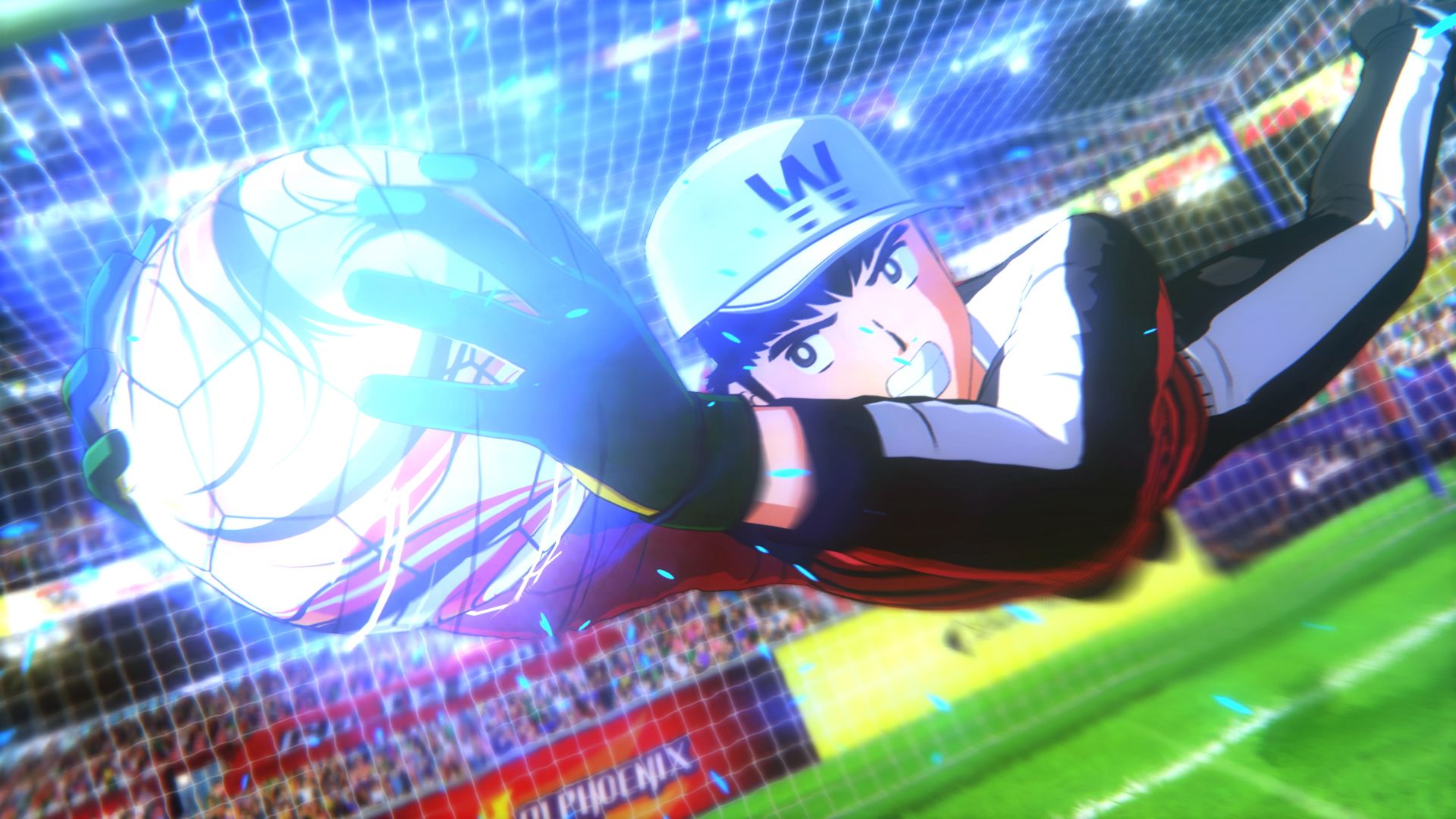 At the beginning of 2020, "King" Kazuyoshi Miura had his contract renewed by Yokohama FC at the grand old age of 52 - making him the oldest professional footballer ever. He's the only active player in the professional game who appeared in the original FIFA 96, and with Yokohama FC's promotion to J1 you should be able pick him in the next entry to EA's football series.
But now, with Captain Tsubasa: Rise of New Champions - a new anime soccer game coming this year - you can play a football game released in 2020 which still plays like FIFA 96.
Based on the '80s manga of the same name, Captain Tsubasa really has more in common with games like Mario Strikers and Sega Soccer Slam than an attempt at realistic football simulation. The real-life sport is more of a backdrop than anything else, as flashy player abilities and over-the-top action take centre stage.
The anime itself apparently never took off in english-speaking regions, but was huge in Japan, continental Europe, and Brazil. There were also localised versions too, like in Arabic-speaking markets where he became "Captain Majid".
Tsubasa Oozora himself is a bit like Kaka, Andres Iniesta, and Mohamed Salah all rolled into one. A hard-working, humble forward player with talent to match his earnest determination.
It's interesting then that Bandai Namco has teamed up with Tamsoft to release Captain Tsubasa: Rise of New Champions worldwide, including in English, because to the uninitiated it's simply baffling.
You line up in the traditional way, 11-vs-11, for lengthy matches split into two halves. The pre-match presentation is sure to be a treat for players who grew up with these characters, as the glossy, TV package-mimicking presentation runs through Tsubasa and his Nankatsu teammates when they square off against arch-rivals Toho Academy.
You can tell Toho are the baddies, because their main guy wears a tank top, which is definitely against kit rules. So far, so familiar. But when the ref blows for kick off, things get very anime, very fast.
While you can pass, lob, and shoot the ball as normal, Captain Tsubasa: Rise of New Champions is much more based on Sensible Soccer-esque dribbling, as you amble from box to box, slaloming to avoid incoming tackles.
You have a couple of options to weave through the opposition. Wiggle past them with bursts of pace - mapped to the right shoulder button - and changes of direction with the left stick, or well-timed "dribbling moves" which are mapped to the right trigger.
Deploying your move at the right time allows you to ride a defender's tackle and burst past them with a little cutscene, although some players are better carriers than others. Doing so charges you V-Zones power, which gives your team more oomphf when activated.
You're better giving dribbling a go than taking the tiki-taka approach however. The zoomed-in camera angle means your view of the pitch is pretty limited and the loose passing gremlins all but stomped out over 20 years of PES and FIFA are alive and well here.
In the build I played, teammates can run away from you or the ball when you try to pass it to them, through balls often roll limply to no one, and short passes hit the wrong man all the time.
It's instantly obvious that this isn't a modern football sim - it's more of an action game in a football style. Although you line up in a formation, if you try to stick to it too rigidly you're going to have a bad time, and it's better to just embrace that it's your left back steaming in to meet the cross of your other wingback like you're playing as Bielsa's Leeds United or something.
Once you make it to the goal, you have to try and wear down the opposing goalie's energy meter before you can score. You can either do this with regular shots, or by activating special shooting skills with players who have them.
Kojiro Hyuga, the aforementioned tank topped baddie, has a ridiculously OP tiger shot ability which chews through your keeper's bar like Tony through Frosties, which he seems to unleash with devastating accuracy every time he so much as steps a toe into your half.
There are players with similar skills on the defensive side of things too, and games quickly become a scrap between who can shuffle it between their best players most effectively.
Despite these frustrations, there's a certain old school charm to Captain Tsubasa. As the sparks fly between players battling in the air to bicycle kick the ball in opposite directions, it's tough not to get drawn into the spectacle. And the concentration required to pull off a lot of the central mechanics at least means it's frantic and engrossing to play.
It does feel very similar to those early console classics like Sensible World of Soccer and Winning Eleven. If you're bored of the po-faced realism of FIFA and want a football game where your talismanic number 10 sometimes summons the spirit of an eagle to aid him on the pitch, then a new champion is about to rise.
Captain Tsubasa kicks off in 2020 on PC, PS4, and Switch.