Call of Duty: WW2's joins The Resistance with first DLC pack in January, brings back classic Carentan map at release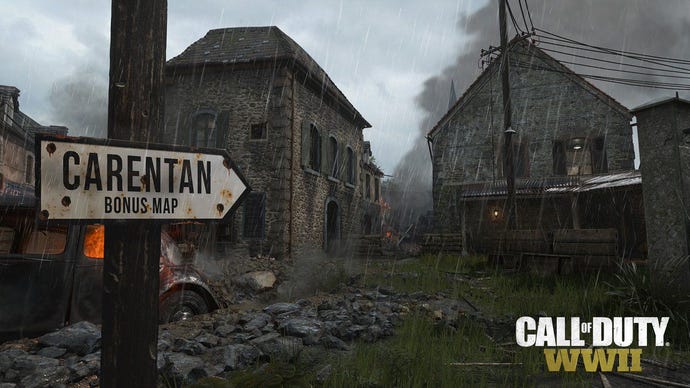 Call of Duty WW2 has DLC, and Activision wants you to buy in advance. Check out this trailer for a bonus map you'll get if you do.
The first Call of Duty: WW2 DLC packed was announced during PlayStation's jam-packed Paris Games Week stream, although details are light at the moment.
The pack is called The Resistance - presumably the French one, given the setting for the reveal - and will arrive first on PS4 on January 30. Since Call of Duty WW2 will be affected by Sony and Activision's sweetheart deal, PC and Xbox One players will have to wait to get their hands on it - usually a month.
Activision said there will be three more DLC packs for Call of Duty WW2, but didn't say anything about them. You'll probably be able to buy all the extra content á la carte as it comes out, but to encourage you to buy into the season pass or digital deluxe edition those who do so will have exclusive access to a bonus map when Call of Duty WW2 releases on November 3.
As previously reported, the map is called Carentan, and should be familiar to Call of Duty fans. The map appeared in the original Call of Duty, Call of Duty: United Offensive, and Call of Duty 2. Here's a trailer:
No word on whether Carentan will be made available for purchase later on, unfortunately.