Call of Duty: WW2 teaser site goes live with enough cryptic information to keep you busy for a while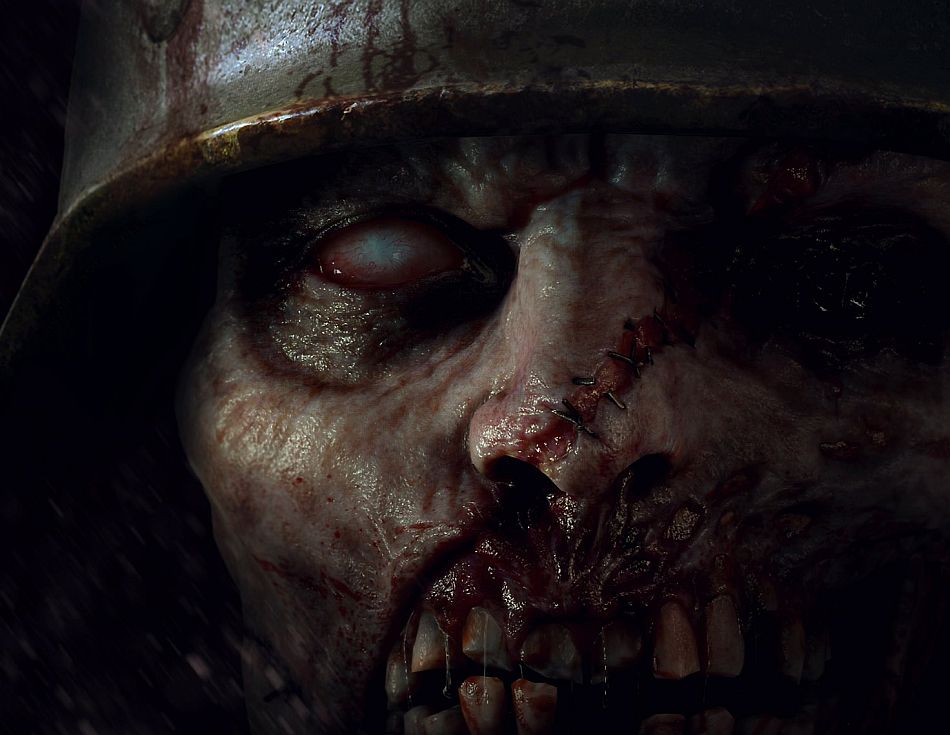 A teaser site for Call of Duty: WW2 has gone online, and Sledgehammer wants those visiting the site to have a bit of fun figuring out the mysteries locked behind an ARG. We're going to continue updating this post as more information is cracked.
As the different steps to the puzzle are solved, we will update this page accordingly.
Part One - Zombies
Earlier this week when Call of Duty: WW2 was revealed, a teaser image for Nazi Zombies was released showing a typical, rotting, undead fella wearing a German military helmet.
When the image is brightened, on the inside rim of the zombie's helmet you can see some letters.
These letters, per reddit are: IUFDJ BHLOP JMUBA. Upon entering these numbers on the typewriter, the three lights go green and a message pops up: "A New Horror Rises" before three images appear: a document folder with signatures and letters and numbers on the side of it; a worn image of Holy Roman Emperor and King of Burgundy and Germany, Frederick Barbarossa (Frederick I); and an image of Raphael's famous painting, Portrait of a Young Man.
Between reddit and Charlie Intel, a few things have been figured out.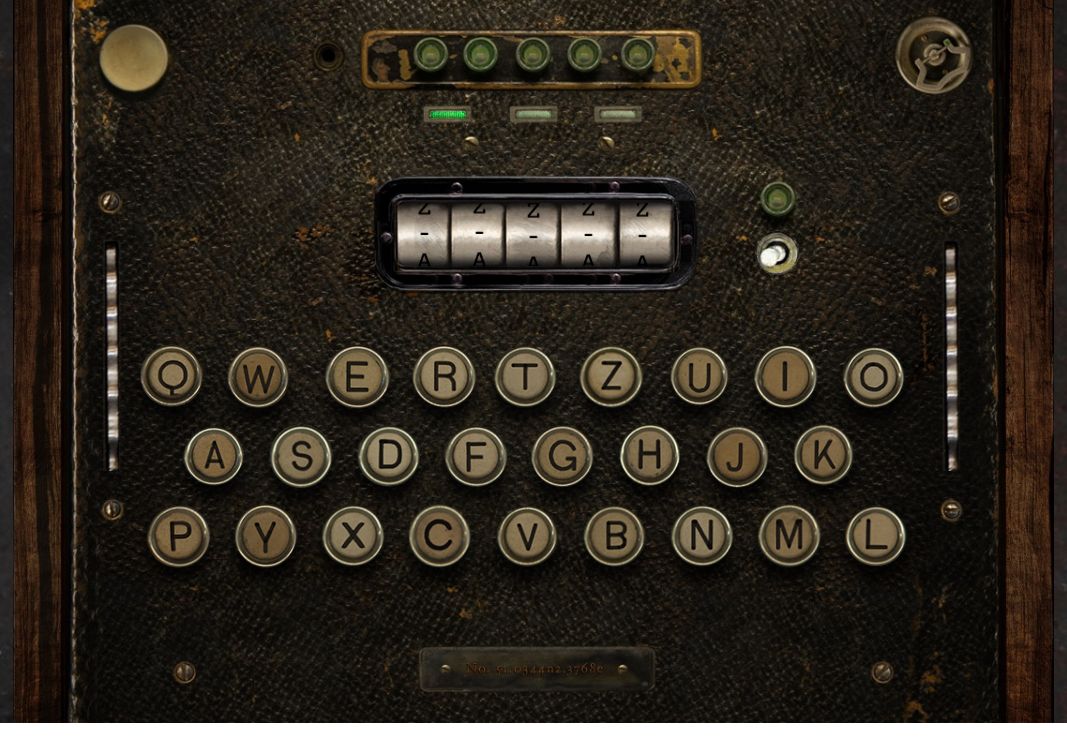 First up, the numbers on the typewriter's serial plate, or Enigma Machine, are coordinates to Dunkirk, France where the Battle and Siege of Dunkirk took place in 1944.
The image of Frederick Barbarossa likely points Operation Barbarossa, which was the codename of the German invasion of the Soviet Union in 1941. There is an interesting theory regarding Frederick I on the Call of Duty Zombies subreddit regarding an Arthurian "sleeping hero" legend tied to the ruler.
According to this the legend, Frederick is asleep with his knights in a cave located in the Kyffhauser mountain range, and when the "ravens cease to fly around the mountain, he will awake and restore Germany to its ancient greatness," according to Wikipedia. There's more to the story, so just click the Wiki link. The theory on the reddit page, is that the "horror" which rises may pertain to Barbarossa's knights. That's rather interesting, to be honest.
Raphael's painting seen in the fifth image, was one of many works of art stolen by the Nazi's during World War 2. The painting was stolen from the Czartoryski Museum in Krakow, Poland in 1945 and its whereabouts are still unknown.
The numbers and letters on the side of the folder, which can be seen much better when viewing the Call of Duty: WW2 website on mobile, show the following: FORM - YMF - 212514 - 12123 - 131. Some state these are more coordinates pointing to the Battle of Dunkirk, others seem to think the numbers are the next set of inputs needed for Stage 2 of the ARG.
When plugging the numbers into the Enigma Machine on the website, and succeeding on to the next page with the images, you can click "go back to decoder" and it machine will once again be on the screen. At this point, it appears you'll need to enter another code again at some point to continue finding out more information.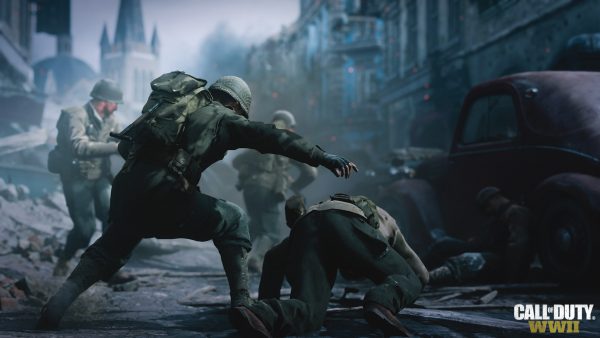 Part Two - The Characters
It appears more information has come out of the Call of Duty: WW2 teaser site, thanks to some finagling by users over on reddit. Leave it to folks who know how to use Java, html and other website scripts that make our heads hurt. We thank them for that.
While the next list of codes to enter on the Enigma Machine weren't posted, it seems the inputs were figured out by using "brute force" using various url entries. I'm not sure how such sorcery works, but whatever gets the job done.
Once users got past what was locked, four new file folders were unlocked, each the subject of a specified character with their current status and backgrounds.
Three of these characters will be playable in game, according to a Games Radar chat with Sledgehammer's Michael Condrey. The main story follows two members of the 1st Infantry, which you saw in the reveal stream, and a woman in the French Resistance.
Alex also gleaned this information when he attended the Call of Duty: WW2 reveal in London.
Artwork for the characters along with a British solider are posted below.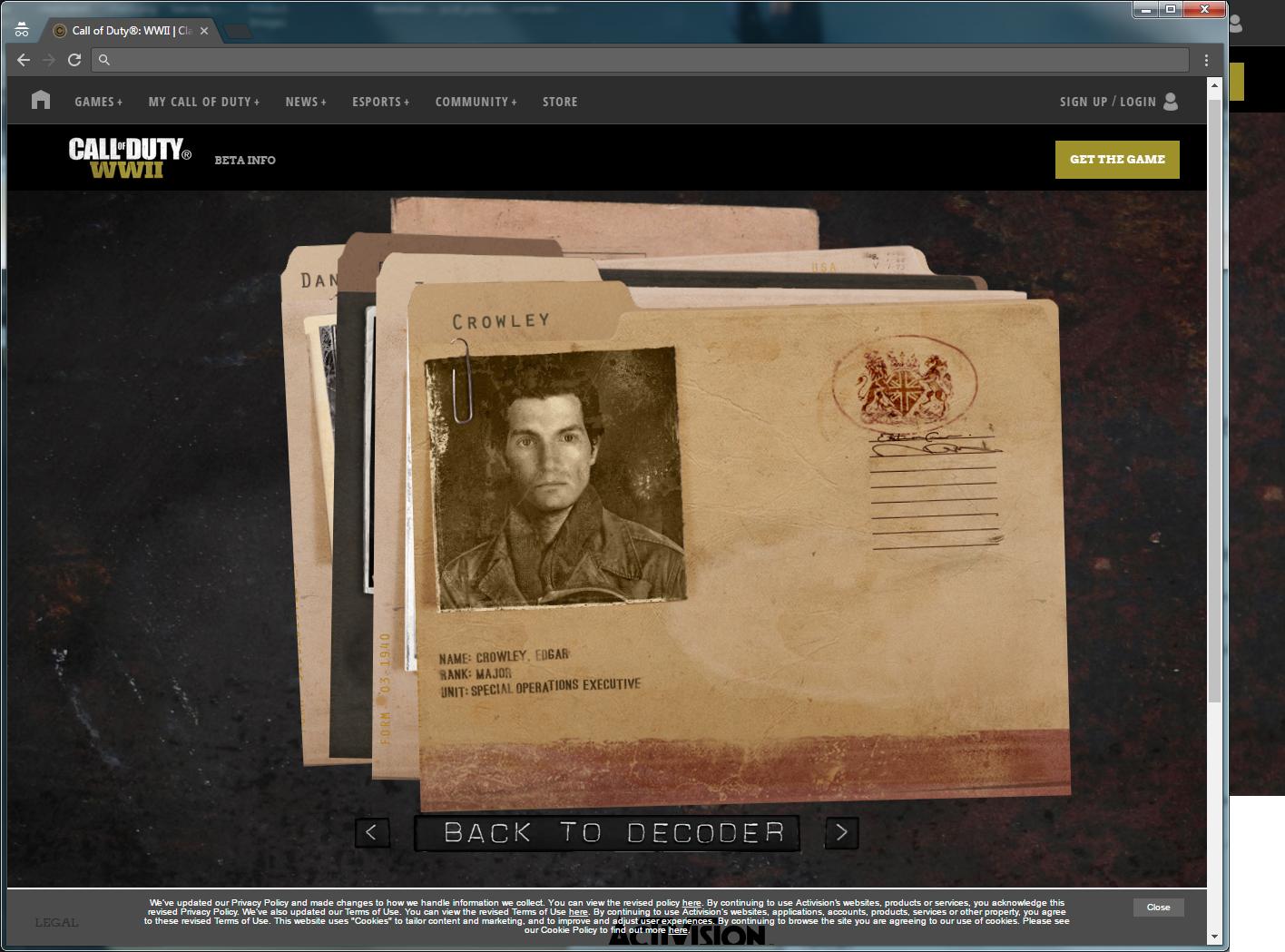 Major Edgar Crowley: Special Operatives Executive (SOE). The SOE was a British WW2 organization which was formed to aid resistance movements against Germany. He is listed in the file as once of the "Agents in France" and it shows a map with what appears to be a route marked in red.
I can't see it very well, but it looks to start in Orleans with an arrow pointing to what appears to be Dijon. During WW2, Dijon was occupied by German forces before it was liberated by the French Army and the French Resistance, in 1944. It seems a bit too far up on the map to be Lyon, a major place of Resistance during WW2. But, again, it's hard to tell and I have looked at many maps of France and still can't be quite sure.
The document in the file is in French and quite blurry so I can't make it out. The page shows a STEN Submachine gun, which I assume he prefers to use. There is another map which looks to be France, with a red, half circle.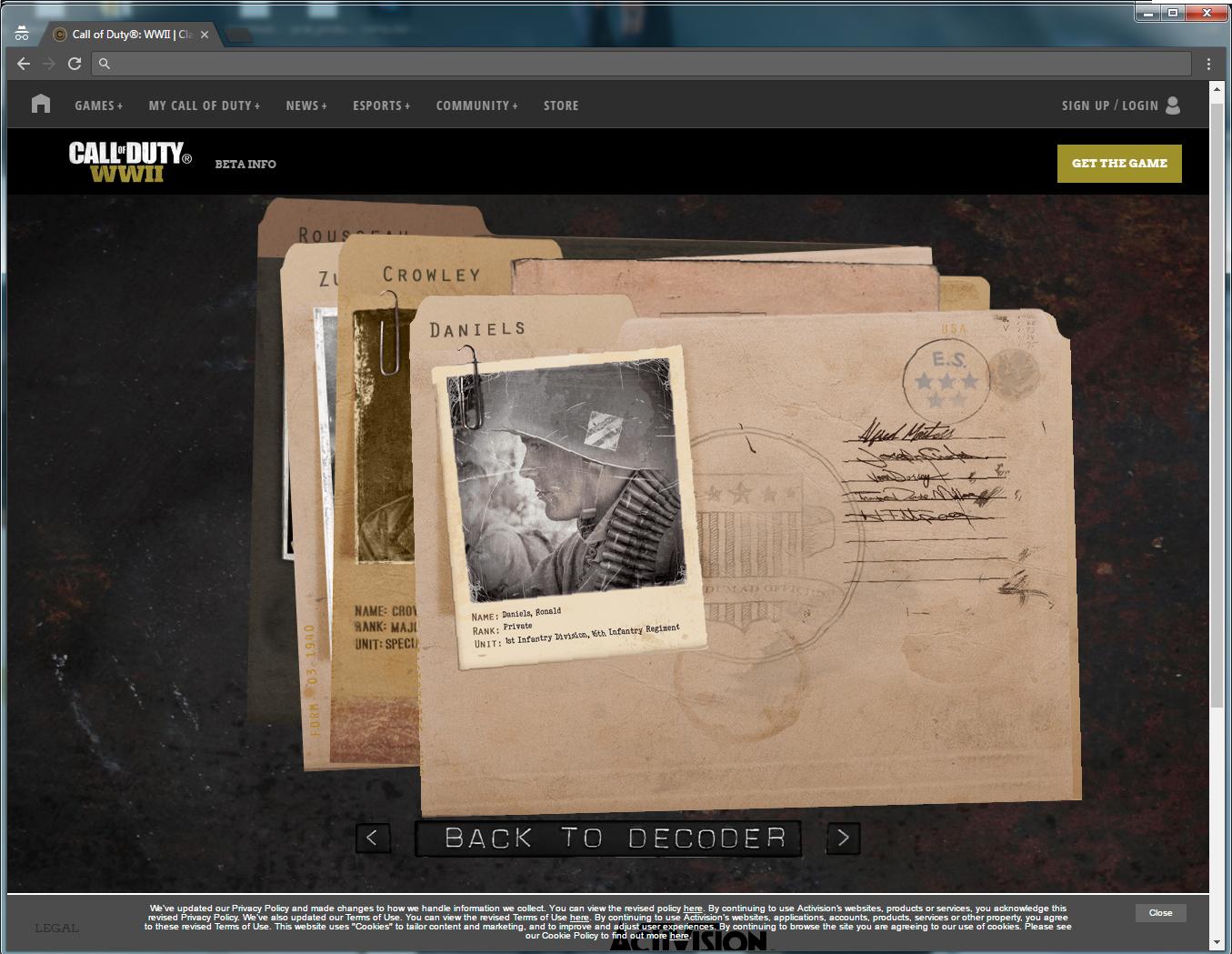 Private Ronald "Red" Daniels: 1st Infantry Division, 16th Infantry Regiment. The 1st Infantry Division fought in various part of Europe during the war, with the last push in Germany. The 16th regiment fought in many a battle during WW2, and also stormed the beaches of Normandy on D-Day. Daniels hails from Texas and is recently engaged. His service weapon is the M1 Garand, and a diary entry next to the rifle states he and the others are practicing their French accents.
Rosseau: First name unknown. She is the leader of the Maquis, which were one of the bands of French Resistance fighters. She is part of the French Forces of the Interior, which was the formal name French president Charles de Gaulle gave the Resistance toward the end of World War 2. The second part of her file shows her sitting with two men, and another part of the file shows her Deutsches Reich Reisepass, which was issued to German citizens who intended to travel to foreign countries. Her photo ID is torn in the middle. The next image shows a letter, again in French, and a picture of German occupied Paris.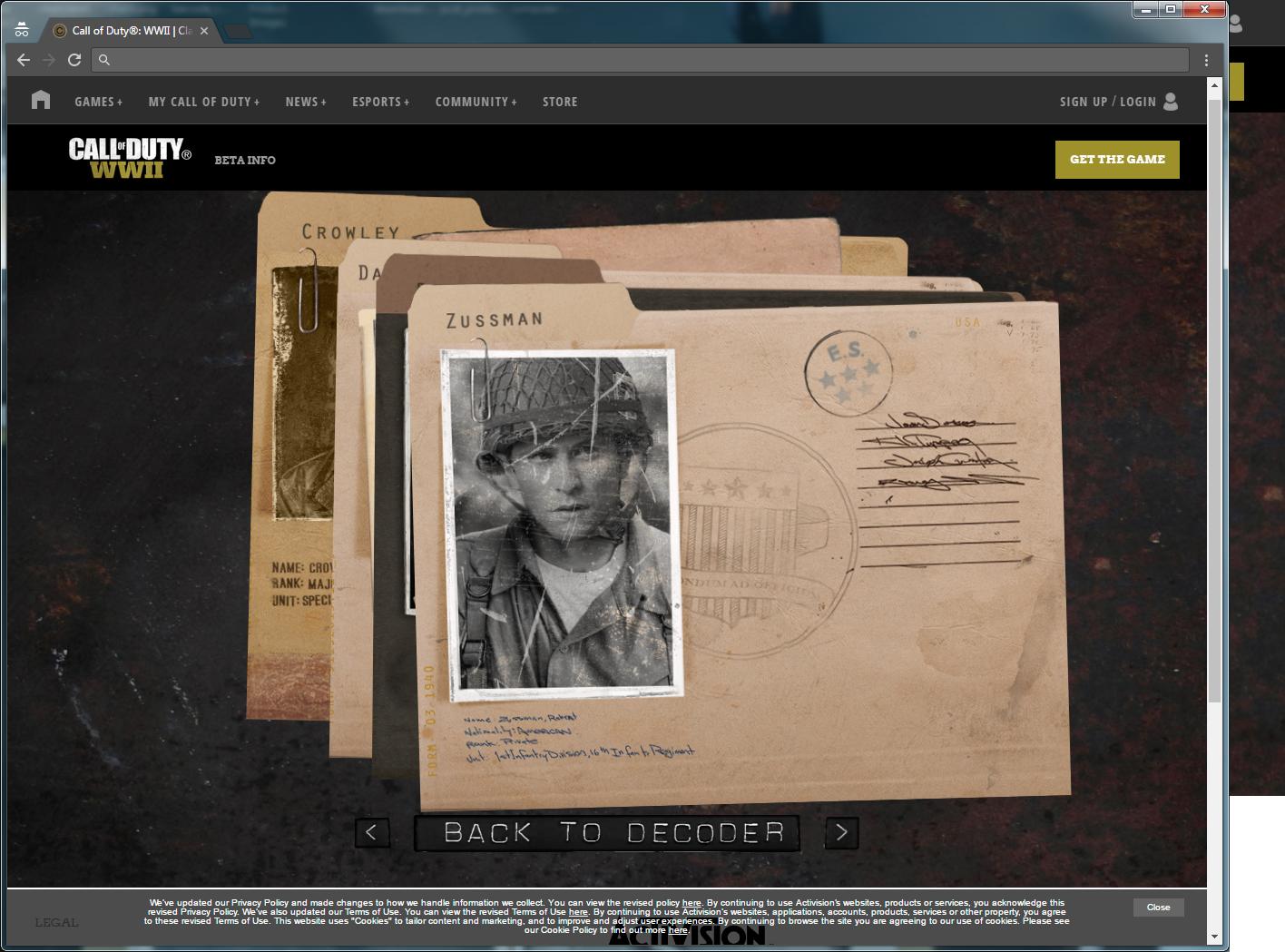 Private Robert Zuassman: 1st Infantry Division, 16th Infantry Regiment. Zussman is from Chicago, his best friend is Daniels, and there is memo attached to his file. I can't make it out, but in the upper right corner of it, there are five stars and the initials E.J. or E.S. His weapon is a M1A1 Carbine, and there's a letter he wrote attached made out to a girl back home named Susie.
There's also a booklet titled: First in First to Win with the following printed on it: "Well done, solider. Now claim your calling card," and it's dated February 3, 1944.
So there's that. None of this new information seems to be about zombies, but at least now you know a bit more information on who you will be playing in the game.
Again, we'll update this with more information as it comes out of the teaser site.
Give it all a go yourself through the official website, and keep checking back with it, because we expect more ARG type of fun in the coming days and weeks leading up to the Zombie and multiplayer reveal at E3 2017.
Call of Duty: WW2 releases on November 3 for PC, PS4 and Xbox One.