Call of Duty: WW2 campaign will not bring back health-regen or ammo pick-ups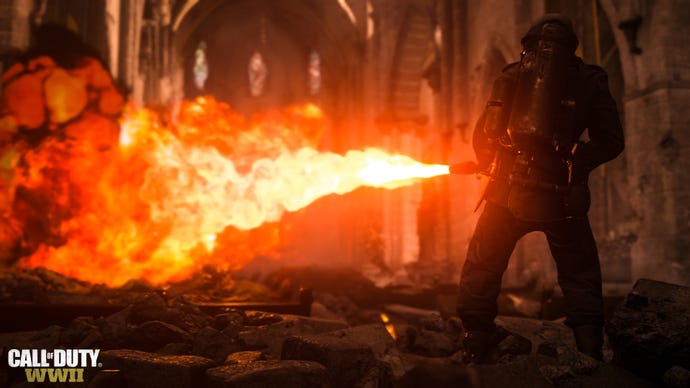 Call of Duty: WW2 is doing away with a major mechanic that's been synonymous with first-person shooters for years.
Call of Duty: WW2 developer Sledgehammer Games has been touting a return to series roots since the moment the game was revealed, but this last bit of detail takes us all the way back to the first Call of Duty.
It has been confirmed that Call of Duty: WW2's campaign will not bring back automatic health regeneration or even auto ammo-refill - a big change for the series, and a bold departure this many years after the regen mechanic was first introduced in Call of Duty 2.
Sledgehammer Games' Glen Schofield told Polygon (via Charlie Intel) that there's a system in the game that's replaced health regeneration, and that the decision was made for the gameplay to be thematically consistent with the story and characters.
"You have to worry about every bullet. You're not the superhero. You can't just stand there taking seven bullets, ducking, shooting again," Schofield said. "It's refreshing for us to deal with recruits who aren't Tier One warriors, to show that vulnerability. They're naive. It's been a really cool challenge creating this different kind of gameplay."
Though the studio co-founder does not say what new mechanic will replace health-regen, in a different interview with GamesRadar+, co-founder Michael Condrey revealed that your squad members will have different abilities you can rely on, which could be how we end up getting fresh med packs and ammo.
"Part of being this squad and working together was about helping each other out in a very different way than in previous games," Condrey said.
"This is [you] relying on your squad, and so that was a mechanic where you can rely on your squad members to help you, and in that case – when you're low on ammo – your squad can share ammo. Certain members of your squad have certain attributes that can help you, and if you are in proximity to one of your squad members, and you need their help you can… it's an active ability."
Interestingly, being in proximity to these squad members is key, according to Condrey. More specifically, if you get separated from the squad member responsible for resupplying ammo, you'll need to change up your tactics to conserve ammo, not to mention the emotional impact of losing squad members.
This change is unexpected, considering how many Call of Duty games - and first-person shooters in general - have relied on health-regen mechanics for so long.
It's also no doubt going to be a challenge to get right, since popping-and-shooting has been the only way to play Call of Duty since Call of Duty 2 because of how enemies send more bullets your way than you can handle.
Call of Duty: Ww2 is out November 3 on PC, PS4, and Xbox One.