Call of Duty's Verdansk is a telling collage of the places we consider warzones

Verdansk International Airport is glass-fronted, so that passengers can look out onto the runway while they wait for their gate to be called. By now, though, most of the panes in those windows have been blown out; the terminal building greets the world with the staccato-toothed smile of a meth addict.
Inside, a spec op in a skull mask kicks a corpse onto its back to identify the uniform. "Price, something's wrong in Verdansk," Ghost reports via his radio. "They're targeting their own. We need to find out why."
A month after Warzone's surprise launch, nobody's any closer to finding out. Add to that a clutch of other mysteries raised by Ghost's report: who are They? Why are the SAS involved? And where is Verdansk?
Until now, the battle royale genre has got away with a degree of abstraction. Fortnite's map is such a car-crash of colour and character that rational explanation feels instinctively wrong; its evolving story isn't so much told as interpreted by astrologers. Apex Legends, meanwhile, draws attention away from its premise to its cast, teasing soap opera relationships between its heroes.
Call of Duty, though, is forced to operate within the parameters of the real world. Despite plotlines that have often stretched credulity, the Modern Warfare games set an expectation for serious geopolitics in places people recognise. When the series pushes too far, fans push back - as with the reveal trailer for the space-set Infinite Warfare, which became the most-disliked gaming video on YouTube.
As such, Infinity Ward is obliged to sell the idea of 150 people dropping from the same plane and turning on each other as a plausible military prospect. Clearly, the idea doesn't exactly stand up to intellectual rigour - but the attempt tells us plenty about the developer's idea of a 'warzone'.
Like many of the battlegrounds in Call of Duty, Verdansk isn't officially situated in any real country. But its name and much of its architecture signifies Eastern Europe, which has long been a playground for military shooters.
Since Tom Clancy's very first Ghost Recon, developers have used tensions between Russia and the rest of Europe as a springboard to imagine credible conflicts. Simply through persistence, they get it right some of the time: the 3DS spin-off Ghost Recon: Shadow Wars actually predicted the annexation of Crimea. For COD, Vladimir Putin's habit of denying Russian military operations on foreign soil helps lend credence to the idea of a fight happening beyond the headlines, the shadowy space where characters like Captain Price thrive.
Verdansk is new territory for Modern Warfare, however, since it doesn't just present a postcard image of a country for a 15 minute level; it's a vast expanse that players can travel from one end to the other, at least until the gas closes in.
The connected space Infinity Ward has come up with is an alluring mish-mash of pieces from the past. According to Modern Warfare lore, it belongs to the fictional region of Kastovia. "East and West," says Price's comrade Nikolai, "rebuilt Verdansk after the Cold War." The tall Khrushchyovka apartment blocks suggest a former state of the Soviet Union. The shiny panelled decor of the police station recalls East Berlin, and in particular the offices of the Stasi, the secret police who spied on and manipulated their public for 40 years.
The geography is confused further by the presence of levels from previous Call of Duty games. The interior of Verdansk's TV station is in fact the same players stormed in the original Modern Warfare, in pursuit of the Saudi Arabian terrorist leader Khaled Al-Asad. To suddenly recognise this urban Middle Eastern building, displaced to the European countryside, is a strange form of déjà vu.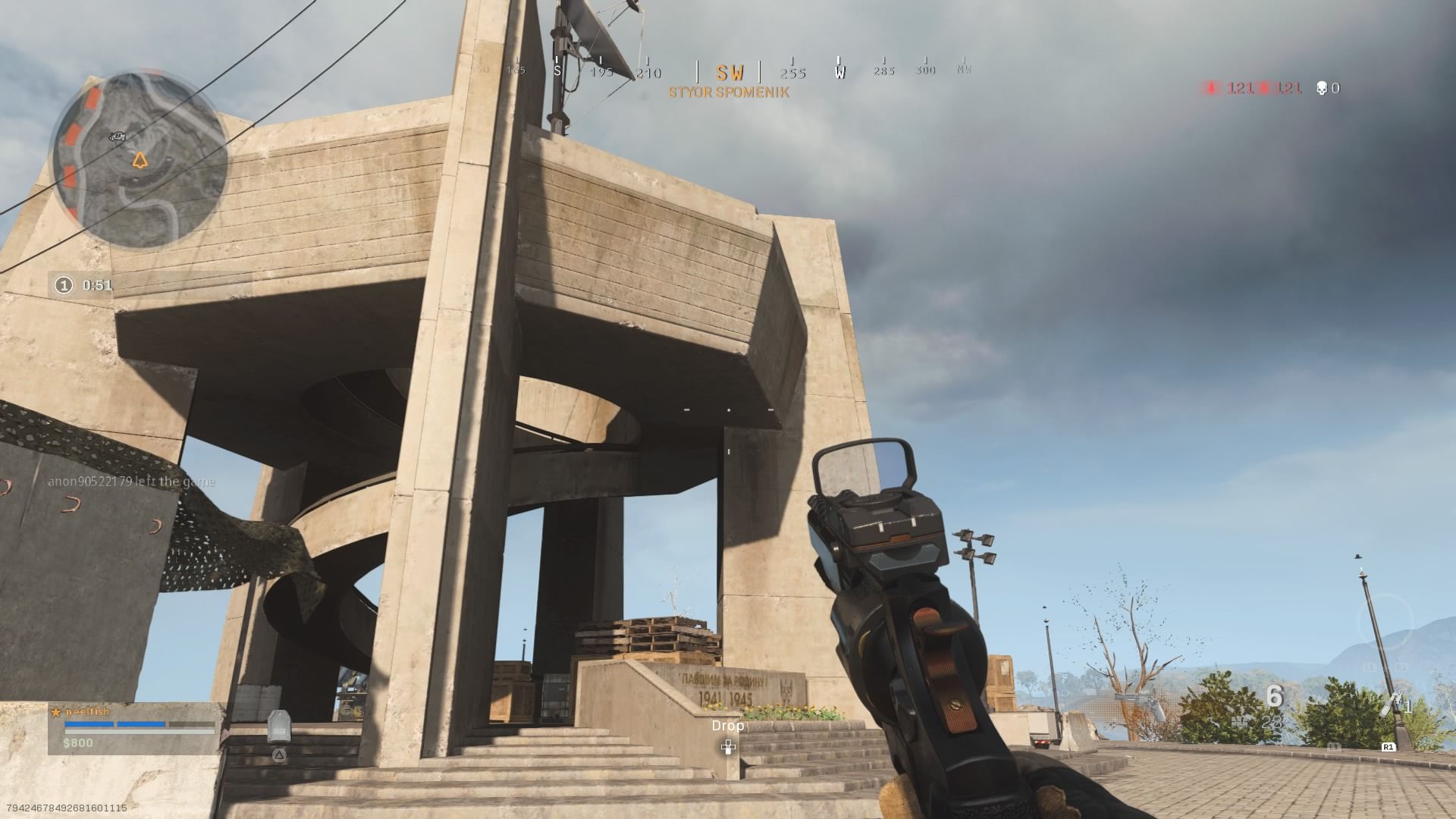 You might have noticed a few striking monuments scattered throughout the map, or even landed on one of them: imposing concrete structures bent into strange, spiraling shapes. These are spomeniks, war memorials you can find throughout the former Yugoslavia; Ewan Wilson wrote about them beautifully for Eurogamer. They tend to mark the site of WW2 battles, and became charged with powerful and complicated emotions once Yugoslavia broke into independent nations, triggering a series of bloody wars. In Verdansk, you can see the tents of the fictional World Humanitarian Project - an echo of UN peacekeeping measures in the Balkans.
Taken together, these environments don't tell the story of one specific place, but the parts of the world COD considers fair game as battlegrounds. The Modern Warfare campaign's attack on Piccadilly Circus is treated as a shock, a prompt for renewed retaliation against enemies of Western democracy. Verdansk, by contrast, is built to look like the kind of place machine gun fire wouldn't seem out of the ordinary. While the countries represented on its map attempt to move on from their history of instability, Warzone relives it, inventing endless reasons to dredge up past horrors.
Whenever you drop, it's always late afternoon on day 96 of Operation Armistice. An armistice, of course, is a ceasefire; it's an ironic name, since this Groundhog conflict will only end in whatever distant year Activision decides to close its servers. In the meantime, Warzone perpetuates a view of these countries as futureless - doomed to face crisis again and again.