Death mariachi and ghost pirates tear up new Call of Duty DLC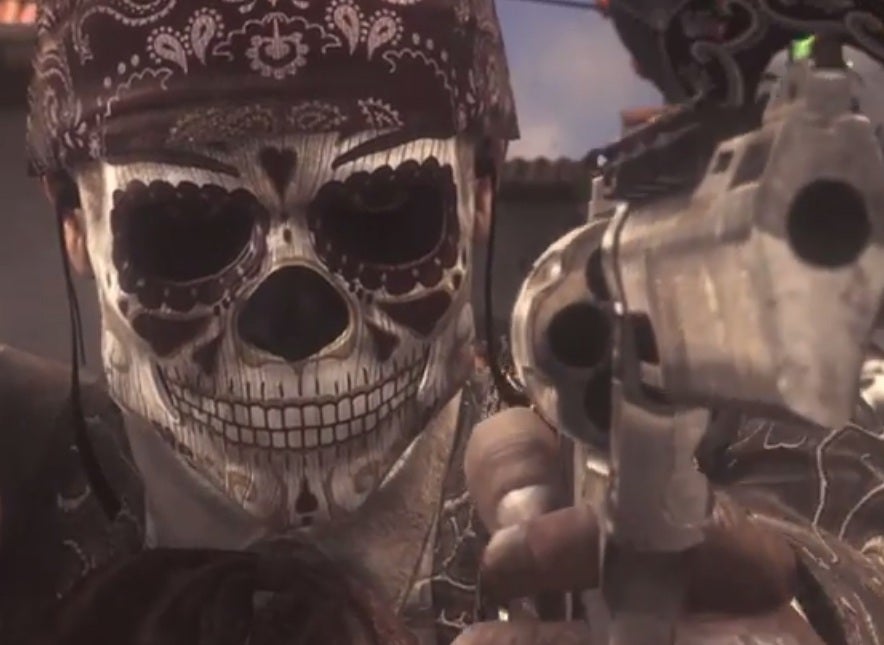 Activision just officially confirmed the details for the Ghosts Invasion DLC.

Earlier today, we reported that images of three of the maps of the Invasion DLC that surfaced before any official word. The images had popped up on Call of Duty's France, Canada France, Germany, and Spain websites. Activision came out with a press release of the Invasion DLC not soon after. Here's what we've gleaned is important.
Four new maps: Invasion will feature "Departed", "Pharaoh", "Mutiny", and "Favela"
Departed: A medium-sized map set in rural Mexico during the Day of the Dead festival. There will be a unique Death Mariachi killstreak after unlocking the map's unique Field Order. "Armed with dual-wielding pistols, the Death Mariachi settles scores, with each kill turning enemy players into another member of the band, and a temporary squad mate."
Pharoah: A map set in an abandoned archaeological site in Egypt. Beware the collapsing pillars and face-eating scarab beetles.
Mutiny: Arr, matey! Gun down your friends in the Caribbean, ye will. Unlocking the Field Order for this map means gaining two ghostey pirate-types to help you along your way.
Favela: Favela will be making a return in Ghosts, in a refreshed state.
New episode to Extinction mode: Invasion brings another chapter to Extinction mode. "In Awakening, the team descends into the perilous alien underworld to strike at the subterranean fortress of the Ancestors - the mysterious puppet-masters behind the Cryptid invasion. Armed with a range of new hi-tech weapons and equipment, the team must penetrate a series of defensive barriers to reach the Ark and unlock the secrets of the Ancestors' psychic powers. As the final battle draws closer, the fate of the Earth and the future of the human race hang in the balance."
Invasion will be available on June 3rd exclusively to Xbox One owners.