Call of Duty: Advanced Warfare multiplayer is CoD plus Titanfall plus GTA Online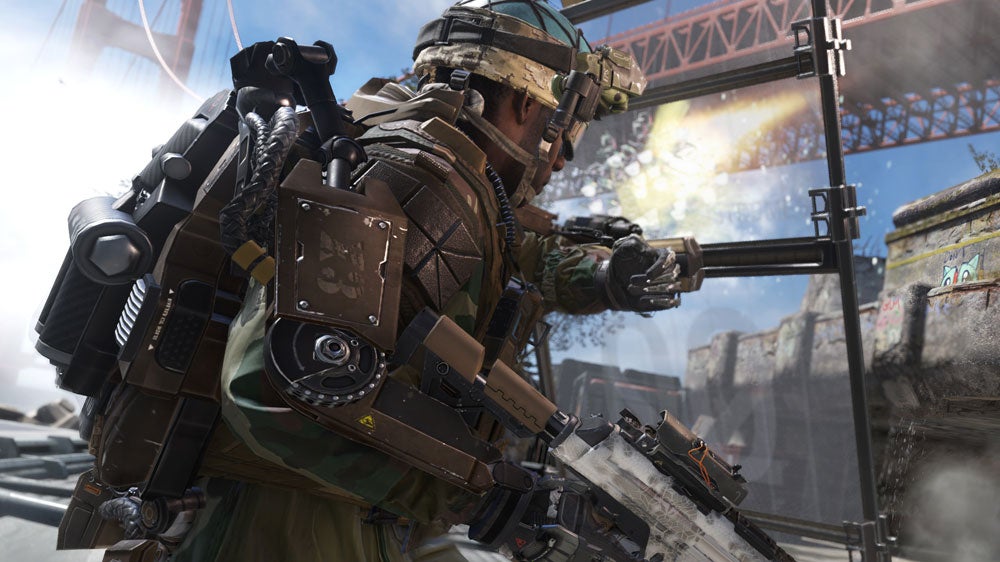 We played it. We liked it. We liked it a lot.
"It's so fast, and so elegant, and the movements are so different, and there's the complexity of picking you team, and the virtual lobby. And the loot system? I think we've found a great balance."
Sledgehammer co-founders Michael Condrey and Glen Scholfield mentioned they'd been working on Call of Duty: Advanced Warfare for more than three years at least twice on stage in Cologne today, he first time being in direct relation to the "exo," the developers' pet term for the shooter's exo-skeleton. You'd have to be blind to miss why. The jumping aspect ("verticality" is evidently Activision's mot du jour) is pure Titanfall, and they want to head off the comparisons at the gate.
While the comparison is probably written in red on some PR checklist somewhere, Sledgehammer needn't have worried. While the games do share functional similarities, they feel completely different. Advanced Warfare is CoD at heart, but it's a total reinvention with enough customisation options to guarantee a lost 2015 for many.
Playable for the first time at a pre-gamescom press event today, the new Call of Duty's multiplayer is a combination of the gun-play with which the franchise will never fuck, the best bit of Titanfall apart from the big robot, and GTA Online-style customisation.
It's pretty good.
Jump for justice
The core of the new game, and the most obvious addition, is the exo. The power-armour adds in-air boosting, slams, slides and more. We were shown an example in a demo reel which a player is chasing another with a knife, only for the target to leap into the air backwards over his opponent's head to make a kill. It's a bit like that bit with the airbrakes in Top Gun. But with purple guns and jetpacks.
In play, the exo probably does feel a little close to Titanfall, but that's how it goes. There's no parkour I could see, but you do grab edges and pull yourself up. C'est comme ça, as the French would say.
As you'd expect, you can customise the exo with perks and colours. If you want to hover, you can. You can include stim upgrades, cloaks, shields and whatever else. The exo also has a weapon ability, which replaces the throwing of grenades. There was a screen full of different types of explosives it can shoot.
The general level of customisation, to be frank, looks to be bafflingly comprehensive. Advanced Warfare will ship with nearly 350 weapons – including a new energy type - and will pave the way for "literally billions of player customizations," according to Schofield.
Condrey, speaking afterwards, called Glen a liar.
"He's wrong. That's not true. There are literally a quadrillion combinations. And more. We did the math."
Pick 13
Black Ops 2's Pick 10 has been boosted to Pick 13 for Advanced Warfare. In realspeak, this means you can pick a total of 13 "things" for your load-out, from perks, wildcards, scorestreaks and attachments. That's not very realspeak, but hopefully you know what I mean.
The customisation is silly. They showed how to build a rocket turret, for example, that you can take off the stand and carry into the match. You can do whatever you like.
And if you're ever worried about how your new tweaks are going to perform in the field, there's a new virtual firing range for testing. Whenever you're in a customisation screen, you can hit the start button on the Xbox One pad to drop yourself into a range equipped with glowing blue targets and no consequences. It means you can try thermal scopes and various classes of gun to see if you actually like them before committing to a bout.
Once you're ready to begin, you're taken to the round's lobby. This takes more than a few cues from GTA Online. All the participating avatars stand in a group and you can view them in turn, checking out their both their aesthetic choices and their full load-outs. There's no more mystery: if you want to know what a player's using – their weapons, their perks, their wildcards – you can see instantly.
Not so frugal maps
The four maps we saw in Cologne today were Biolab, Riot (which is set in a Baghdad prison), Ascend (a space elevator terminal) and Defender (based in San Francisco, next to the Golden Gate Bridge).
The levels have been heavily influenced by the inclusion of the boost jumps, and Condrey admitted the new style of map is a risk.
"Yeah," he conceded when I ask if there wass a worry over alienating elements of CoD's giant fanbase. "The exo, and everything it brings with it, is the catalyst for innovation, but at the same time we know that Call of Duty is best in class in many of the things we do.
"We had to push, and we had to push on all these ways to really thrill players, but we understood that if we push too far we're going to alienate, and we can't do that to the great fans of this franchise.
"So, it was finding that balance: how do you innovate without alienating? We think we've been able to do that. The gun-on-gun action is very signature Call of Duty. It feels great with its low-latency controls. But on top of that? Wow. It's so fast, and so elegant, and the movements are so different, and there's the complexity of picking you team, and the virtual lobby. And the loot system? I think we've found a great balance."
Twelve multiplayer modes will ship with Advanced Warfare, including Team Deathmatch, Domination, Kill Confirmed, CTF and Search and Destroy. Hardpoint's coming back, as is War (although this time it's going to be called Momentum). A brand new mode, named Uplink, pits two teams against each other in a battle to control a satellite. It's like space handball. You grab it, throw it to teammates and lob it into a glowing vortex. We had a good go on it after the presentation, and it's surprisingly fun.
The maps buzz Day-Glo and provide opportunities for both flyers and those who prefer to keep their feet on the ground. As ever, they're a mix of channels, open spaces and bottlenecks, but the inclusion of the exo means you're going to have to look up as well as across.
The entertainer
The comparison to Titanfall is obvious, but Condrey brushes the question away with a flawless answer I'm sure he's delivering dozens of times before.
"Hey look. We're entertainers and game-makers first and foremost. If you want the PR answer, you can ask the PR guy.
"What I can tell you is this. It was three years ago that we started on this right after the end of E3, with a real push to innovate. And I find it fascinating how the zeitgeist of technology has really taken hold across pop culture. Think about Elysium, Oblivion and Edge of Tomorrow, three blockbuster movies. They all came out within a year of each other and they were all based off the exo. At the same time, that's the core of our game.
"I can't quite tell if it's coincidence, or entertainment mirroring life, or life imitating art or what, but there's a lot of interest right now on what all these great technologies are bringing, and for us the exo was the catalyst for boost jump and everything it brings to the franchise."
Don't worry about whether or not it's like Titanfall. It's easily different enough to stand alone. We were with Advanced Warfare for four hours today, and we dropped effortlessly into fiddling between bouts, trying on new glasses and helmets, changing boring grey gloves for lime-green gauntlets, swapping out exo designs. It's a new Call of Duty, a bright game with crazy guns and a badly needed injection of pure fun, a nonsense blaster as far removed from Ghosts as it's possible to be while staying within the same universe.
We liked it. We liked it a lot.
Call of Duty: Advanced Warfare will release on November 4 for Xbox One, PS4, PC, Xbox 360 and PS3.