Breaking Tradition: An Interview with Tri Force Heroes' Eiji Aonuma and Hiromasa Shikata
The masterminds behind the latest Legend of Zelda talk about their new release, and a missed opportunity to stick Link in his Birthday Suit.

This article first appeared on USgamer, a partner publication of VG247. Some content, such as this article, has been migrated to VG247 for posterity after USgamer's closure - but it has not been edited or further vetted by the VG247 team.
Since the original Game Boy, Nintendo's portable systems have been the best place to find Legend of Zeldas that always don't play by the rules.
The tradition started with the off-kilter, Twin Peaks-inspired Link's Awakening, and continued through the decades, with 2013's brilliant A Link Between Worlds being the most divergent take on The Legend of Zelda we've seen in ages. And today's release, Tri Force Heroes, definitely continues this tradition: It eschews the typical Zelda structure in exchange for loot-focused multiplayer fun in a setting far sillier than Hyrule. To mark the occasion of its launch, I recently sat down for an interview with franchise overlord Eiji Aonuma and Tri Force Heroes director Hiromasa Shikata to find out what it takes to successfully shake up the Legend of Zelda formula.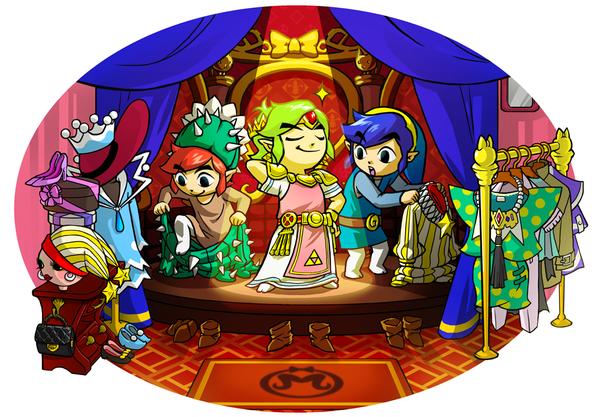 USgamer: I had a lot of fun with Four Swords Adventures, and it struck me as a little odd that we never saw a proper sequel for the Wii, especially considering how huge the install bases were for the Wii and the DS. Is there a reason why Nintendo waited so long to make another multiplayer Zelda?
Eiji Aonuma: I think it did take time. But in looking at what is the best kind of multiplayer for Zelda, we did a lot of thinking, and what we created for Four Swords I thought was a lot of fun. We came up with a good representation of the ideas we were looking for, but we were thinking about "what next?" for a multiplayer Zelda in and amongst the rest of our projects, and it did take some time—and I apologize a little bit for maybe taking so long. But after taking all the different trials and errors and things we came up with, we really decided to focus on the cooperative aspect... rather than, say, competition between the players. And we decided that for cooperation, a three-player experience was going to bring about the best result for us.
USg: Are there any specific elements you feel are essential for a Legend of Zelda game?
Hiromasa Shikata: Well, for myself personally, I don't really think of Zelda as being something that's necessarily made up of "you have Princess Zelda, you have Ganon, and there's some interaction, there's some story based upon what happens between the two of them." For myself, the core element of Zelda is you have items that you collect and you use to solve different puzzles, and to me, that really is the basis of a Zelda game.
So, I think one thing that I looked at this time around was because this game is focused on the multiplayer mode, I really put a lot of effort into—and when I say "me," I mean the team, of course—creating puzzles that are fun to play, even if you already know the answer. So these are things that, because you're playing with friends and maybe a different group of friends... If you're going to be doing the same thing again, you're going to maybe come at them a different way. But even if you know how to solve it, it's going to be fun to play. This isn't a single-player, sit-down, "think really hard and spend a lot of time trying to figure out what's my next move" sort of game.
Again, taking three players to push an object that a single player couldn't push on their own or having three people combine forces to put out a fire by all of them spraying water on it – these are the kind of things to me that are quintessentially Zelda.
USg: Tri Force Heroes does not have a voice chat and text chat; how do you think you've made communication between players managable?
HS: With my experience on Four Swords, I thought that the play experience really changed depending on if any members of the party had previously played the title, and how familiar they were with the gameplay mechanics and the puzzles. So if you have four players together and one player was a vet, they would spend the majority of their time saying "Hey, Player 2, go do this," "Player 3, pick that thing up," and "Why are you doing that? Don't do this." For them, it takes out some of the fun because they are just ordering people around, and for the other players, rather than have an experience where they're learning and experiencing this thing in wonderment and having a good time, they're just being told what to do, and that's not necessarily the best experience for people. That being said, if you're playing with your buddies, that's one thing you can sort of mitigate, the potential for the experience that I just described. But because Tri Force Heroes can be played online with strangers, [I] felt that it was a bigger issue.
To mitigate the issue of playing online with people you don't know and ending up having a situation where you're just giving instructions, we came up with the idea of the communication icons that you see on the touchscreen. And to be honest, a few of the things turned out better than anticipated. I thought it might be difficult to communicate with other players using nothing but these panels. That being said, if you're the person who is giving instructions to some of the other people in your party, like "Hey, I need you to do this thing over there with that other thing," just using the panels to communicate... that is sort of like a quiz, almost a puzzle in and of itself. Of course, the people who are trying to understand what is being communicated to them—for those folks, it's also like a quiz, a quiz show, or a game, and I think the level of that sense of accomplishment, that sense of achievement is pretty outstanding and is actually a little bit unexpected, in that we hadn't thought that it would turn out quite like that when we implemented the panels, or came up with the idea. But we were pretty happy with how it turned out.
USg: Were any costume ideas for Tri Force Heroes left on the cutting-room floor?
HS: I can think of one right off the top of my head. That would be one that was inspired by the folktale "The Emperor's New Clothes," which as you know is the story of the emperor who thinks he's wearing something of the highest fashion, but he's actually—when other people look at him, he's not wearing anything. They thought that would be a great idea for an outfit, but they weren't able to come up with an implementation that would—they weren't sure how to wrap up that whole thing as one good feature spec, you know, "How could we actually implement that neat idea as something that's relevant to the game?" They unfortunately weren't able to come to a conclusion, so that never made the cut.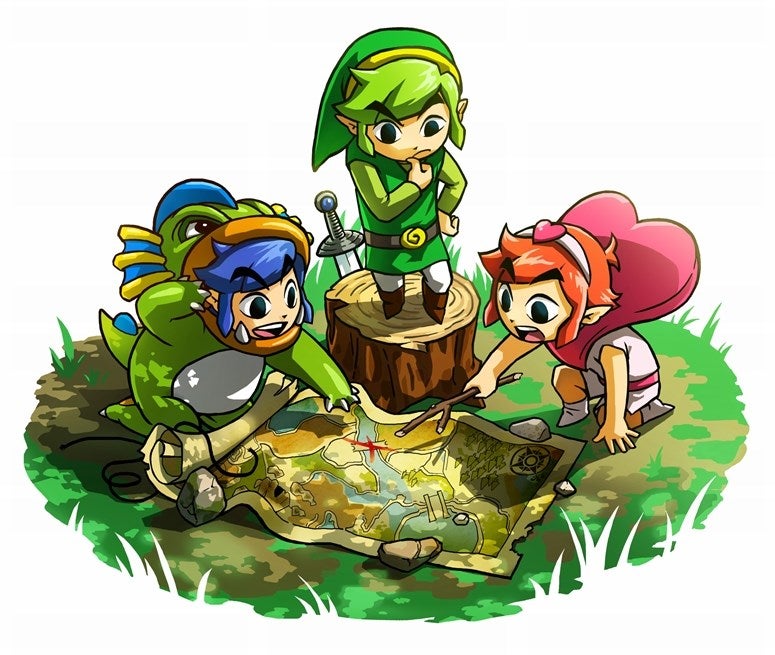 USg: I'm just wondering where the theme of fashion in general came from for Tri Force Heroes. It's more than just the mechanic, it's very thematic to the world itself. What inspired the choice to go with a very fashion-based game?
HS: ...We think collecting items is a theme that recurs quite often in Zelda. I also wanted us to have something that would help differentiate between the players of this game and focus on multiplayer, and so you have three different people, we wanted them to be able to identify themselves and also say "Hey, look what I've collected," maybe a little bragging rights as to what they have collected or what they have created. Now in Phantom Hourglass, we focused on collecting the ship parts and with Spirit Tracks… train-related items, so this one we really decided to go with something that would work well as a collection item and give players a way to separate themselves from the people in their party, and give them the ability to show off and show what they have collected so far.
USg: Mr. Shikata, I've noticed your Legend of Zelda games deviate most from the traditional Legend of Zelda formula, as it were, and I'm curious as to whether this was your explicit intent, and if you felt any anxiety about mixing up a series that is very based on tradition?
HS: Are my games that far off the beaten path? *laughter*
USg: Well, I mean A Link Between Worlds was a little less linear, and a little more like a throwback to the earlier Legend of Zelda games—at least the first one where you could just find your own way and you weren't as guided.
EA: That's a great response; it's actually something that [we] feel was maybe intentional, as working with Mr. Shikata to create a new Zelda experience or—yeah, I guess an innovative and unique Zelda experience, so if that's the response we're getting, then that's a well-appreciated and well-received response.
HS: You know, if you're talking about some of the unique features with A Link Between Worlds, it was the ability to use the walls to move from place to place, to go into the walls. With Tri Force Heroes, of course, it's the three-player aspect, as well as the ability—the totem mechanic. And from each of these sort of unique gameplay elements, we've expanded upon those to create each of these games. So, they weren't really trying to emulate something else or trying to go for a specific goal, per se, but using these mechanics that were unique in and of themselves, they were able to create games that—as you said—maybe venture a little bit further away from what we would consider traditional Zelda gameplay.