BoxBoy + BoxGirl Review
The BoxBoy trilogy pulls an Uncharted 4 with yet another sequel.
This article first appeared on USgamer, a partner publication of VG247. Some content, such as this article, has been migrated to VG247 for posterity after USgamer's closure - but it has not been edited or further vetted by the VG247 team.
A couple years ago, with the Nintendo Switch on the horizon, I wrote an obituary for the Nintendo 3DS. It was a little early, sure, but I sensed the portable console was approaching its deathbed, like it just received news from a pessimistic doctor about a terminal illness. With nothing left to lose, the Nintendo 3DS has gone out on a quiet note since, enjoying its free time as a forever-favorite portable with an admittedly bangin' library of games.
Of those games were a slew of lesser celebrated Nintendo-published exclusives, such as Pushmo and BoxBoy. The two puzzle-oriented series went hand-in-hand; built at a small scale for a micro system, but never to a detriment. They were great ways to pass the time on commutes, plane rides, and laundromat visits. They were very "Nintendo" in vibe, family friendly with a dash of quirky humor, never edging into the inappropriate. In the Switch age, especially in a post-Nintendo Badge Arcade world, I worried for these smaller-scale Nintendo projects. Would they still find a home on Switch? Luckily, as evidenced by the great but familiar sequel BoxBoy + BoxGirl, at least one has.
Developed by Kirby stewards HAL Laboratory, the BoxBoy series (its latest iteration stylized as BOXBOY!, as if its goal is to give USG's style guide, and me by extension, a heart attack) has assuredly carried onward for four years. Since its first entry in 2015, three in total have graced the Nintendo 3DS, culminating in what was to be the finale of the series, Bye-Bye BoxBoy. Nintendo didn't bid farewell to BoxBoy though, bringing it back for this year's Nintendo Switch sequel.
It's a solid one too. It's familiar, only now shinier and way bigger for the Nintendo Switch. Jagged pixels are replaced with smooth graphics; colors like yellow are even more accentuated. Even the background is more detailed, in a nice touch, with a very faint grid that helps when planning where to place or build up your boxes. Strangely, there's a budget charm lost now with the smoothness of it all—BoxBoy, after all, began as an experimental project for HAL Laboratory—but that luckily doesn't extend to the puzzles and mechanics.
BoxBoy + BoxGirl gives you a new option: you can play as either Qbby or Qucy, as they work together to reunite their friends and family and overcome the evil black mist that's been an omnipresent foe in the series. As with all the BoxBoy games, you extend blocks from yourself, and make shapes around your square-shaped pal to solve puzzles. Maybe you push out four blocks to make a bridge over a bed of spikes; or maybe you make a tetromino L-shape, and leap up to hook yourself on a corner, and then zip yourself up with the Y button. The more you progress, the more complicated the puzzles you're solving (and skills you attain) get.
Each world introduces a new mechanic or a new gimmick to work around, like a teleporting hole where you have to estimate what blocks you need to have formulated before hopping to the other side. In some of the later worlds, where sliding blocks enters the picture, I noticed my Switch chugging a little bit frame rate wise, with even Qucy's jumps stuttering and not being as smooth as the rest of the game had been. It didn't hit too often, but it was present and annoying from time to time.
The other new option is the biggest change in this entry of the series: co-op. And it's an entire co-op campaign too, though I noticed the levels feel far shorter than in the single-player "main story" campaign. Each player takes control of each boxperson, and each level has a different amount of boxes each player can use. In one, for instance, Qbby had three cubes they could magically conjure, while Qucy only had two; the levels are designed in a way, partially in limiting boxes, that forces you to work together with whoever is playing on another Joy-Con.
The couch co-op is a lot of fun, if a bit annoying if you play with a partner who likes to make mistakes just to pester you. In it, you can use the other player as even a block itself. For one puzzle, Qucy built up some blocks, stood on my Qbby's head, and then I jumped upwards so they had some extra leverage to get to a ledge. In other levels, we found ourselves pushing each other off into spikes a lot; sometimes on accident, other times on purpose. Regardless, it was all in good fun, and I was glad to see that the co-op has its own campaign, rather than just plopping another cube buddy into the main campaign's worlds.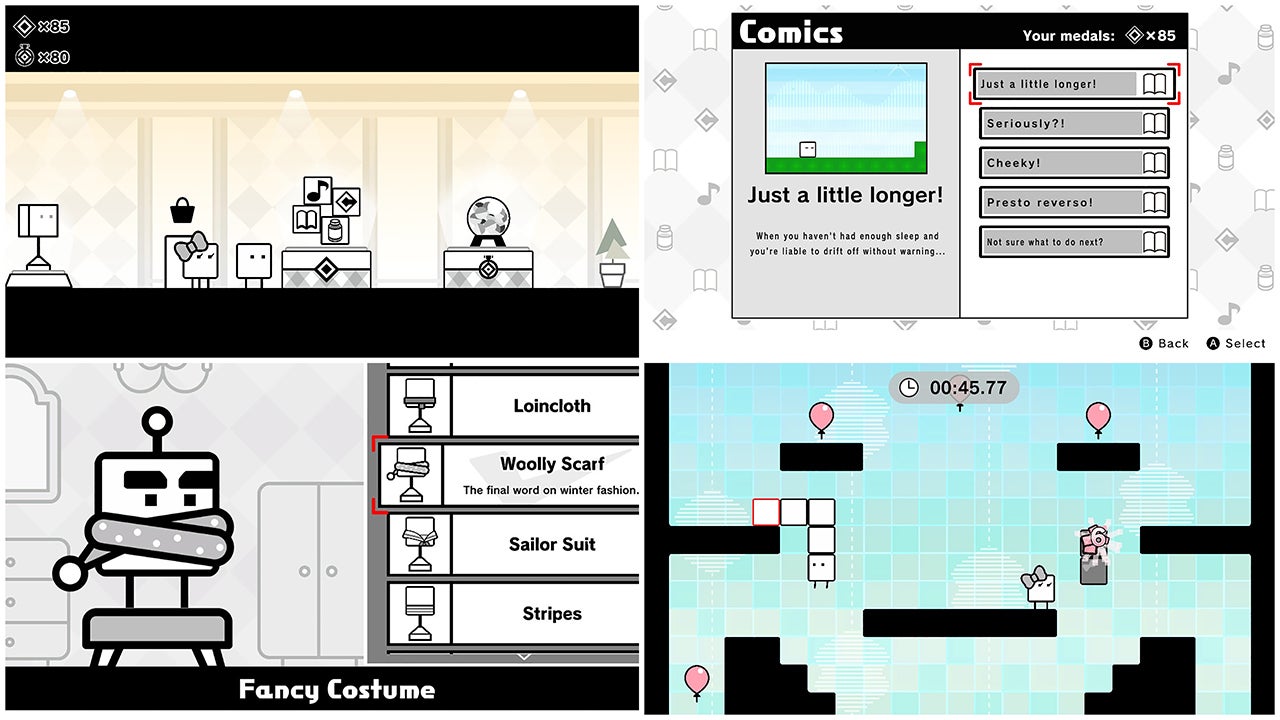 BoxBoy + BoxGirl also throws in another bonus campaign upon completion of the main single player story. It's comparatively shorter, but the abilities you have with your super tall cube-fellow are uniquely different, posing a clever new way to think of how to build up blocks and get across levels. There's always been replay value in the BoxBoy series thanks to score chasing, but with three stories to play through in BoxBoy + BoxGirl (the co-op and single player ones similar world-and-story-wise, but with different individual levels), it's the biggest game the series has ever had.
Like other BoxBoy games, you will be awarded with medals upon each stage completion that you can spend on challenge stages (where you pop 10 balloons in a time limit), new music to play at your leisure, and accessories for the boxpeople. In BoxBoy + BoxGirl, it's even more loaded, with options to accessorize Qbby or Qucy with head, eyes, mouth, and body accessories.
My Qbby at the moment is wearing a sailor hat, has their eyes closed in a tired fashion, is sporting a giant bandana, and their body is transparent, so whatever they walk by appears through them. Qucy, on the other hand, I've made into a big baby. She has a pacifier, blushed cheeks, and is also tired-eyed. Her bow remains and will always remain; head gear just appears behind it. Accessorizing, strangely, has always been a fun past time in BoxBoy, and here you're given two characters to accessorize and swap freely between, which makes the endless fountain of medals upon completing levels more of a joy to spend on the gacha-dished out accessories.
You can also spend money on stat boosts, like increased damage resistance (in levels, if you're stuck you can also spend a single medal on a hint as to what to do next), and comics, like the sorts you might find in a cute Japanese mobile RPG. The comics are short, just four panels long. While they don't add much or illustrate the world further, with the constant influx of medals I had, I couldn't help but buy them up.
Even with the sprinkling of new, BoxBoy + BoxGirl feels like a step back compared to the peculiar rocket mechanics and baby-directing of Bye-Bye BoxBoy. Or at least, its aim is more toward tweaking and refining the basics, rather than complicating the core formula. If you think of Bye-Bye BoxBoy like how Trials Fusion controversially introduced four-wheel vehicles to the Trials series, then perhaps BoxBoy + BoxGirl is the Trials Rising of the franchise. It's just back to basics, and delivering more of it than ever before.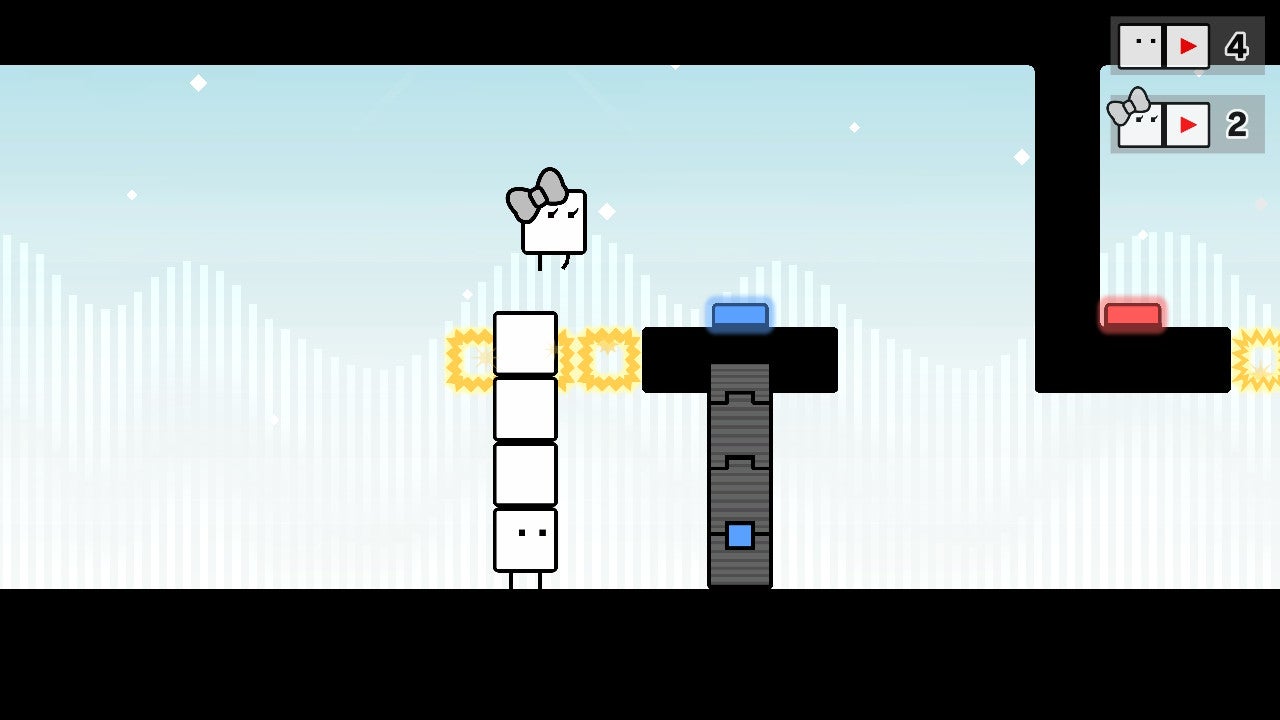 Even with all the new, a lot of the problems you'll encounter are the same as they've always been, with the same ol' lasers and spikes being the crux of most obstacles. The puzzles, regardless of fresh-feeling ideas or not, are still a delight to wrap your head around. The abilities you attain all end up working together slowly but steadily, and before you know it you'll be making hooks, sliding blocks, and butt stomping blocks into the ground to reach an impossible button and open a door in quick succession.
There's plenty of mind-numbing puzzles, but the solution is always a box-birth away. All in all, BoxBoy + BoxGirl is as good opportunity to dive into the series, with high scores to beat, accessories to unlock, challenge levels to master, and multiple campaigns to play. It may just be more BoxBoy, but it's a lot more BoxBoy, and now you can bring a friend along too. And that's a good thing. Long live the 3DS, even if it's on the Switch now.
ConclusionBoxBoy + BoxGirl is the most BoxBoy in any package before it, with three campaigns, co-op, and all sorts of new and familiar accessories to slap on your cubular buddies. The newly introduced cooperative puzzles and some of the new concepts are where BoxBoy + BoxGirl shine the brightest, like a yellow laser striking down pain. Even with a bit too much of a samey feel now four games in, and some performance issues when the levels and abilities get complex, BoxBoy + BoxGirl is a swell puzzle outing for the Switch.