Borderlands: The Pre-Sequel was Irrational's last game and deserves to be remembered that way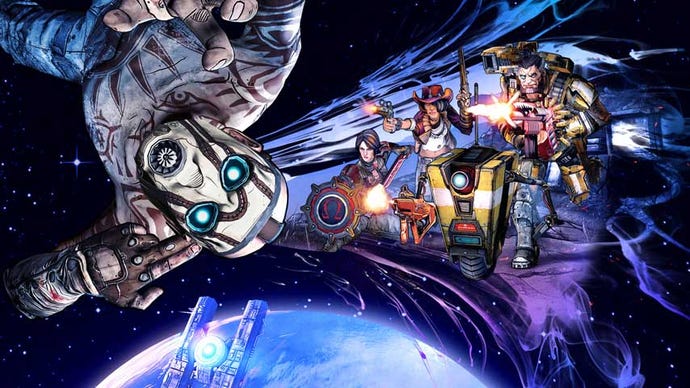 I have three cups. Under one of these cups is Irrational Games. When I spin them around and around, will you know where the studio is? Can you be sure?
It's easy enough to keep track in the early phase - Irrational stays in place until it's acquired by Take-Two, becoming 2K Boston for the making of BioShock. Afterwards it swaps back, becoming Irrational again until Ken Levine announces the studio's closure in 2014.
Right? Wrong. Look again. Watch my hands.
After System Shock 2, Irrational becomes two studios, one in Massachusetts, another in Canberra. They move together in tandem, even when the first becomes 2K Boston and the second 2K Australia. Then something strange happens: while Ken Levine's studio regains the Irrational name, 2K Australia does not. Instead it vanishes beneath another cup, that of BioShock 2 developer 2K Marin. When the world mourns the closing of Irrational Games in 2014, the Australian division still exists. It continues to do so for more than a year afterwards - but very few people notice, their attention directed elsewhere.
The trick has two important takeaways. First, that publisher sleight of hand can see even the most acclaimed developers slide into obscurity, their passing unacknowledged. And second, that BioShock Infinite wasn't Irrational's last game. Instead, it was Borderlands: The Pre-Sequel.
You can see why Take-Two considered it a good match. Borderlands 2 had been stunningly successful, and would go on to sell 22 million copies. But series developer Gearbox needed a break, and 2K Australia was a seasoned shooter studio available in-house - one that had worked on all three BioShocks, no less.
It's only in retrospect that a stopgap spin-off seems like a strange swansong for Irrational Games. This was a project with limited opportunity for the high concepts or deep atmosphere that had made the developer a household name. And yet if you're looking closely, Irrational's stamp is there, even though it's not on the box.
The Pre-Sequel is a game that couldn't be more Australian if its guns fired the corks from hats sold to tourists. It opens to the grungy tones of The Vines, Sydney's most famous purveyors of screamed harmonies. Quest givers bellow about billabongs, and jumbucks found beneath coolibah trees. The breathing apparatus that allows outsiders to survive on Pandora's moon is called the Oz Kit. And the locals wish you a "bonza day" at the Up Over Bar - named as if those down under had, when faced with infinite space, picked a new home as far out and extreme in environment as the one they'd just left. It's the kind of relentless lampooning that's only acceptable when self-inflicted - in itself a characteristic of Australian comedy.
Beyond the oxygen they provide, the Oz Kits are the greatest source of Irrational spirit in Borderlands. By burning off their oxygen, you can give your vault hunter a little boost - letting you slip the chains of this moon's already low gravity. There's a tactical consideration: use up too much of that sweet O2 and you'll face deteriorating health, forcing you to put aside your current objective and find more.
Certain skills grant damage boosts for fighting in mid-air, but you'd do it anyway: one-shotting a skav's oxygen bubble with a sniper rifle while sliding sideways through the syrupy atmosphere is its own reward. In that sense, Borderlands: The Pre-Sequel is an unexpected successor to Tribes: Vengeance, the acclaimed jetpack FPS Irrational made in 2004. That, too, was about bobbing through science fiction facilities, only connecting with the ground so that you could hurl your weight in a new direction.
In The Pre-Sequel, missions place a new focus on platforming, while levels emphasise verticality and exploration. It's not as if Borderlands has suddenly, with the addition of a new mechanic, transformed into an immersive sim - but there is something of System Shock's tactility in the way you're asked to treat the moon's frontier machinery. Often computers and mechanisms don't work as they should until you give them a good thump.
If Irrational sent Borderlands' shooting airborne, the studio successfully grounded its story, which benefits from having Gearbox at arm's length. Although Borderlands 2 lead writer Anthony Burch did contribute to the script, 2K Australia's writers appear to have reigned in the series' tendency towards gatling gun dialogue. Story sequences no longer resemble a supercut of the wackiest NPCs in Far Cry.
It doesn't hurt that Claptrap is made a playable character - which ironically makes his marmite shtick far easier to avoid - or that Handsome Jack is given an honest-to-god character arc, tracking his development from hapless Hyperion company man to gleeful gorer of good guys. 2K Australia smartly uses side quests as an excuse to deepen its characters, like junk dealer Janey Springs, whose surface sweetness belies a tragic backstory. It only took an outside studio to alter the levels of Borderlands' brash comedy and find something resembling charm.
It's just a shame that studio never got to work on anything else, folding as Take-Two attempted to reduce its spending in an expensive part of the world. For all The Pre-Sequel's positives, it's not a fitting send off for 2K Australia - inevitably diluted by the business of slotting into someone else's universe. The developer once known as Irrational deserved a chance to reestablish its reputation as an originator of bold ideas, but ran out of air before it could.