Borderlands 3's Endgame Fights for Position Against Destiny 2 and The Division 2
Gearbox is not letting Borderlands 3 get lost in the MMO shuffle.
This article first appeared on USgamer, a partner publication of VG247. Some content, such as this article, has been migrated to VG247 for posterity after USgamer's closure - but it has not been edited or further vetted by the VG247 team.
Back in 2009, Borderlands was a unique property. Gearbox Software envisioned a unique mix of the first-person shooter gameplay it had expertise in, combined with RPG staples like loot and skill trees. It was a wild success, popularizing what would come to be the looter shooter genre. (Or whatever you call it. I've heard so many permutations.)
But now it's a decade later, and the Borderlands series has been joined by other competitors in various ways. Call of Duty and Battlefield have increased the scope of shooters, rethinking its own movement. Doom added speed and precision, while also reapproaching how to make shooter gameplay more aggressive. The most obvious relatives to Borderlands are Destiny 2 and The Division 2.They are the grandchildren of everything Borderlands established; they're looter shooters that have taken one step further towards MMOs in their quest to always keep you playing.
Borderlands 3 retains a lot of familiarity for Borderlands 2 players; it doesn't vastly rethink most of the core systems, preferring instead to heap more guns, worlds, and skills on top. As I said in my review, the next game likely needs to be a teardown and rebuild of the franchise. But Gearbox Software hasn't spent the seven years since Borderlands 2's release learning nothing. It's definitely looked at Destiny and its sequel, and made sure that it gave the endgame a robust focus.
The cardinal rule of MMOs—yes, Bungie has finally admitted that Destiny 2 is an action MMO—is players will consume content faster than you can make it. A great story campaign is fine, but players need to have a host of repeatable things to do at the end. You have to give players something to do while they wait for the next region, story drop, or raid, and speaks to the strength of your ongoing systems. Destiny 2 had a pretty good campaign overall, but once the community had reached max level, all the issues with gear, bounties, shaders, and PvP were only amplified. The same was true of The Division 2, which had a meaty campaign experience and a solid endgame loop, but ultimately ran into player problems with the complexities of its loot system.
Borderlands 3 is coming out of the gate rather strong, not unlike The Division 2. There's a lengthy 30-40 hour story campaign that offers a degree of closure on everything that the series has offered up until now. Gearbox also leans heavily on cooperative multiplayer, with wildly beneficial changes like level syncing and instanced loot.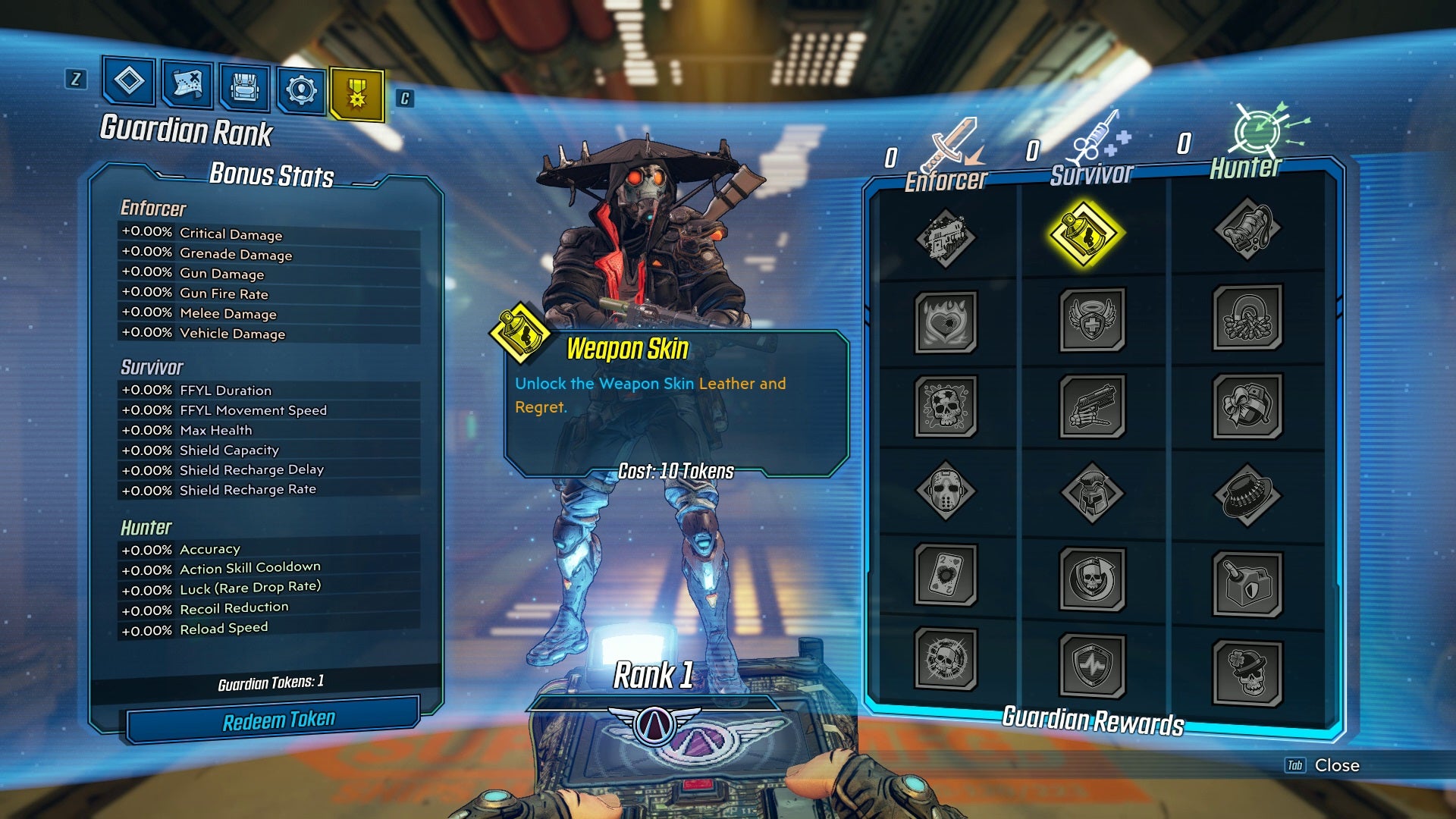 But once you finish the campaign, Borderlands 3 begins to open up new systems to keep you playing. There's the True Vault Hunter mode, which is New Game+, sending you back through the campaign with increased difficulty for better rewards. There's also Guardian Ranks, a remix of Borderlands 2's Badass Rank, where you complete various tasks to unlock more Guardian Tokens. You spend these tokens on three different trees to unlock new bonuses, like improved damage or weapon drop rates. Really committing to endgame grinding via the Guardian Ranks also offer new skins and unique skills, like Overkill, where excess damage from a kill is rolled over to your next attack.
Towards the end of the campaign, you can matchmake for the Circle of Slaughter, Borderlands 3's version of the traditional Horde mode. Here, you face off against waves of enemies for fabulous loot and money, all dependent on your performance. You can play it in single player, but I recommend tackling this with a team.
Finishing the campaign also opens up the Eridian Proving Grounds, which is almost like Borderlands' 3's version of dungeons from World of Warcraft or Strikes from Destiny 2. These are timed trials, pitting you against a few rooms of enemies and a single boss. It's also offers better loot, depending on how many bonus objectives you complete and how fast you kill everything.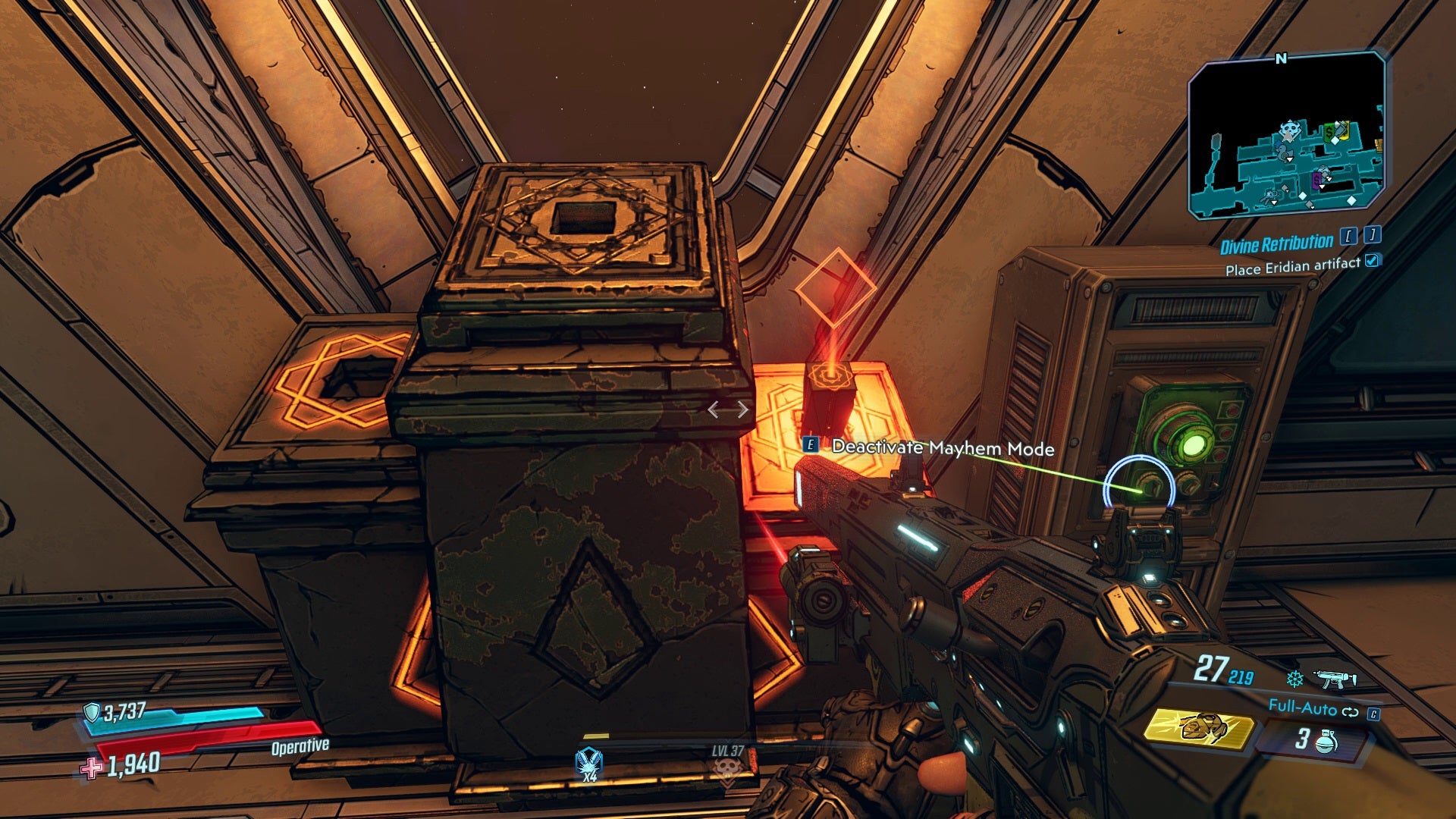 This is the bread-and-butter MMO "do this same thing over and over again for better loot" addition. Proving Grounds will probably be one of the most played modes in Borderlands 3's endgame, because it's also the only place to pick up the new Anointed Gear, which gives additional unique perks over the normal guns. (You can also buy it off Crazy Earl in your ship's hold for rare Eridium.)
The final new endgame feature is Mayhem Mode, which also unlocks once you've completed the campaign. This works like a mix between Diablo 3's Torment difficulties and Destiny 2's Nightfall Strikes. You'll receive access to Mayhem 1 upon finishing the story, which increases enemy shields and armor by 25%, and health by 15%, but also increase the weapon drop rate by 100%. It's harder, but more lucrative.
There's more, too. Any time you teleport to a planet while in Mayhem Mode, it'll gain a mod, like increasing or lowering your physical and elemental damage, doing the same to enemies, or much more. It's all about adaptation and rolling with these new tweaks to enemy encounters. There are a total three Mayhem Modes that are seemingly unlockable in Borderlands 3, though I'm unsure if Gearbox has more planned. (Diablo 3's Torment mode tops out at Torment 16.) In higher levels of Mayhem, the harder enemies hit, the harder it is to kill them, and the mod effects become much greater.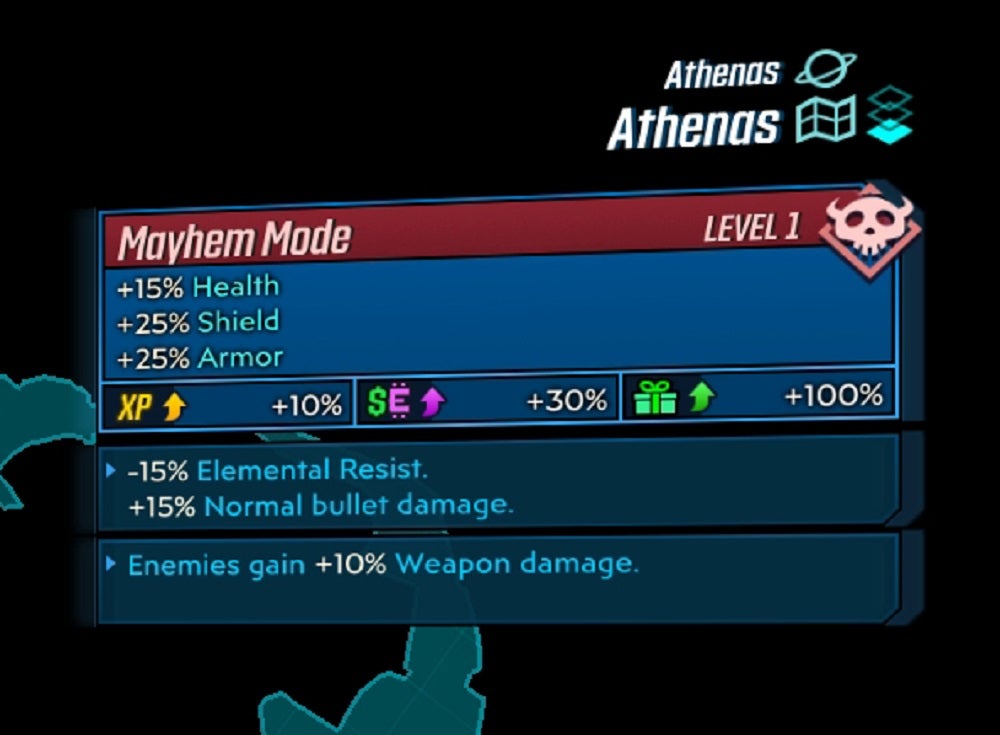 Borderlands 3 offers the of MMO-style content that keeps players happy for what comes next. Gearbox has already promised that raid bosses will be coming to Borderlands 3 in October, starting with the Bloody Harvest event and Maliwan Takedown, which includes a new map. That should keep players satiated until later in the year, when the first paid DLC expansion will drop, offering more story content to Borderlands 3.
The most important part of Borderlands 3's ongoing services is making sure players stay fed. Gearbox did that previously with hard modes and paid DLC, but that's probably not enough six months, a year or more down the line. The studio wants Borderlands 3 to stand up to its MMO competitors, Destiny 2 and The Division 2, who are constantly evolving their overall play. Borderlands 3 has to continue engaging players. Gearbox has said that this is merely the first stage of Borderlands 3, and if it's going to succeed, the second and third stages have to be sure to provide more flavor and challenge. Because if it doesn't, Borderlands 3 could get lost in the crowd, losing the long tail of play that defined the first two games in the series.