BioWare talks Anthem's endgame: "There's always going to be a reason to come back"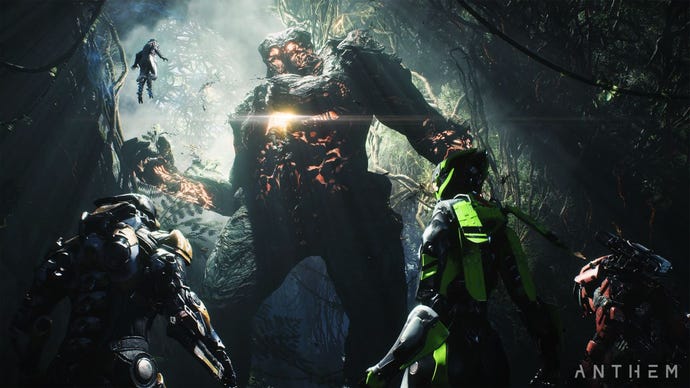 Arekkz had a chance to talk with BioWare game director Jonathan Warner about endgame activities, progression, and the overall goal of your Anthem character.
Anthem will be BioWare's grand entry into the action-RPG that isn't quite an MMO genre, which means its story has no fixed end. Instead, players can continue to develop their characters through world missions, events, and endgame activities. Arekkz brought the subject up while interviewing game director Jonathan Warner, hoping to get an idea of how Anthem might handle these details compared to games like Destiny.
"The overarching goal is really to power up your javelins to the degree where you feel that you're pretty legendary," Warner said. "You have that mid-level goal of 'I'm going to go out and defeat the Dominion', which is [the story] we're going to tell. And then there's the world conflict, cause once you defeat the Dominion, the work's not done."
BioWare has previously said it will offer additional story expansions, but there the concept of ongoing endgame activities and challenges will be built into the game world and lore. "This is an unfinished world by its gods," Warner continued. "The gods have left, and left it in kind of a strange state and so that's always a conflict that you're going to engage in."
Warner adds that these endgame activities - ranging from world missions , to daily challenges, to taking on powerful strongholds - will reset so your can continue to benefit from them if needed. "We're still fine-tuning it to find out what that cadence is, but ... there's always going to be a reason to come back on a weekly, daily basis."
What's more, endgame activities will allow you to continue developing your javelins without having to restart the entire campaign. "As a pilot, you can have many different javelins," Warner continues. "So not like a traditional RPG, where you start out and you pick a class ... play for a few hours, start a new game and play it again ... This allows you to get in and start leveling up your pilot and change javelins as you want and as you see fit."
The full interview goes into further progression and customization options, but it does seem like Anthem will support a wide variety of javelin builds which are tweaked to your exact preferences. We'll see how the systems fully fit together when the game launches for PC, PlayStation 4, and Xbox One on February 22, 2019.