BioWare on Dragon Age II combat: "think like a general but fight like a Spartan"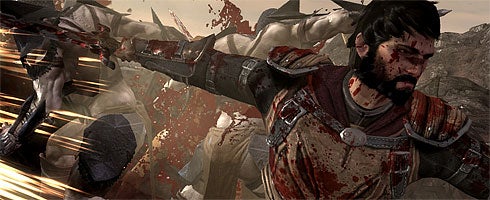 Worried that the Dragon Age you knew and loved has been violently (but silently) murdered - replaced by some pale, tactically brainless imitation?
Worry no more.
"You still have the full tactical menu on the console and the ability to switch between party members – put them on the enemy over here, and then you're going to attack this person. They'll follow all your commands – you can think like a general but you can fight like a SPARTAN now too on the console," development manager Robyn Theberge told Video Games Daily.
"I think there's just more variation now between PC and console on Dragon Age 2. I didn't work on Origins so I can't speak to their decision-making on that. But on Dragon Age 2 they just wanted to appeal to more people, add more combat in for those who wanted it, keep the tactics for people who loved the game and loved that about our games, but take it to another level as well."
Theberge also added that - despite what some fans may believe - BioWare's listening, and it hears you loud and clear.
"We want to sell videogames. We want to appeal to as many people as possible. And that was one thing with our feedback – we have forums, we have a ton of great fans and we definitely listen to them, and respond to their desires and what they'd like to see, what direction they'd like to go in. And that's where a lot of the key changes that we've made to Dragon Age 2 have come from."
As for proof, well, until the game comes out, it looks like you'll just have to take BioWare's word for it. Granted, BioWare's got one of the best track records in the business, so we definitely won't lose any sleep over it.