Biomutant Toilet Puzzle | Where to find all the Flush-Stools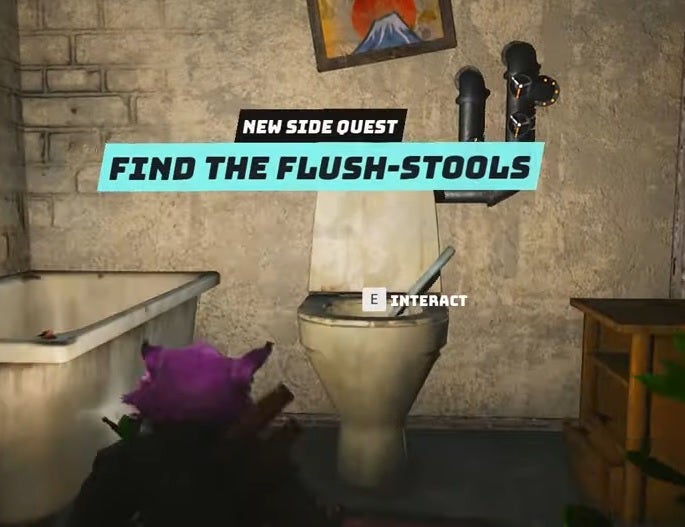 Stuck on the toilet? Let me help you out with this handy Biomutant Toilet Puzzle guide.
There are several puzzles to decrypt in Biomutant, including one involving the lavvy. Before it drives you round the U-bend, you'll need to figure out(house) the knack for completing the Toilet Puzzles.
Don't worry, we've got your back(side).
Biomutant: Where to find the Flush-Stools
There are five Toilet Puzzles to find and complete in Biomutant, so you won't get bogged down trying to solve endless puzzles. Thanks to this guide, you won't have much pissing about to do trying to find them.
You can find the Toilet Puzzles in:
Bricktown - take a left after beating the Morks, then head up the stairs until you see a doorway on your right. Go through the building and keep going until you find some wooden stairs and there will be a bathroom on your left.
Suburbia - Look for a destroyed house in the Northeast of the town.
Thoroughfare - Head inside the restaurant with a cow marquee outside.
Clearway - There's another cow marquee outside a building in the East of the H-Two-O Outpost. Head into the shop to find another bathroom.
Aerodrome - Complete the Lobo questline then fly over to Fruckle in the West of the Kluppy Dunes area. You'll need to use the Klonkfist to smash down the wall and get into the bathroom.
Biomutant: How to solve Toilet Puzzles
All of the puzzles in Biomutant follow a similar theme in that they are rotation-based. You can check out our Rotation Puzzle guide here for a better idea.
To complete the Toilet Puzzles, you'll need to arrange the Flush-Stools - which look like big water pipes - in the correct order. You'll be interacting with little wheels as opposed to poop, thankfully, which are colour coded with white and orange dots or lines.
Make sure you're privy to the colour at the beginning and end of the puzzle, which should be either side of the starting line or dots. The lines are made up of three segments, so if the pattern begins and ends with a thin coloured line, then it counts as one segment.
To complete the Toilet Puzzle, all you need to do is alternate the colours to make a pattern, which you can see an example of above.
You can check out out other Biomutant guides such as should you ally with Jagni or Myriad and what breed and class should you start with here.