Biomutant Crafting Guide | How to craft guns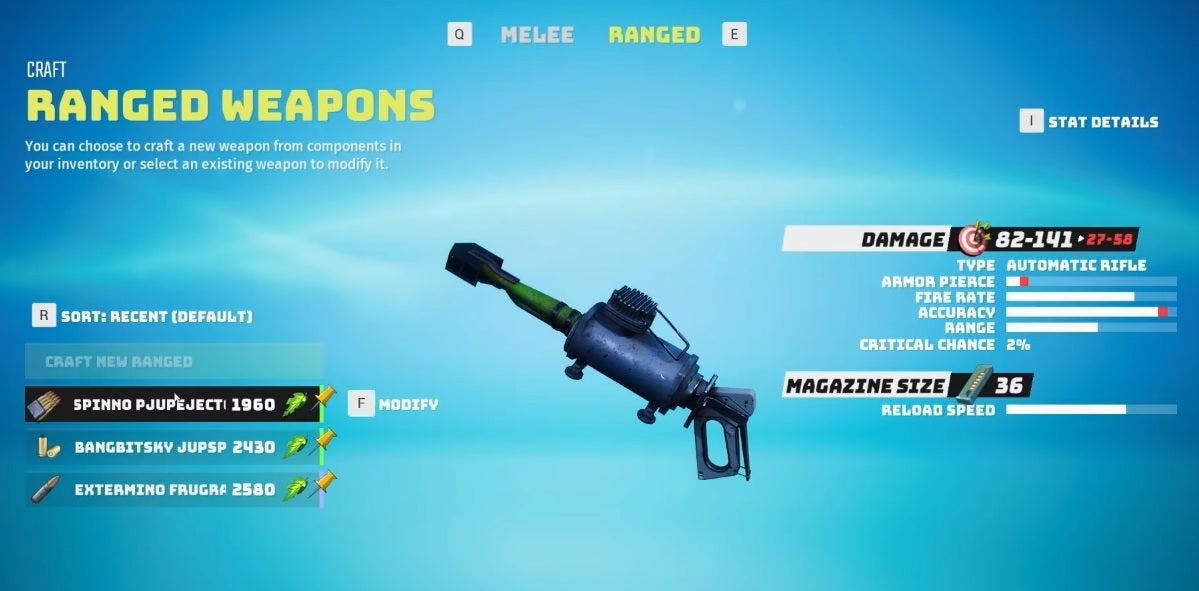 There are loads of weapons to get your paws on and craft in Biomutant and in this guide, we'll be looking at how to craft yourself the perfect gun.
Biomutant is an Action-RPG and as such, you'll have a multitude of weapons to wield, including a nice selection of guns. While you can find and buy guns as you go, you can also craft and upgrade guns to improve your loadout.
You can craft various mods for your guns, such as grips, stocks and muzzles, so let's take a look at how you do it.
Biomutant: How to craft the best guns
To get started with crafting guns, you'll need to head to the Craft section of your main menu then tab to Ranged Crafting. The other option is Melee Crafting, which doesn't involve guns but the process is pretty similar.
You'll quickly see that to craft guns, you'll need some specific components, which you can find around the world. There are more slots on Ranged weapons and they typically have less power at the beginning but you can soon ramp it up by adding new parts.
There are five key materials you need to craft and upgrade guns:
Wood
Rubber
Plastic
Gears
Digital Chips
You'll be able to find these in the world and enemies will drop resources as well.
Biomutant Gun types
There are six parts to consider when upgrading a Ranged weapon:
Magazines - Improving these increases the fire rate and allows your weapon to hold more bullets.
Grips - Improves accuracy.
Muzzles- Can alter the rate of fire or how powerful the armour-piercing ability of your weapon is.
Stocks - Also improves accuracy.
Top Mods - This allows you to add different scopes, improving range and accuracy further.
Finally, there's the Ranged Base, which essentially determines the type of gun you have. The types of guns available are:
Automatic Rifle
Rifle
Shotgun
Gun
The Rifle and Gun act like a sniper rifle and handgun respectively, so there's a gun for all occasions.
Biomutant Gun stats
When crafting new parts for your weapon, you'll have five aspects to consider that will allow you to create ever more powerful guns.
Bonus Stats are special factors that some guns can have, like a particular Attribute. There's also the Magazine Size to consider, as well as the gun's Fire Rate and Damage. Your best bet is to choose a weapon that comes with a Bonus Stat as it will offer something special that sets it apart from just a regular old Assault Rifle, for example.
Biomutant: Upgrading your gun
As well as crafting entirely new weapons, you can also upgrade your creations and other guns you find along the way. You can improve a gun's Quality or Material up to the max level when you find an Upgrade Bench - you can often find several of these in any named location on the map. The best place to find them is in the shop centre at each Outpost.
All you need to do is gather the relevant materials and get to crafting! If you're just getting started with Biomutant, you can check out our guides on who you should ally with here and the best starter breeds and classes.
You can also see how to complete Rotation, Toilet and Microwave Puzzles here.