Bethesda wants you to "Please Stand By" - for Fallout news?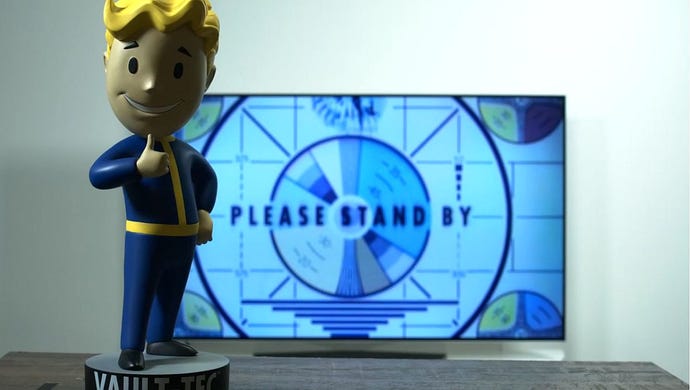 Is Bethesda teasing something Fallout related for E3 2018?
It sure lookes like Bethesda is teasing something to do with Fallout, but this time of year, one can never be 100% sure of anything.
Fallout 3 turns 10 this year, and some folks on the internet think it could be an impending announcement for a remastered version of the game.
If you head over to Bethesda's Twitch channel, you'll see a "Please Stand By" notice on a flickering screen, with a Vault Boy bobble head giving the thumbs up.
Bethesda also tweeted the Please Stand By image on Twitter, a slogan which is extremely familiar to Fallout fans.
#PleaseStandBy pic.twitter.com/5IUjkURCcM

— Bethesda Game Studios (@BethesdaStudios) May 29, 2018
So, is a remastered version of Fallout 3 heading to consoles? A new entry in the series from Bethesda or another developer such as Obsidian Entertainment? Doubtful on the latter, at least this tweet from Obsidian seems to indicate that's not the case. And we doubt it's a band new entry too.
That said, we're not placing bets on either at this point, because when it comes to Bethesda, you never know. We'll find out on June 10 - if not before - because, again, you never know with Bethesda.
Watch live video from Bethesda on www.twitch.tv