The best pirate games you can play right now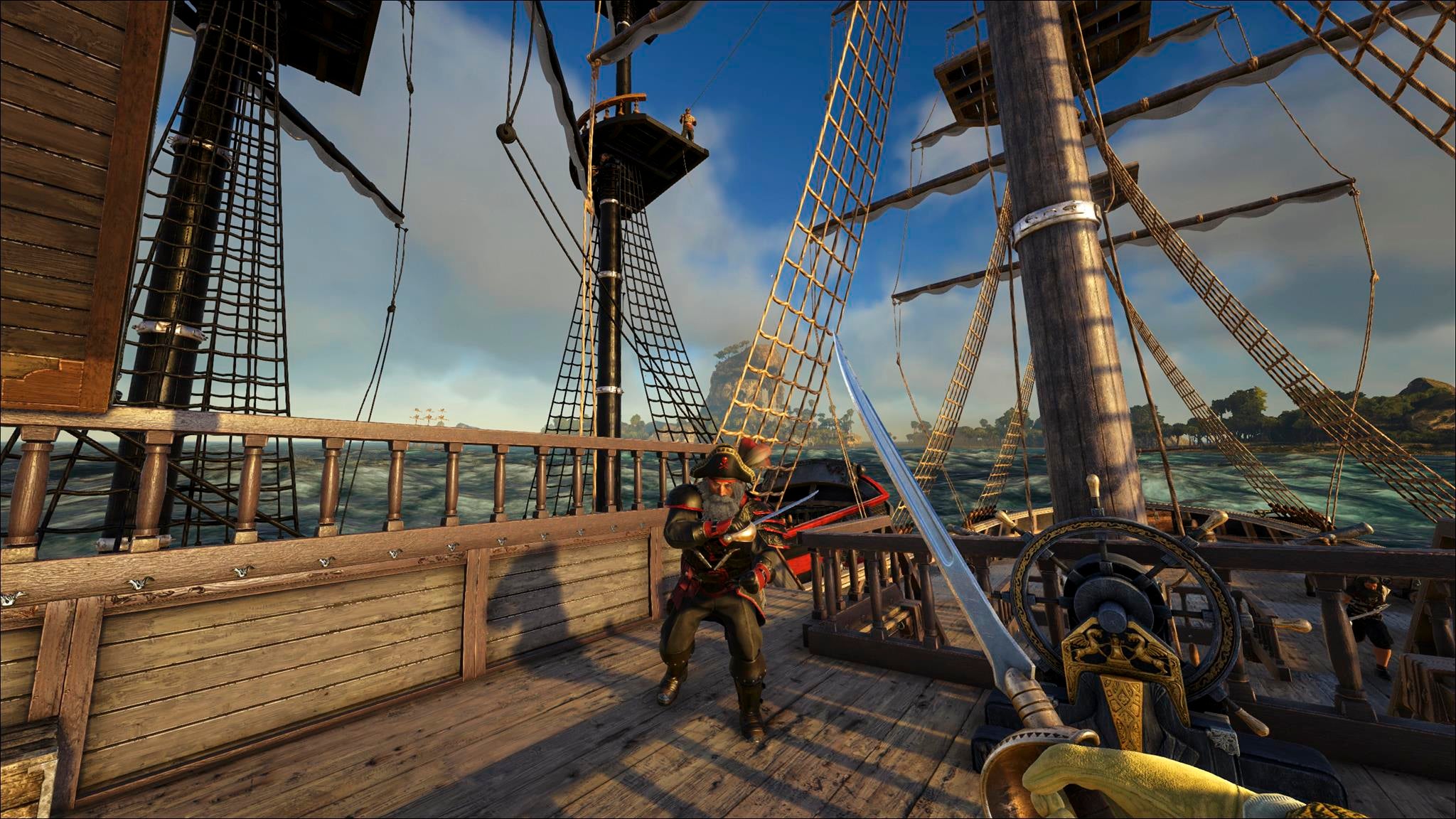 Shiver me timbers, it's time to look at the best buccaneering adventures you can play on consoles and PC.
Pirate games have spiked in popularity over the last few years, so we'll be taking a look at the best games that take place on the seven seas.
Whether you're plundering an enemy ship for loot or enjoying the view of the horizon aboard your ship, pirate games are always good, silly fun.
We're going to avoid classic titles like The Curse of Monkey Island and will instead be focusing on titles that are available on more recent generations of consoles and on PC. Let's set the sails and get ready for an adventure on the big blue wet thing.
Best pirate games ever
Sea of Thieves
This Xbox One exclusive has one of the best co-op multiplayer features around. You sail around looking for loot to plunder and enemy ships you can blast holes in. What's not to like?
You can fight with other players and even mingle with the Kraken if the story missions don't take your fancy. Sea of Thieves is updated regularly and the latest expansion, Forsaken Shores, adds volcanos into the mix.
Jump in today and begin your journey to become a Pirate Legend.
Pillars of Eternity 2: Deadfire
A pirate spin-off is always a good venture when looking for something new to do with an RPG title. Deadfire takes place around five years after the end of Pillars of Eternity and you'll play as the Watcher, hunting the god Eothas through the Deadfire Archipelago.
You'll sail through unchartered waters on the search for enemy ships and completing sea-faring bounties as you go. You can upgrade your ship to become a floating death machine, meet new companions as you sail around and keep any mutinous thoughts at bay.
If you're looking for a pirate game with a brilliant story, then you definitely need to check this out.
Assassin's Creed 4: Black Flag
Speaking of pirate spin-offs, this list wouldn't be complete without adding Black Flag to it. Little did we know that a pirate version of an Assassin's Creed game was exactly what we wanted back in 2013.
Playing as dapper gent Edward Kenway, a turncoat turned pirate, you venture around on land and control your own customisable ship as you cross the seas in search of the latest Templar enemies.
It borrows a little from Pirates of the Caribbean in that Kenway and co are attempting to create a sort of pirate haven like Tortuga. The sea battles are great fun and frustratingly challenging at times, and it still holds its own as one of the best Assassin's Creed titles, even when competing with Odyssey.
Lego Pirates of the Caribbean
Lego games are known for their slapstick humour and playful storytelling and their iteration of the Pirates of the Caribbean franchise is no different.
Covering the first four films, you'll see all your favourite characters, locations and ships in cool Lego form. There's no voice acting which lends itself well, as you don't need to put up with any off-the-mark impersonations of Depp's iconic Jack Sparrow.
There are loads of collectables to find and puzzles to solve, and you can even ride around on a goat because obviously. Fans of current and previous Lego games should definitely check this one out, even if you've grown weary of the films themselves.
Tempest
As you sail around in Tempest you'll discover merchants, creepy cult members and cutthroat pirates, amongst a legendary sea creature or two.
Your ship is fully customisable, from the figurehead to the colour of the ships hull, and you'll sail in real-time across three continents.
There are hundreds - and we mean hundreds - of quests and missions to complete in Tempest, though it can feel a bit grindy at times. It's an action-RPG, after all.
You can also just sail around and enjoy the view, though you probably won't get very far before an enemy decides you're an easy target.
Two Worlds 2: Pirates of the Flying Fortress
Pirates of the Flying Fortress is the stand-alone expansion for Two Worlds 2, complete with its own single-player story and multiplayer mode.
There are all-new characters, weapons and islands to visit, and you can travel by sea and by horse when on land. It's more of a high-seas fantasy adventure as opposed to a true swashbuckling pirate sim, but fans of the Two Worlds series rank it high on their list.
There are around 15 hours of additional content with this expansion, with several hidden bosses to find. If you need a break from the story, there are four new multiplayer maps to battle it out on, so plenty to keep Two Worlds fans busy.
Atlas
Atlas is a pirate MMO from the makers of Ark: Survival Evolved, where you can go around doing whatever piratey deeds take your fancy.
There are several islands to explore and you can raid and commandeer other players ships if you've decided you're a Long John Silver type of pirate.
You can also form your own pirate utopia, but you'll need to have it well protected from other players and foes. Whether you're running a private settlement or captaining a crew with your friends, there's no limit to what you can do in Atlas as a professional pirate.
Furious Seas
Furious Seas is a VR pirate game for Vive and Oculus Rift. As the captain, you can order around your crew, steer your ship and battle against fleets of enemies.
It's still in early access and the VR aspect is still a bit of a novelty, but the good news is motion sickness has been reduced to a bare minimum, so you don't need to worry about getting seasick.
If you're looking for a pirate game that's a little different from the rest, Furious Seas is worth a look.
As far as future pirate games go, the Skull & Bones beta should hopefully be launching soon. You can register for the beta here and hopefully we won't have long to wait before a release date is announced.
Evergreen list
The best games of each platform
Best of series and misc