The Top 10 Games of the Year 2014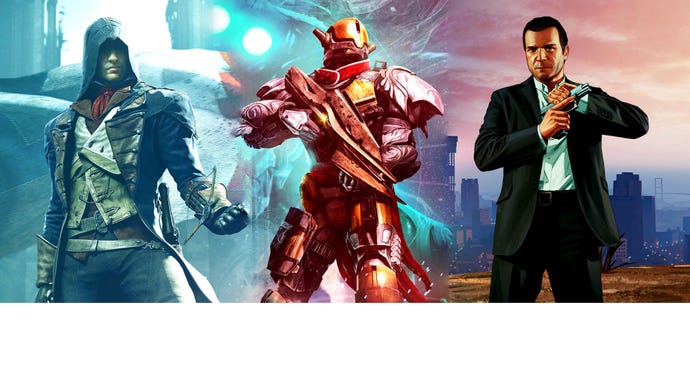 We can now reveal the top ten games of the year, as voted for by the VG247 community.

After more than 2,600 votes you lot have managed to whittle down a list of 38 of the year's biggest games to the top 10. Here they are in descending order, as voted for by you...
10. The Last of Us: Remastered
Still a stunningly beautiful game over a year since it was originally released on PS3, The Last of Us is Naughty Dog at its finest. The great storytelling, horrific atmosphere, human characters, intriguing exploration and tight gunplay were present before, but the PS4 version added an extra level of polish to show off the true capabilities of Sony's latest console.
09. Super Smash Bros. Wii U
The only Wii U game on the list, it seems knockabout fighting is still one of Nintendo's core strengths. While the console struggles to make sales and find a wider audience, games like Super Smash Bros. are unashamedly made for an ever-loyal fanbase. Maybe Nintendo is doing the right thing with its quirky console after all.
08. Forza Horizon 2
The only Xbox One exclusive on the list is easily the best racing game released this year. It looks fantastic, is easily accessible and offers a lot of depth. While Sony's Driveclub spluttered out the gate, Forza Horizon 2 sped off the grid like the finely tuned vehicle it is. 2014 may have been the year that saw a remastered Chief debut on Microsoft's console, but Forza Horizon 2 and Xbox One were made for each other.
07. Assassin's Creed: Unity
After the kind of launch Ubisoft is going to struggle to shake off, it seems that players are still loyal to one of the biggest franchises in video games. Assassin's Creed certainly has its detractors, but the development team has got its formula of exploration, spectacle and acrobatics locked down tight. Would it have performed better in this list had it not been so buggy at launch? That's something we won't know, but it seems as though Unity has managed to roll out from under that disastrous shadow.
06. Dark Souls 2
The only last-gen game on the list, some say it's not a patch on the original Dark Souls. But the fact is Dark Souls 2 is still a fantastic third-person adventure RPG. It's hard, yes, but it's much more than that. Mysterious mechanics and brutal bosses aside, Dark Souls games suck you into a world that slowly, tantalizingly unfolds into a real personal gaming experience.
05. Far Cry 4
Far Cry 4 does open-world right. It gives the player a massive environment, loads of deadly weapons, crazed enemies, fun gadgets and a living ecosystem, and then lets them do whatever the hell he/she wants. Oh sure, there's a story and some bonkers characters, but the best bits of Far Cry 4 involve random violence that escalates until you're left admiring the flaming carnage or dead on your back. Either way you'll be laughing and ready to jump off the cliff into the chaos one more time.
04. Destiny
So many people wanted Destiny to fail but the reality is very far from that. It's a billion dollar game that feels and plays like it's been here for years. The mix of MMO and FPS bundled in a sci-fi wrapping is pure blockbuster video game. After we were all swept along with the hype, Destiny emerged as a true contender for game of the year. It's been a triumphant release and it's here to stay.
03. Dragon Age: Inquisition
Representing for the traditional fantasy role-playing game, Dragon Age: Inquisition is an RPG fan's dream. Bioware creates great characters, locations and story and lets the player get as deeply involved (or not) as they see fit. It's epic drama, sword and sorcery, love and hate in a world that continues to pay back the more hours you invest in it.
02. Alien: Isolation
The Creative Assembly and Sega's single-minded, single-player approach to the venerable sci-fi franchise paid off this year. This was a game that confused some with its tough and unpredictable AI, a game that doesn't let up on the player through the entire experience. It's not a first-person game you've played before, and it's the most tense horror you've played in years. High production values with the original movie cast and incredible attention to detail topped off a game that has become one of the classics of 2014.
01. Grand Theft Auto 5
Well, shit. Look at that. A game that originally came out last year, tarted up, improved and released on Xbox One and PS4 is your game of the year.
Maybe it's seeing the old gang - Franklin, Trevor and Michael - back together again. Maybe it's the endlessly entertaining GTA Online. Or maybe it's the top-class attention to detail, the new modes, content and polished presentation. What's clear is that the core gaming community likes nothing better than rolling around Los Santos shooting the place up, kicking it with semi-unhinged characters and feeling a sense of freedom no other game has managed to capture.
GTA's open-world is wild west mayhem wrapped up in cool contemporary dressing and it allows us all to go apeshit. You lot can do whatever the hell you want in Grand Theft Auto, and that's exactly what you wanted to do in 2014. Respect.