Best of 2020: Final Fantasy 7 Remake, and Alex's other GOTY picks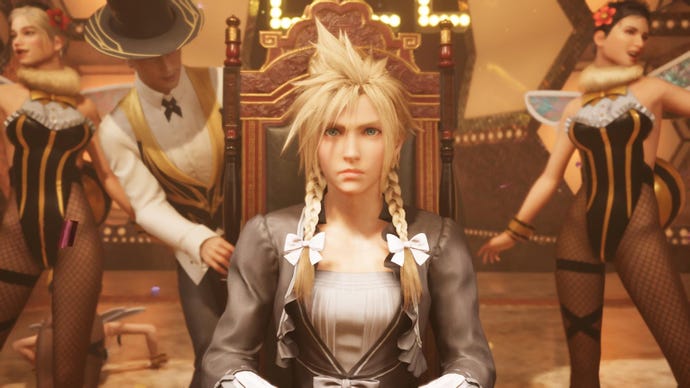 I was one of those FF fans that didn't even want a Final Fantasy 7 Remake to begin with - but there's no denying that Square Enix nailed it.
I never quite saw the point in a remake. Yeah, Cloud and his friends looked incredibly dated in the PS1 game, but as far as I could see it was a near-perfect product. More importantly, I reckon it'd be impossible to do the story of Final Fantasy 7 justice in the modern world with all the trappings of modern games: the detail, the voice acting, the sheer hours required to produce the art and assets for any area of a game, leave alone a whole game as huge as FF7.
Square Enix went another way, as we now know. For a start, they split the game's story into multiple parts - not as episodic releases, but as full-size games. The story of FF7 will now be a trilogy, quadrilogy, or whatever, all of which are full-length games by modern standards. But then the next concern sets in: will each part of the remake feel like a complete game, or will it feel like some awful, truncated experience, padded out with fluff and missing a conclusion?
Slight spoilers here - the decision producer Yoshinori Kitase and directors Tetsuya Nomura, Motomu Toriyama and Naoki Hamaguchi made in tandem with lead FF7 writer Kazushige Nojima was a genius way to get out of that predicament; the remake is a remake, but it's also sort of a sequel.
I won't get into the specifics here, but needless to say that in places, FF7 remake peels off from the main story, doing surprisingly different things. Hints of future reveals are peppered in, and some reveals are actually moved up into this chapter of the story from elsewhere. Sephiroth, who is nowhere to be found in this section of the original game, is a regular and intimidating presence in the remake.
If you'd told me all this a few years ago, I'd have laughed. It's going to be a disaster, I'd have said. Except it isn't. It's actually brilliant, a set up that allows the team to revisit the best and most memorable bits of FF7 that will still work in a modern setting, while veering away from the stuff that might end up not working out. It also means they, creatively, aren't just doing a rehash.
Predictably, some fans were extremely angry with the changes made to the story and are concerned about what future entries in this new FF7 remake series might look like. Listen, I understand - they might be rubbish. They might slip into Kingdom Hearts schlock. But let us enjoy FF7 Remake for what it is: a powerful hit of nostalgia, but also something new and exciting.
The characters are realized in a way where they look, sound and move just as you'd imagined back in 1997 when filling in the gaps left by primitive 3D. The combat, somehow, is the best attempt at a merging of real-time action and turn-based RPG strategy that Final Fantasy has ever managed.
It also looks gorgeous - except for those infamous doors and CG backgrounds. (Square Enix, you'd better announce a PC version in the new year!)
Anyway, it's just all-around brilliant. I didn't even want it. I always say that Final Fantasy is at its best when it's moving onwards and upwards, creating new things. I do maintain that, to a degree, I'd still rather have had FF16 sooner. But I'll be damned if FF7 Remake isn't my favourite game of the year.
Ring Fit Adventure
This one is a bit of a cheat, alright, but I can't help myself. I reviewed Ring Fit Adventure last year and enjoyed it plenty during the review period - but after a while I slipped away from playing it on the regular. Then we got locked down.
This brilliant fitness game is encouraging and more impressively actually fun, which means returning to it doesn't feel like a chore. You're advancing a story as well as burning off the beer and lockdown pounds. I'd recommend it to anyone.
Microsoft Flight Simulator
Everybody is talking about the new Nvidia and AMD graphics cards and the new game consoles this year, but Microsoft Flight Simulator is gaming's real technical achievement MVP this year. The tools built to create this photo-accurate version of the whole planet are simply astounding.
Add to that the fact that this is the most accessible flight simulator I've ever played, with plenty of incredibly useful tools and tutorials to help you get to grips with flying, and it's been an irresistible time sink for me this year.
Yakuza: Like a Dragon
When the Yakuza team announced its next game would be a Dragon Quest inspired turn-based affair, I was bemused. It didn't really make sense, and it struck me as a team bored after making ten-plus Yakzua games, remakes and spin-offs with the same formula trying something outlandish and new. But, man - it doesn't half work?
Obviously, it's ludicrous. But Yakuza always was. I often hear it described as 'Japanese GTA', but Yakuza has always been so much more silly - and so much more full of heart - than the West's premier gangster sim. As it turned out, turn-based battles and Yakuza were a great fit, as the battle style helped to highlight and exaggerate what the series does best. Top it off with a charismatic new lead, and it's a winner.
Streets of Rage 4
Brawlers are still absolutely awesome. They're not a tired old genre best left in the nineties. This game is the proof. Cheers.
You can see what the rest of us at VG247 picked as standouts for 2020, which was actually a very good year for video games, as we publish more articles in the coming week.