"There's totally space for both of us" - Battlefield Firestorm dev on competing with Apex Legends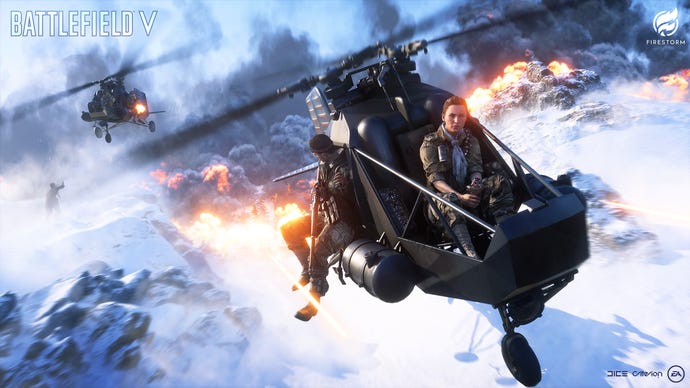 Battle royale is the "it" genre right now, with new contenders entering the massively popular scene all the time looking for a piece of the action.
Mega-publisher EA has even put out two blockbuster battle royales within a couple of months of each other, with the new Firestorm mode for Battlefield 5 arriving just after the free-to-play and highly-rated Apex Legends from Titanfall developer Respawn Entertainment.
The congested release of two directly competing games has been met with some confusion, but internally at least, it's not seen as much of an issue.
John Stanley, a senior designer at Criterion Games - the studio working on Firestorm - told VG247 at a preview event: "Apex is awesome and there are people in the [Criterion Games] office who play it. I play it myself and it's a fantastic game that they've put out. It's just really well done.
"There's totally space for both us and Apex to be in the same ecosystem, but at the same time we feel very different.
"Respawn's angle is doing more hero shooter stuff, where we're going for combat side of things. We've got the rock-paper-scissors style of play that you get classically from Battlefield, we've got vehicle play.
"It feels a lot more tense, but we have a fun thread going through it."
https://youtu.be/y-JB-O8A-TA
Although there was no specific collaboration between Criterion and Respawn, EA studios do work together on projects, as Stanley went on to say that Criterion has had a "great working relationship with DICE for the last three of four years", and there are "really close ties". Criterion has been known to lend its vehicular expertise to DICE projects before.
You can play Firestorm when it's available on March 25.
For more on Battlefield 5's new Firestorm battle royale, check out our hands-on impressions.
Rejoice easter egg hunters, because there just might be a brand-new Megalodon-style hunt on the cards for Firestorm.
Firestorm is a free update to the existing Battlefield 5 package, but EA is currently committed to keeping it as part of the paid-for experience rather than free-to-play like other popular battle royale games.