Battlefield 5's co-op mode is out now alongside a new patch - all the biggest changes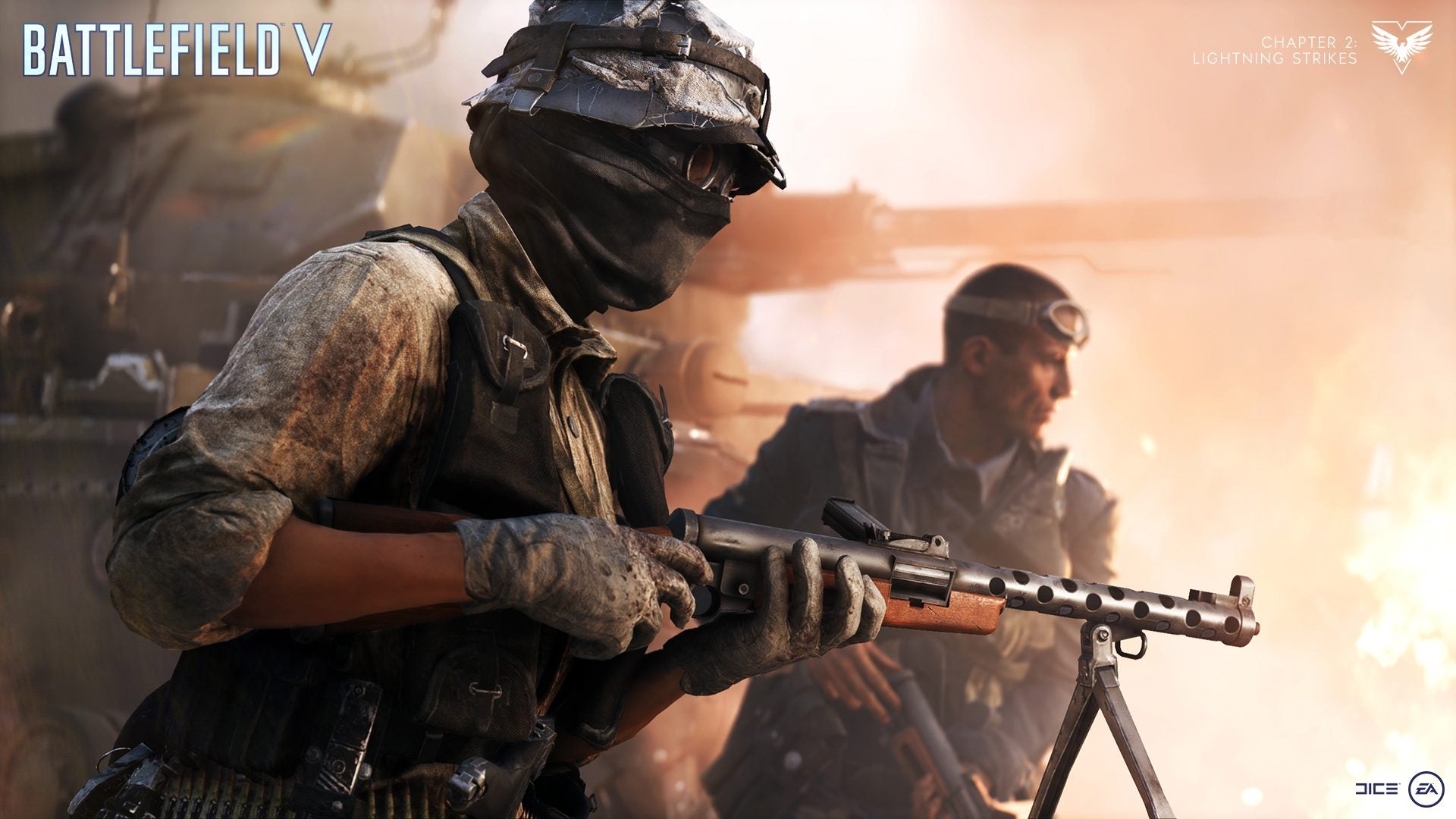 The third Lightning Strikes update for Battlefield 5 has officially launched.
Among other things, today's update adds the long-awaited Combined Arms co-op mode to Battlefield 5. At launch, Combined Arms will be available across four maps featuring four different objective types.
Combined Arms can be played solo or with up to three other players, but you won't be able to bring along AI teammates. Any progress made in co-op contributes to your overall level, as well as that of the Tides of War chapter for even more rewards.
The update is available now on PC, and PS4. Xbox One players will see it beginning 3am PT, 6am PT, 11am UK. The download size is around 7GB.
DICE published a long list of patch notes for us to mull over while we wait. This patch is bringing further improvements to the netcode, time to kill, and time to death experience, player visibility, as well as a host of quality of life updates.
On PC, Nvidia RTX GPU owners will be happy to know that the patch is adding support for DLSS, and improving performance when using ray tracing. Coinciding with the client patch is a back-end update that'll make it possible for players who missed out on previous weeks' weapons, and cosmetic rewards to purchase them using Company Coin.
As we've come to expect from Battlefield 5 patches, the change log is several pages-long. If you're not looking forward to all that reading, head on below for a round-up of the most crucial changes.
General
Made several improvements to vaultable object detection.
It's no longer possible to danger ping a vehicle through smoke.
Netcode
Added a new system that will ensure consistency between TTK and TTD regardless of the network performance issues encountered by players. With this change, the damage sequence from first bullet to last bullet hit will always properly be paced over time and will avoid bundling of damage (super-bullets).
Increased the amount of damage updates that can happen in a single packet to ensure the damage is sent to the player as fast as possible and avoid very delayed damage from weapons like shotguns.
Fixed an issue that caused the client to receive an incorrect amount of damage that would get corrected by the server shortly after.
Fixed an issue where the player's health would wrongly update due to incorrect high frequency prioritisation.
Fixed an issue where players could still take bullet damage for too long from a player that was recently killed, especially if that player had high latency.
When a player is confirmed killed on the server, damage from that player will be rejected. This will not affect grenades, rockets and other projectiles that are not bullets.
Improved the visual replication of projectiles for a more consistent directional damage feedback and to increase the accuracy of directional hit indicators.
UI/UX
Fixed the estimated times duration to be more accurate on the multiplayer mode selection screens.
The indicator that shows when a player needs a health pack from a Medic will no longer show if the player already is in the process of healing up.
When a squad leader with a squad tries to join a full server and ends up in the server queue, the squad will now follow the squad leader if they choose to leave the queue and join another server.
Changing characters will no longer change the equipped cosmetic items but will stay the same as the user has selected.
Weapons and gadgets
Slightly reduced the splash damage of the PIAT against infantry, especially at close ranges.
Greatly improved the detection of areas where players are allowed to deploy Spawn Beacons.
Fixed an issue when using an ammo pouch which could result in the animation showing a health pouch instead or vice versa.
Increased the burn time of the flares dropped by airplanes and launched by tanks to be equal to the Recon's spotting flare.
Vehicles
Increased the velocity and drag of all tank shells. Shells should now travel faster in short encounters but have similar ballistic curves and velocity at distance. This makes tank fights at mid range feel more powerful and immediate, without enabling tank sniping at long range. Additionally, this creates a larger gap between HE and AP shell ballistics, making AP shells easier to aim at longer ranges.
Increased the armour value of heavy tanks by 25% against tank cannons.
Increased the damage values of all armour-piercing Specialized shells by 30%. These shells rely on hits from good angles far more than the basic HE shells. Their damage values were too low to compensate for the angle damage, making them less effective than HE shells in many situations. AP shells should now be a better choice than HE shells when fighting tanks and making good shots, but a worse choice if the angle of attack is poor.
Increased the damage of all tank shells versus infantry by 12%.
The Blenheim Mk IF and Stuka B-1 now properly use "flight zoom radius" settings for the minimap.
Fixed an issue with the Flakpanzer AA which caused it to deal an unintended amount of damage to airplanes when using the default four-barrel gun.
The Blenheim MK IF and Blenheim MK1 are again able to get more ammo when flying through the reload checkpoint for their primary weapon.
The Churchill Mk 7 Tank now takes damage as intended when getting hit on the front sides and rear.
PC-specific
This update includes further optimisations to DXR ray tracing performance and introduces Nvidia DLSS to Battlefield 5.
Balance
-Shotgun Slugs
Increased two-hit kill range to 30 m (was 25 m) and increased one headshot kill range to 50 m (was 35 m) when using the Solid Slug Specialization.
-KE7
Increased initial vertical recoil to 0.7 (was 0.65), decreasing to 0.52 (was 0.5) after four shots.
Increased horizontal recoil to 0.48 (was 0.45).
Changed recoil pattern. The KE7 was still slightly too controllable for its rate of fire, so we increased recoil across the board.
-Turner SMLE
Reduced maximum damage to 40 (was 45).
-M1944
Reduced maximum damage to 40 (was 45).
Reduced range at which one head and one body shot is lethal to 30 m (was 35 m).
-Gewehr 1-5
Reduced maximum damage to 36 (was 40).
Reduced range at which one head and one body shot is lethal to 10 m (was 30 m).
-Zk-383
Increased horizontal recoil to 0.765 (was 0.68) when using the Light Bolt Specialization. With the increased rate of fire, the Zk-383 was a bit too accurate compared to the M1928A1 considering the flexibility from being able to use the bipod.
-Bayonet
Removed damage reduction during bayonet charge, and added a 1.3 sprint speed multiplier.