Battlefield 4: China Rising DLC map names leaked, Air Superiority mode to return - report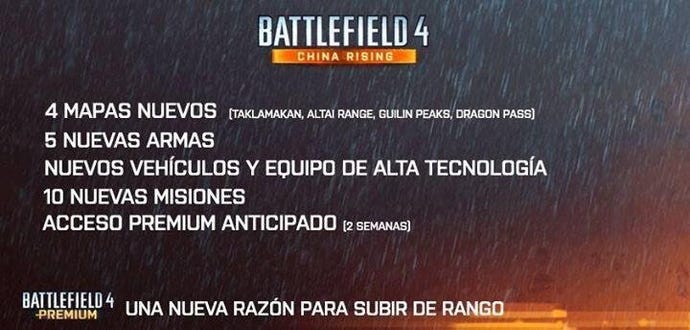 Battlefield 4: China Rising is the shooter's first piece of DLC, bringing four new maps into the fold. According to some marketing material reportedly leaked in Latin America, those four new environments have been named.
It follows this Battlefield 4 PS4 trailer, in which DICE discusses Sony's new tech.
The material was spotted by Spanish Battlelog moderator LoGaN74M and posted on Twitter. Here it is:
The map names are Taklamakan, Altai Range, Guilin Peaks and Dragon Pass. The image also lists five new weapons, new vehicles, additional equipment and ten new multiplayer assignments
MP1st adds that the DLC's PS3/PS4 trophy list has been leaked and mentions the return of Air Superiority mode and quad bikes.
The list goes as follows:
Silver
Mini Kimikaze
Kill an enemy with the SUAV
New Superpower
Complete all China Rising Assignments
Bronze
Fledging
Play a round of Air Superiority
2 Wheels
Get a kill with the Dirtbike
Death From Above
Get a kill with the bomber
What do you make of the above?
Battlefield 4: China Rising will drop December 3 for Premium subscribers, then two weeks later for regular users.