Battlefield 1: every weapon confirmed so far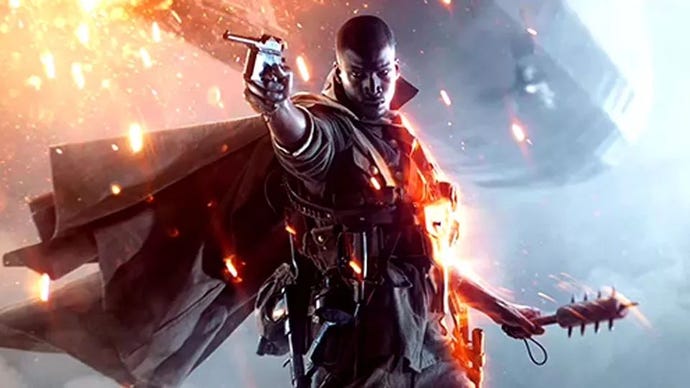 From trench spade to Lewis gun, here's every weapon, gadget and explosive confirmed for Battlefield 1 so far.

Now the dust has settled on DICE's big Battlefield reveal, it's time we took stock of all the hardware you'll be playing with in the new shooter.
There may be some concerns that the World War One setting of Battlefield 1 might restrict the amount of weapons and gear available to players, or that it could be a step back from the devastating weaponry we've grown used to in previous games.
But what this early 20th Century setting brings is a blend of early mass-produced firepower alongside the previous century's more primitive weapons. That's why the figure on the key art for Battlefield 1 stands with a semi-automatic pistol and a mace. It's that contrast that should hopefully provide plenty of tactical opportunities.
Our man Westie has provided the video above where you'll see some of the firearms in action, and there's handy bulletpoint list below.
Melee weapons confirmed so far
Firearms confirmed so far
Trench shotgun: available in the Harlem Hellfighter pre-order pack
Colt M1911 semi-automatic pistol: available in the Harlem Hellfighter pre-order pack
Lee Enfield SMLE bolt-action rifle: a different skin is available in the Lawrence of Arabia pack
P08 Luger pistol: available in the Red Baron Deluxe Edition
Mauser C96 semi-automatic pistol
MG08 machine gun: mounted and load-out weapon will be available
Mauser 1918 T-Gewehr anti-tank rifle
Mauser Gewehr 98 bolt-action rifle with side-mounted scope
Springfield M1903 bolt-action rifle with side mounted scope
MP 18 SMG
Lewis Gun LMG
Lifebuoy M1 flamethrower
Gadgets and explosives confirmed so far
Anti-tank grenade
Smoke grenade
Mustard gas grenade
Gas mask
Dynamite