Banished: a great single-player city builder that brings people together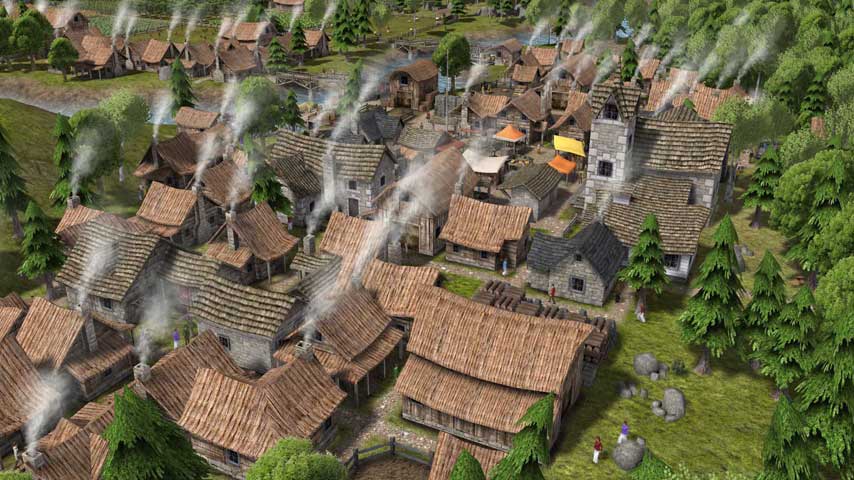 Banished is a city builder, about as solo an experience as you can get. So why has it made Brenna feel more like part of a community than any number of multiplayer titles?
I had a really bad day this weekend. I'd had pretty bad insomnia, and subsequently slept through my alarm, missing naginata training. I'd woken up feeling a bit flu-ish. I'd been trying to play The Elder Scrolls Online with my housemate, hoping that having a good buddy onside would help me enjoy it, but we had a really bad run of disconnects and I lost my temper with it. Eyeing my Steam library, I knew all I really wanted to do was fire up Skyrim and lose myself in it for hours - but I couldn't. Except when I'm playing with friends, my gaming time is pretty much devoted to work or self-education for work (a state of affairs I impose on myself; Pat's not a tyrant, but my Skyrim addiction is).
I looked over my list of "games I need to play" and fired up the next one - Banished, a medieval city builder put together by just one dude. I played for about five minutes and couldn't figure out why the little people wouldn't build the things I wanted them to. In a rage, I shut down my PC altogether and stormed off.
Lying on my bed in my darkened room, I put my hands over my face and tired to figure out why I was really so tired, grumpy, restless and dissatisfied with my life, and after a short bout of reflection I realised I was on the precipice of another period of depression.
Well, fuck that noise; I have far too much to do to give away a week to lying around crying and sighing. Anybody who lives with depression and who has taken treatment for it will be familiar with what I did next: a bit of breathing practice, a walk in the sunshine, a healthy snack, some careful mental assessment - and reaching out for human contact.
I messaged my friend Grace; she's a certified badass in addition to being hilarious and extremely generous, but right at that moment what I was after was her gaming smarts. Grace is a serious gamer. I often swap messages with her in the middle of the night about her ongoing battle with Civilization 5 achievements, or the latest indie gem she's been dissecting, or the fact that it is 0200 and she really needs to get some rest before work at dawn.
I don't pay a heck of a lot of attention to Steam profiles but it has been impossible not to notice just how often Grace had been playing Banished since it came out; knowing her as I do, I doubted she'd be pouring hours into something that wasn't worth my time. We logged into Skype and fired up the game together.
Having discussed the fact that I, a professional games writer, had somehow not noticed the "tutorials" section in the main menu (for goodness sake, Brenna), Grace moved on to teaching me how to play. One of the first things she had me do was go into settings and increase the size of UI elements - something I would never have thought to do on my own. Then she instructed me on which menus I wanted onscreen, and where to put them, and what visual options to have on or off.
Having reached this point, she taught me how to manage the flow of time in-game - pausing immediately to lay out just about every building I would want by end-game, but freezing them all so they consumed no labour or resources. She talked me through managing my population (60% adult, 40% children) and labour pool (you need fewer labourers when the farmers aren't planting or harvesting), and suggested a city lay-out which involves "satellite cities" based around gatherer and forester huts.
Within a couple of minutes I got it. I could see how all the systems came together, and while I still wasn't sure what every structure did, I knew I could experiment and find out. I had ideas about how I might respond to various crises, like diseases or fires, and to the gradually increasing difficulty Grace believes the game employs.
Two hours later, Grace was struggling with famine in a much more advanced save file than mine, and I was taunting her by reading out interesting statistics like how much food was stored in my barns ("oh my gosh I have to build another barn Grace, I guess my villagers are just harder workers than yours"). Suddenly we both looked at the time and freaked out, and that was the end of my first successful play session with Banished. Unsurprisingly, my looming fit of depression had lifted entirely, leaving nary a shadow.
I've been back to Banished a few times since then, although I have to be really careful because this one is a serious time suck; I can feel it already. I've tried setting up another few maps on my own, and done a laughably poor job of it a couple of times, and had better luck on others. I've never felt lost, or confused, though - I know how and why I'm succeeding and failing.
I'm not really a "losing is fun" kind of person. I do like rogue-likes and simulations, but what I really like is succeeding at them; I'm not such a big fan of strategy games or competitive shooters because you have to spend so much time losing to get any good.
Next: Brenna contemplates the way games bring people together.
Banished is one of the first games where I've been able to stomach a steep learning curve, perhaps because once I got past the unfamiliar UI, the game itself is disarmingly simple to play - if not to win. I've been able to hurdle a few pot holes on the road to success. When something goes wrong, I grit my teeth and try to work with it, rather than resetting the map as I would every time I've tried to learn to love games like Civilization or Total War.
I would never have been able to get into banished without Grace, though - drawing on her expertise to if not master than at least come to understand something new. As Grace explained the game to me, she referred to various forums she'd been connecting with; that's where she got the "golden ratio" of 60% adults, and a few other bits and pieces.
This got me thinking about how important other people are in gaming, even for a staunchly single-player game like Banished. Banished could probably use some better tutorials (I checked them out later and they're dull as ditchwater) and a more intuitive interface, but the fact that it doesn't have that is driving people together. Gamers banding together to figure and eventually beat the game - almost antagonistically, with its designers as the foe. This is the kind of old-school community-driven game exploration I find so attractive in games like Don't Starve, and the kind of feeling From Software was hoping to evoke in Demon's Souls and Dark Souls (a child of the days when western RPGs were badly or even not localised in Japanese; this period is also what brought about the Japanese Wizardry family, bless it).
In games like this, the designer not only fails to hand-hold you so you become an instant expert, they also refuse to sacrifice the complexity that can make games great. It's often been argued that games should make sense immediately. But, well - the only reason any game makes sense immediately is because you've played one just like it before; generations of games can thank Mario for the jump button. There's something to be said for games that make you work for it.
Lots of other games writers have compared Banished to SimCity, because Banished really captures the delights and difficulties of city-building in a way EA's latest just doesn't seem to. It's a neat comparison, because the organic social aspect it has inspired maybe sheds some light on what the hell Maxis was aiming for in building the online-only, socially-minded SimCity experience nobody ever asked for.
Social multiplayer gaming is such a strange thing, because gaming is already such a great social activity. Yes, you're hunched over your PC alone at home, but with the barest flick of your fingers - alt-tab - you're exploring the game's forums, or sites like VG247, or whatever, and therefore embedded in a world populated by dozens if not thousands of people having similar experiences to you. People who like the same things as you, and who have stories and wisdom to share.
That's one of the great things about this hobby. It doesn't matter where you live, or what you do, or who you are - you can get online and find a bunch of people who understand what you're talking about. And because games are a very personal experience - no two playthroughs will ever be identical - you never run out of stuff to talk about.
We don't need to be forced to bug our friends for boosts and check-ins to enjoy games socially. We don't need competitive or co-op multiplayer in order to devote hours to a game. We don't need Twitter and Facebook integration to want to talk about games with each other. All we need are great games. Banished is definitely that.
Banished is available on PC via GOG, the Humble Store or Steam, for $20.