Band recreates iOS games in real-life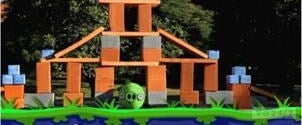 Australian band, Hey Geronimo, has recreated several popular iOS games for its latest music video. Taking in the likes of Fruit Ninja, Cut the Rope, Flight Control and, of course, those ubiquitous Angry Birds, it's cute, it's goofy, and it's through the break.
Thanks, Kotaku Australia.