Auto Club Revolution: social gaming enters high gear
Auto Club Revolution is the socially-charged racing game from Eutechnyx that delivers console quality gameplay in a browser setting. VG247's Dave Cook speaks with Dan Robinson to learn more.
Time and time again I've seen people slamming social games, calling them out as nothing more than cheap, inferior throwaways with little to offer the industry. They're wrong of course, but I get where they're coming from.
If what you're used to is the fast-paced twitch spectacle offered by Call of Duty, or the sprawling colonial world of Assassin's Creed 3, then sure, you might wonder why anyone would want to spend time playing Bejeweled 2 on Facebook.
The respective technical inferiority of social network games can make people think that they're somehow irrelevant or that no one plays them, and that's just a sad, unfair approach to take.
Not every game has to match the production budget of Halo 4, or deliver the kind of aesthetic sheen that millions of dollars and a 150-strong workforce can provide before it can be taken as a credible experience.
Success in gaming is no longer dictated by developer spend alone, and you can see it happening today whenever the weekly charts roll in. Sale figures are dipping in the triple-a market, while social network games like Candy Crush Saga enjoy 50 million players a day. You can bet that it didn't cost millions to make either.
But we are at a crossroads now; at a place where social games are no longer reliant on Facebook, where they don't have to bend to the rules of Zuckerberg's constantly shifting back-end, technical restrictions and mandatory revenue cut.
These games absolutely can deliver visual power, slick gameplay and social interaction independently without Facebook, and there's a real chance for developers to re-define what it means to be a social game today.
I recently sat in a seminar with Bossa Studio's co-founder Henrique Olifiers who discussed the future of social games, and dubbed this new breed of release 'Social Games 2.0'. These are titles that exist outside Facebook, and can deliver their own social integrated social network, while using existing social platforms to bring in new players.
The discussion got me thinking about Auto Club Revolution, a free-to-play, socially-charge racing game that came out of its final beta phase last month, and one that really does embrace Olifiers' notion of 'Social Games 2.0'. I spoke with the game's senior marketing manager Dan Robinson to learn more about its place among the new wave of social games.
"Ultimately this game lives or dies on the people that are playing it," Robinson told me. "It's very different to the console side of things where once you've bought the disc - aside from putting DLC on - essentially the major investment has already been done. Being completely mercenary I don't need to worry about those people any more because they've paid their £45, so I'm done.
"Whereas with a digital game that's free-to-play, the content has to be there and we have to make sure that what we're delivering is of interest, because if it's not those people just walk away. They've not lost anything or they may not have even invested anything in it, other than their time. So we have to make sure that the content we're putting out is good and interesting enough to keep them coming back."
Player retention in a free-to-play format is certainly a tough nut, and it poses many challenges to those operating within the free market today. Eutechnyx has targeted a dedicated bunch of hobbyists however, and Auto Club Revolution certainly does give car enthusiasts plenty to enjoy without asking for much in return.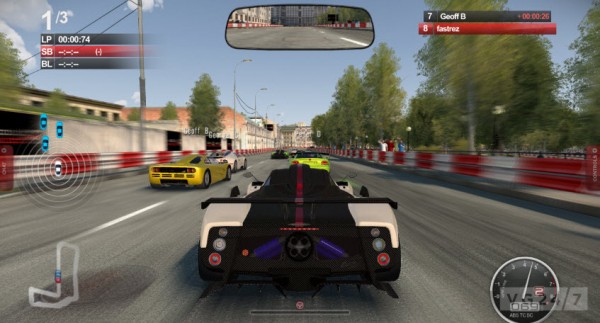 There are over 50 licensed cars from a wide range of brand names, 150 part manufacturers and a slew of real-world tracks including Daytona, Spa and Silverstone to sprint around. Cars can be upgraded using parts applicable to very specific vehicle types, bodywork can be painted or plastered with liveries, and you can even buy a pair of fuzzy dice for your interior if you want.
The options can be overwhelming when you first start your race career, especially if you're crap at racing games like I am, but the wealth of content on offer belies everything people preconceive when thinking about social games. Once on the track, it becomes clear that the actual gameplay experience goes far beyond the small arcade experiences of Facebook.
Robinson continued, "What people have got to recognise is that in five to six years time, there will be a whole new generation of gamers that will not understand or accept the idea of paying £45 for a game disc, putting it into a drive and waiting for it to load up.
"What they're used to is sitting on a phone or a tablet and paying for something at a maximum of £1.69 or something, and then having it there immediately. If they like it then fine, but they're not wasting any real time, effort or money on it. For us it's a question of 'Which markets are more susceptible to free-to-play?'"
Auto Club Revolution entered a long beta phase in the run up to launch to answer this question, and to really hone the gameplay to a level of polish found in the console market. When you're tearing your hot yellow Camaro around the Indianapolis Speedway at full spec there really is little room for complaint. It's a solid racer.
But even the best social games can see a dip in players given the volatility of the market at present, and Robinson was happy to explain how Eutechnyx planned on sustaining player interest in the long term. Luckily, car enthusiasts are a devoted bunch and the studio knows this all too well, bringing several incentives and events into the mix to see them return on a regular basis.
While the game does feature microtransactions there are regular sales, simultaneous car launches both in the real world and in-game, and challenges that see successful players rewarded with branded parts for their favourite rides. This may sound redundant if you're not a car nut, but it could be something that fans of racing can really get into.
With over 330,000 registered players and counting, Auto Club Revolution still has plenty of space to grow as Eutechnyx eyes new territories for its global launch plans. With microtransactions on offer throughout the car showroom, parts shop and paint workshop, there is scope for the game to see a substantial return on investment.
As next-gen consoles loom on the horizon, it'll be interesting to see how spiralling triple-a production budgets and the £45 disc model fare in the face of the cheaper, entirely competent alternatives that mobile, social, browser and PC gaming provide.
If social developers continue to raise their game in terms of quality and playability, the big console players could eventually face some stiff competition in years to come.
You can try Auto Club Revolution for free here if you want to see it for yourself.