Astral Chain looks like another PlatinumGames cult classic in the making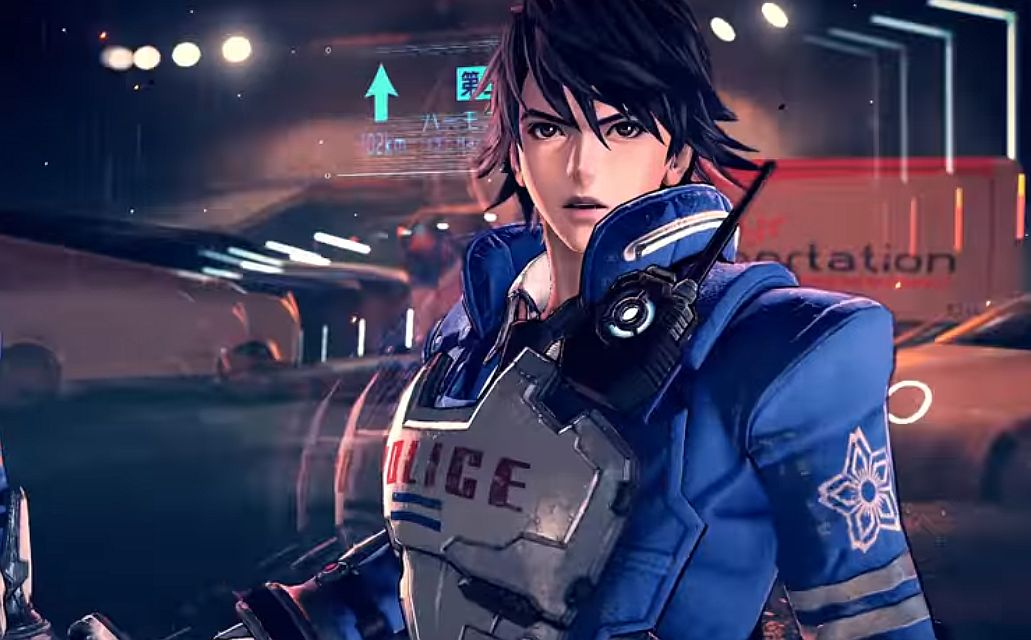 A pinch of Bayonetta, a little dash of Nier, some Arkham-style detective mode action and oodles of style - Nintendo and PlatinumGames' latest collaboration has cult classic written all over it.
I always knew Astral Chain was going to be worth keeping a close eye on. It was the director that sold me: Takahisa Taura was key to the development Nier Automata, and when I interviewed him alongside Nier creator Yoko Taro, the also extremely talented Taro couldn't say enough good things about Taura. The praise was delivered in a teasing way, with Taro chanting "Taura Productions" at the embarrassed young designer after predicting he would become the next Hideo Kojima, but the admiration was clearly there. Now Taura has his own game, developed under the supervision of Hideki Kamiya, another master. The chances of it being naff always seemed pretty slim.
With that said, however, I left an extended hands-off live demo of Astral Chain more impressed with and excited for the game than I'd anticipated. In trying to sum it up afterward I described it as a sort of 'all' Platinum game; you can see the connective threads to multiple beloved games; there's Bayonetta's slick sense of style and super-tight movement, while more open areas and downtime between combat seems to lift from Nier Automata's RPG structure. Atop all of this are, of course, some all-new systems and mechanics.
In Astral Chain you play as what I'll simply describe as an anime cop. It's actually got the Mass Effect Andromeda protagonist setup: you play as Akira, a twin, and whichever you pick, your opposite-sex sibling will be an active part of the story as a non-player character. Character customisation like skin tone changes will impact both twins to keep immersion of them as siblings intact. These anime cops aren't just investigating regular crimes, but rather are dedicated to dealing with the Chimera, evil beings from another dimension that are spreading a dangerous substance called corruption through the city while abducting and killing innocents.
You're not just any old anime cop, mind - you're actually one of an elite unit with special powers. Key to that power is your Legion - an AI partner that you have limited control over. Your Legion works on a cool-down via a stamina-style meter, and when deployed will automatically engage enemies in combat. The titular Astral Chain appears to be the length of ethereal, glowing iron that links your character and their Legion.
The chain between the two player characters actually makes for one of the game's defining features. The chain is a consideration in combat and can be used to your advantage. You can send your Legion around the rear of an enemy, lapping them in order to wrap the chain about them. When that happens, the chain binds the enemy in place for a few moments, allowing you to set up combos and the like. There's some absolutely brilliant animation going on here, too, like the way a Legion can use the chain to yank the protagonist into the air to initiate an aerial combo, or the way the chain is used for traversal movement.
There are multiple Legion that will be unlocked throughout the game, too - in the demo I glimpse a melee-focused partner as well as a dedicated ranged Legion, each with a unique skill tree. You can swap between different Legion on the fly mid-battle, and even in this limited demo one can easily see the potential for brain-melting combos. Even for those not interested in lengthy combo exhibitions, you can see the delicate balance between the Legion and the player, the back-and-forth as you try to work to keep an enemy pinned down, that tempered by the resource management of keeping your Legion in the fight as much as possible. When things get down to Legion-free basics, your anime cop can attack with both melee and ranged attacks, and their abilities and weapons will grow as the game progresses. It's Platinum combat, so it's no surprise to say that it looks bloody nice.
Earlier on I mentioned down-time, and this is where Astral Chain really differentiates itself from other Platinum titles while also clearly taking cues from Taura's work on Automata. In the demo we see the cops exploring areas of the giant 'Ark' megacity that is the game's setting, and there's a mini-map, NPCs to talk to, side quests that can be tackled concurrently and so on. Astral Chain is still split into discrete stages, so structurally it's more like a Devil May Cry or Bayonetta than a Nier Automata, but each stage will have time for combat, time for bosses, and time for exploration and investigation. Not every level will begin with a quiet investigation and escalate, either - the ebb and flow of each stage is dictated by the story.
At a crime scene, things play out in a manner that'll be familiar to fans of Batman's more recent gaming adventures: suddenly there's cool computer vision that visualises the crime scene, and the player must investigate various clues in the environment to put together a full picture of events. It's not all finding smeared blood or monster footprints, though: in one section of this demo the player has to obtain information from other, uncooperative police officers who are resentful of your special division. They blow you off when you talk to them, but that's where your Legion comes into play: regular people can't see a Legion, so you can hide nearby and send your Legion closer to the cops to eavesdrop on their conversation and get the information you need.
Astral Chain is full of touches like this, and it's difficult not to attribute some of it to Taura's work alongside the deeply eccentric Taro. The game's city setting has working traffic control, for instance, where the stop and go signs at crosswalks are projected directly onto the road with holograms. If you jaywalk, you'll be fined from your money. The city will also pay you a little bonus for picking up and properly disposing of litter. These things are ultimately silly additions, but they're ones that are surely going to give the world character and make it feel that little bit more alive.
The demo I saw wasn't the longest or most groundbreaking, but it left me absolutely certain of one thing: I want to play Astral Chain. I dare say PlatinumGames has another cult hit on its hands - but hopefully this can be more successful than that.