Assassin's Creed Valhalla's map features the four Kingdoms of England, as well as some of Norway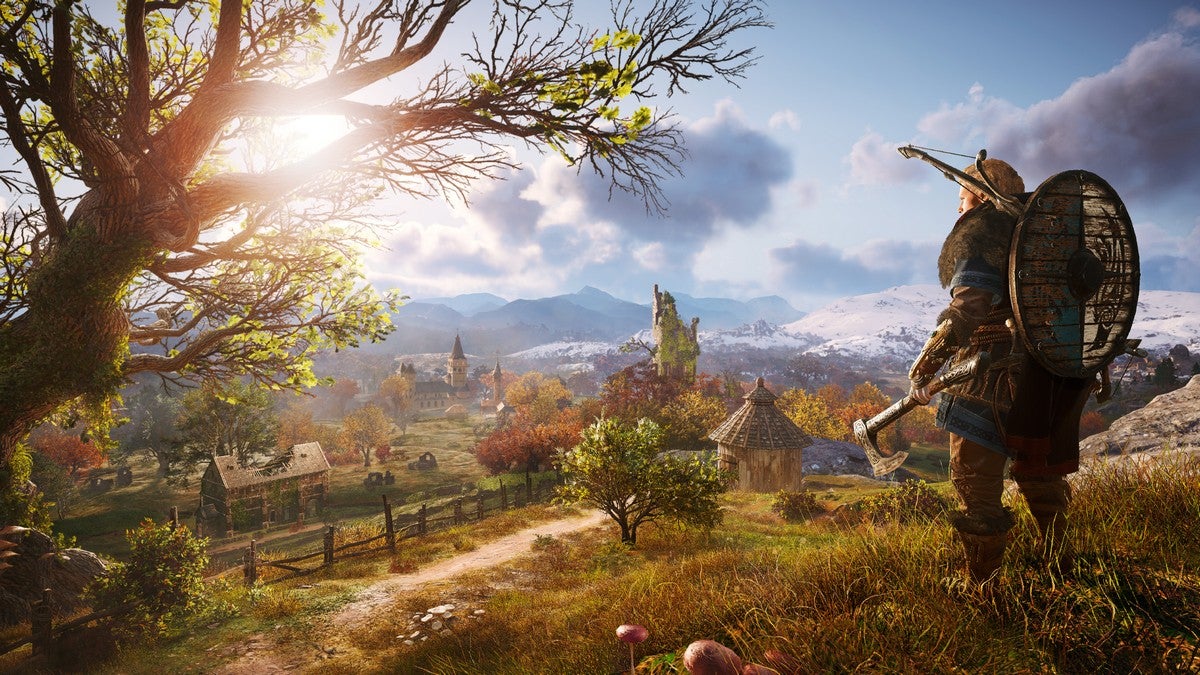 Set during 873 AD, Assassin's Creed Valhalla is focused around the Viking raids on England, as well as their eventual settlement on the land. Because of that, the game will feature a massive chunk of England's rolling hills and an icy Norwegian coastline.
"England itself was fairly fractured at this time, with many different kings that rule over different parts of it," narrative director Darby McDevitt said during a recent developer commentary.
The Vikings used this to their advantage with successful longship raids, using England's rivers to hit targets with guerrilla warfare. But they weren't just interested in raiding - many Vikings wanted to settle on the land, and Valhalla will depict that. The RPG is focused on Eivor, a Viking leader who wanted to find a new home for their people.
As Eivor, you will make choices about how to build these settlements, as well as other choices that will impact the lives of your settlers. It's an RPG with base building mechanics across a vast and varied map featuring the four kingdoms of England.
"if you look at England now and see any town that ends with "thorpe" or "by", that probably means it was a Viking town, or Norse or Dane town," McDevitt explained. "So we know just by the number of them - hundreds of these towns - that they were very successful settlers."
The CGI reveal trailer focuses on one of England's most formidable kings of the time, Alfred the Great. "He's the king of Wessex, the southernmost kingdom in England at the time," creative director Ashraf Ismail said. "There's also three others - Mercia, Northumbria and East Anglia - that we deal with.
"[King Alfred] specifically is known for being one of the most staunch opponents of the Viking invasion. He was the strongest of the kings. He was able to push them back for a time and deal with them, whereas the other kings would crumble under the onslaught of the Danes and the Norse."
I'm personally excited about this setting because it might mean my home town gets its time to shine. "In just one known Viking camp, located on the banks of the River Trent at Torksey, Lincolnshire, thousands of Vikings gathered to wait out the winter of 872-873 A.D," according to History.com. The camp was a massive 136 acres, and will surely be depicted in the game.
As well as those four English kingdoms, the game begins in a Norwegian settlement. No doubt this will be where our hero decides their people need to find a new place to call home. "The journey starts in Norway and it will eventually lead to England, where again it's about this idea of settling the people and building this thriving settlement," Ismail explained.
Elsewhere, Ubisoft spoke about why the hidden blade isn't hidden anymore in Assassin's Creed Valhalla. Oh, and you'll be able to dual wield almost anything.
You'll be able to play as a male or female Eivor, and either choice is actually canonical to the story.
Assassin's Creed Valhalla is coming to PS4, Xbox One, PC, PS5, and Xbox Series X this holiday. We'll get our first look at gameplay on May 7, in Microsoft's Xbox showcase.
You can watch the full Assassin's Creed Valhalla CGI trailer here, without commentary.