Assassin's Creed Valhalla | Flyting Answers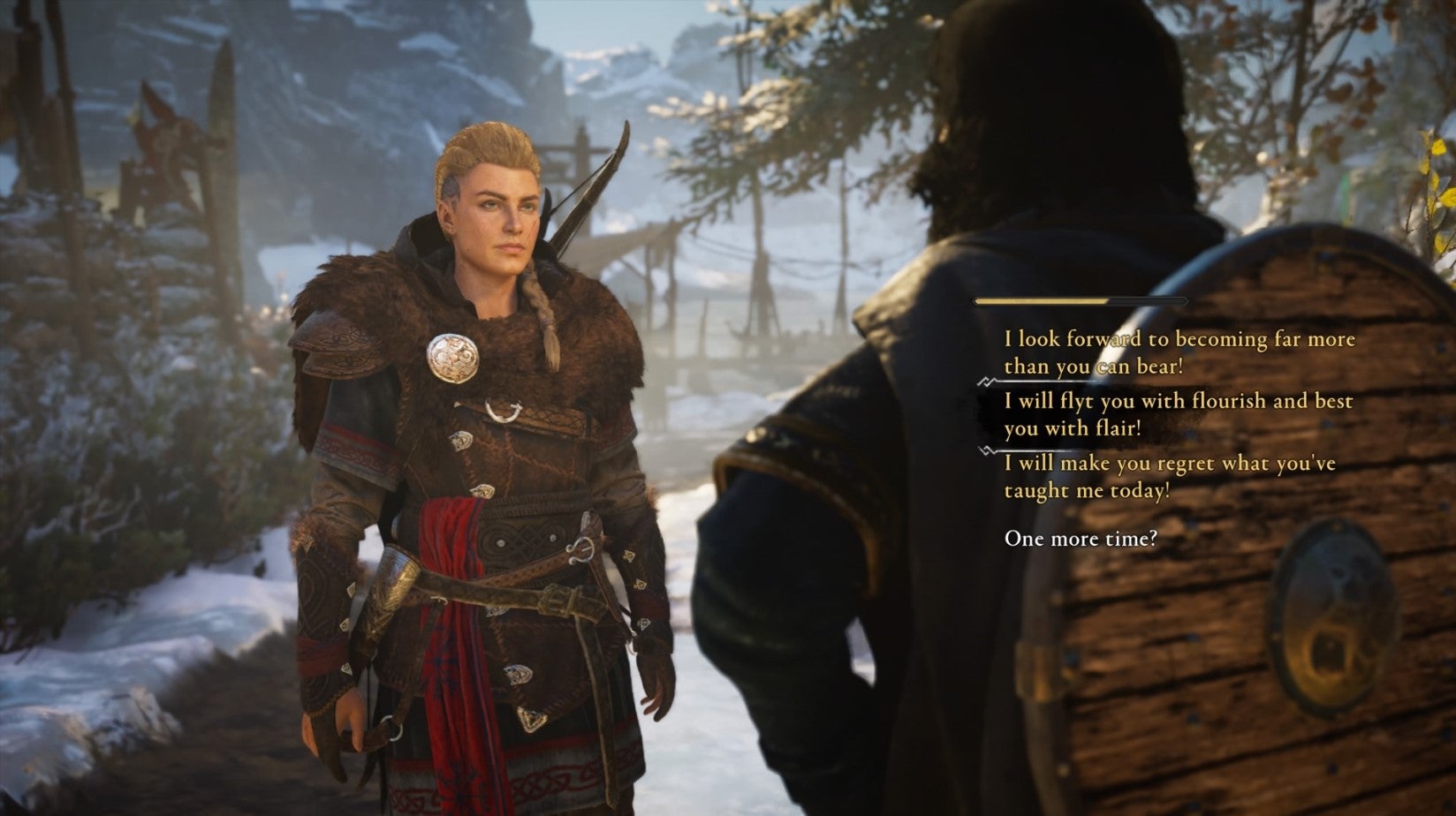 In the world of Assassin's Creed Valhalla, the most dangerous barbs are made with words, not arrows. Flyting is the medieval practice of disparaging wordplay, essentially a Viking rap-battle, where you trade rhyming insults with your opponent in verse.
It's one of the sillier diversions in Assassin's Creed Valhalla, but an underrated important one. Winning flyting matches improves your character's charisma, which unlocks different dialogue options later down the line.
Assassin's Creed Valhalla Flyting tips
The basics of flyting are easy: insult your opponent as callously as possible, while making sure it rhymes with what has already been said.
However, to score the most injuriously witty retort you need to also match the beat of what's been said (not say too much or too little), and match the meaning of the original insult. There's no skill in saying something random.
For example, if your opponent calls you stupid, then you should look for a reply which insults their intelligence too.
With this in mind, we've collated all of the "correct" answers to the flyting matches in Assassin's Creed Valhalla. While you are timed in your responses, if you have this open when you enter a match there's more than enough time to look at the answers and pick the right one.
Assassin's Creed Valhalla Flyting Answers
Flyting opponent: Alvis
Alvis is a resident of Fornburg who later joins Eivor in their English settlement of Ravensthorpe. Alvis's flyting duel is unique in that it doesn't count towards region completion or Mysteries. Basically, he's the tutorial guy for this mini-game.
Assassin's Creed Valhalla Alvis Flyting Answers
I'll recall what you're taught ere I enter the fray
Then I'll tell you you've nothing inside of your skull
I will flyt you with flourish and best you with flair
Flyting opponent: Manning, Fighter of Wolves
Manning can be found in Rygjafylke. His nickname might explain why he regards Eivor (whose defining physical characteristic is the scar they picked up from a wolf bite) as a bit of a weakling. Although allegedly his taunts are all in good fun.
Assassin's Creed Valhalla Manning, Fighter of Wolves Flyting Answers
What you make up in muscles, you lack in spine
Perfectly placed to give children a scare
You're like your arms, incredibly thick
Flyting opponent: Jungulf
Jungulf can be found in Repton, in the Ledecestrescire region. He has a pretty low opinion of Danes, so throws down the gauntlet for Eivor to represent their people.
Jungulf in Repton Flyting Answers
O, to beat such a braggart will surely be fun
You're a weakling, a milksop, a cadger, a louse
Your pride is appalling and your rhyming is worse
Flyting opponent: Fergal the Faceless
Fergal can be found in Grantebridgescire. Despite his fearsome reputation as a flyter preceding him, it turns out Eivor doesn't need to worry too much about facing him — especially since the duel is conducted with the pair shouting at each other through a wall.
Fergal the Faceless Flyting Answers
Pick whatever you like in this match, the outcome is the same
Flyting opponent: Hogg the Burly
Hogg can be found in Oxenefordscire. As his nickname might suggest, he thinks Eivor a bit on the skinny side, but would rather demonstrate his disdain for them through words than through action.
Hogg the Burly Flyting Answers
O, you're barely an insect, a fly that I'll swat
You're possessed of a baldness that scared off your hair
You've the brain of a donkey to challenge a Norse
Flyting opponent: Augusta the Cheerful
Augusta the Cheerful can be found in Lunden. Unlike your other flyting opponents, she wants to turn the tables and make the game one of flattery rather than insults.
Augusta the Cheerful Flyting Answers
You're the picture of elegance, beauty and grace
O, your valour's the subject of story and song
It is truly a pleasure, my partner's sublime
Flyting opponent: Brother Quiescis (and Acolyte Alwin)
Brother Quiescis can be found in Cent. Uniquely, this flyting opponent is a monk who has taken a vow of silence — but his companion Acolyte Alwin is on hand to (allegedly) translate Brother Quiescis's vague gestures into erudite barbs aimed at Eivor.
Brother Quiescis & Acolyte Alwin Flyting Answers
Though you speak through another, your writing's still poor*
Though you choose to be quiet, your folly is loud
With such drivel to speak, I see why you keep mum
* Be careful with this one, as the word "writing" in the text on-screen can mislead you into picking the wrong answer. Eivor's spoken dialogue makes this line "Though you speak through another, your
flyting
's still poor", which makes more sense in context.
Flyting opponent: Chadwick, Monger of Gossip
Chadwick can be found in East Anglia. He claims to have heard some unflattering rumours about Eivor, and wants to see if their flyting is as bad as their fighting.
Chadwick, Monger of Gossip Flyting Answers
Then you're speaking to fools, and their knowledge is flawed
And they're sorely mistaken, I'm known for my might
Then you've clearly misheard them, my wit is immense
Flyting opponent: Ove the Scarred
Ove can be found in Sciropescire. If you're wondering how he got those scars, it's probably because he goes around challenging massive warriors to duels with zero provocation. Just a thought.
Ove the Scarred Flyting Answers
And your thick little skull is fine for grinding my axe on
Test your might against mine and we'll see how you do
If it's fighting you want, I shall take you on now
Make use of parries and heavy attacks to win the fistfight
Flyting opponent: Lady Ellette
Lady Ellette can be found in Essexe. She's such a renowned flyter that she has her own Flyting Herald to act as her hype man. Talk to him and he'll arrange a flyting duel between the two of you.
Lady Ellette Flyting Answers
For they put all who hear them to sleep
I'll defeat you and banish all doubt
Lend a salve, for your words make me ill
Flyting opponent: Hertha the Very High
Hertha can be found in Jorvik. It's not what you're probably thinking: she challenges you from her position standing atop a tower, which she seems to regard as the literal moral high-ground for some reason.
Hertha the Very High Flyting Answers
The one fool that I see here is up on that wall
Then enjoy while you can, a great fall is at hand
What's it like feigning hugeness? You're naught but a gnome
Flyting opponent: Borghild the Alewife's Bane
Borghild can be found in Eurvicscire. A lady who likes to enjoy a drink or three along with a lively exchange of insults, she's hoping to meet a likeminded soul in Eivor.
Borghild the Alewife's Bane Flyting Answers
Your face brings to mind the arse-end of a horse!
Well, you're thick-skulled, loathsome, and lacking a brain
You've drunk far too much ale, now you're just telling lies
Flyting opponent: Fenn the Wistful
Fenn can be found in Hamtunscire. As his name suggests there's a hint of self-deprecation in his challenge, but that's not to say he isn't willing to read Eivor to filth as well.
Fenn the Wistful Flyting Answers
Nay, one thousand's a pittance, it's closer to ten
It is not mine to judge, only fill up the graves
To ensure that I'll sit in Valhalla one day
Flyting opponent: Stigr the Amorous
Stigr can be found in Snotinghamscire. As you might have guessed from the name, Stigr is the only flyting opponent to also be a potential romantic interest for Eivor, just in case you're into that idea.
Strig the Amorous Flyting Answers
"With words I'll ensnare you and put you to bed"
"I'm as good with my lips as I am with my tongue"
"While I doubt you can take me, I'll give you a go"
Flyting opponent: Thor
Thor can be found in Asgard (where else?). A very affable seeming chap, the God of Thunder bellow his flytes at you in an appropriately booming voice from across a ravine.
Thor Flyting Answers
O beware what you ask for, I'll finish the fight
I'm as wise as an owl, and you're a fool of a god
Well, your victory's not what my visions portend
Flyting opponent: Ratatosk the Tree Rat
Ratatosk can be found in Jotunheim. A fun fact about Ratatosk: he's the only flyting opponent in the game who's also a talking mythical squirrel.
Ratatosk the Tree Rat Flyting Answers
"I should like to see you try"
"They're too dull to conquer me"
"I grow weary of your squeak"
For more help with Assassin's Creed Valhalla, check out our run-down of the best weapons, as well as our character-building guide of the best skills.
Or if it's action you're after, we have guides on how to beat the early-game optional bosses: Erik Loyalskull the Lost Drengr and the Elk of Bloody Peaks Legendary Animal.