Assassin's Creed: Unity guide - Sequence 10 Memory 2: The Execution - Find Germain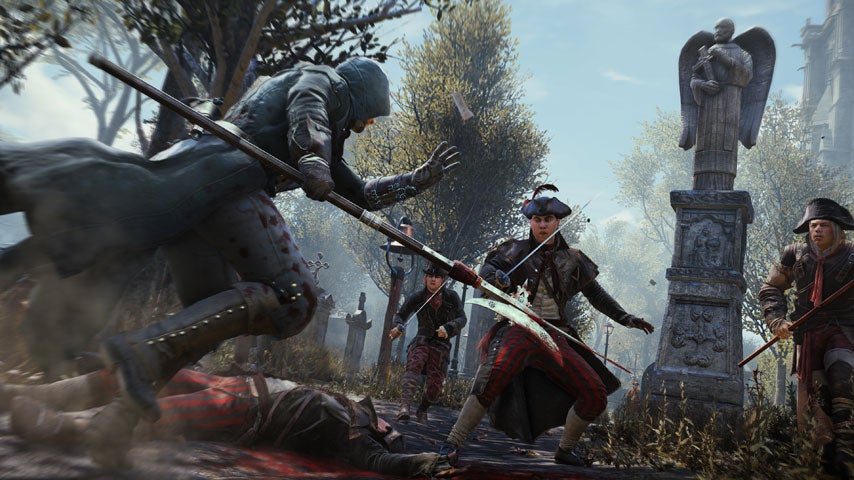 Get to Germain in ease and comfort, killing two Snipers along the way.
Assassin's Creed: Unity guide - Sequence 10 Memory 2: The Execution - Find Germain
This mission can seem daunting, especially with the optional challenges, but it can be completed very quickly and cleanly. Make sure you have stun grenades on hand, and don't use them until instructed; if you don't have any, find a nearby vendor before you kick things off. There's no penalty for wandering away from the mission area a little.
Here is a super hot tip: before you finish this memory, make sure you have purchased the poison bomb skill from the character customisation screen. Trust me.
Challenges
Kill two Snipers
Stun five enemies
Find Germain
From the starting position, scout out the area - see the rope just below you? It goes all the way to a sniper in the southwest, and there's also another fork. First, head over to that sniper and stealth kill him; wait for him to look away before making the final dash. Nobody else should spot you.
Get back on the rope and take the other fork until you can leap down into a hay cart. There's a pole nearby which you can use to climb to yet another rope, giving you quick and easy access to another sniper. This not only nets you the optional challenge, it makes sneaking up to Germain significantly easier without these busybodies staring at you every time you leave the crowd.
But we're not done sniper hunting yet; get back on the rope again, and follow it along another path to reach a different pole. Climb down and blend with the crowd until you reach another pole to the west. Climb this one, take yet another rope until you can see another sniper, and use a Phantom Blade to headshot him. Move to the end of the rope and drop down.
We're perfectly positioned to approach Germain now. Turn on Eagle Vision and spot two guards standing by a carriage to the northeast, and two more wandering around nearby. Wait for the patrol to move away, then sneak around the other side of the carriage. All you have to do now is get close to the central structure where Germain is to trigger a cutscene.
Defend Elise - Follow Elise
In this memory you have to follow Elise and make sure she doesn't die. It's very easy to lose her if you get caught up fighting baddies, so make sure you're only taking down guards she's already fighting. She'll leg it as soon as she can disengage, usually.
You only have a limited number of stun grenades and you want to stun five guards, so make sure you use them wisely when there are two or more guards right up in your face. Remember to press the button once only rather than spamming repeat grenades. When you stun the guards either kill them or chase after Elise if she has taken off.
After a few rounds of running, stunning and - well, I can't think of a combat word that rhymes - you'll hit a cutscene where Arno receives a well-deserved tongue lashing.