Assassin's Creed: Unity could be the best stabathon to date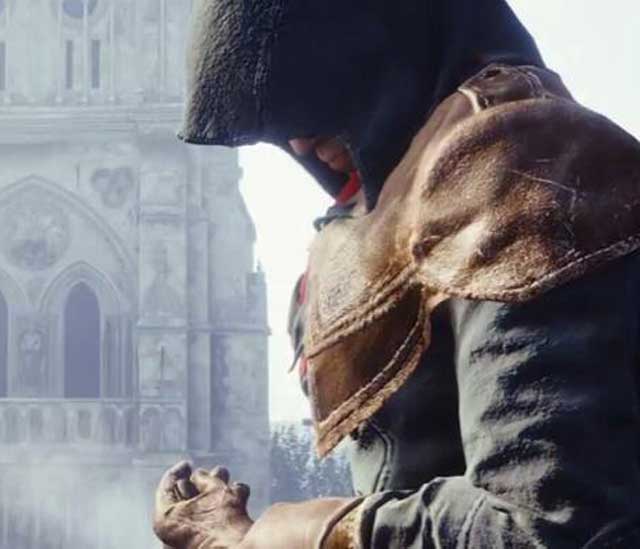 Assassin's Creed: Unity has only barely been announced, but that hasn't stopped us wildly theorising about what Ubisoft has so far up its sleeve that it's reluctant to do more than spill a few details.
Last year, just when I thought I'd lost my taste for the Assassin's Creed franchise, along came Assassin's Creed 4: Black Flag. Yes, the magic Assassin's outfit is kind of silly. Yes, it's sort of weirdly written. Yes, it goes on for about 400 hours and nobody needs that shizzle. But no, I don't give a shit, because Kenway is awesome, Kidd is terrific, sailing my ship is the best thing ever and the next-gen oceans are so pretty I now kind of want to cry every time I look at a PS3 or Xbox 360 game.
Now that it has me on board again (my Abstergo hoodie and eagle peak dressing gown are back in high rotation, yes), what's Ubisoft going to do next? Thanks to a leak we know a few details, apparently ahead of an anticipated E3 reveal (good on you for just rolling with it, Ubi). Assassin's Creed: Unity is set in Paris during the French Revolution, is a next-gen only release, and has been in the works for three years.
In a spirit of optimism, we've put together a list of all the things that make us pretty hopeful that Unity is going to be badass.
Lots of people die. Although it's been easy to forget it in recent instalments, what with the base building, item collection, ship sailing and what-not, Assassin's Creed is a series about stealthily killing people. You know what the French Revolution is full of? People being killed. This is a match made in heaven. I'm looking forward to saving popular heroes from the guillotine and gathering vital intel, of course, but mainly I'm excited about helping Corday murder Marat in his bathtub.
It's next-gen only. Black Flag 4 was kind of incredible on PS4 and Xbox One, but can you imagine how good it could have been if Ubisoft hadn't had to build it to a scale compatible with the older generation of consoles? Larger load-free areas! More detailed assets! Fancy-pants effects! If Unity doesn't make passionate, determined and skilful love to your eyeballs at all times we shall be deeply surprised.
Ubisoft is a French company. Lead development studio Ubisoft Montreal is French-Canadian, but Ubisoft prime is French and you can just bet you shiny little boot buttons that it has drawn out all the stops for this one in honour of its homeland. That in conjunction with the next-gen only thing likely means Paris will live and breathe as we've never seen in an Assassin's Creed game before, and maybe in gaming in general. InFamous: Second Son's Seattle is probably the best city we've seen so far, and I have a feeling Ubi can out do Sucker Punch. Let's all be thankful that rumoured smell peripheral never surfaced, actually; history in general smelled really bad.
Black Flag was so much better-received than Assassin's Creed 3. Both Assassin's Creed 3 and Black Flag sold really well for Ubisoft, but various rumblings it made after the release of the third game showed the publisher wasn't happy with its reception. There are things to love about the third numbered entry in the series, but it attracts a lot of hate, too. Ubisoft busted a gut getting Black Flag out for a cross-gen launch, and while its much-praised naval focus was probably in the works for a long time, the fourth entry shows clear signs of refinement sparked by criticisms of the third. That shows the publisher can react and adapt, and with a whole extra year to do so, Unity is likely to have made even more significant improvements.
The title's a bit obscure. Why isn't this Assassin's Creed 5, you may be wondering? Well, us too. There are a couple of theories: the least interesting one is that it will be, a few months down the track at official reveal. The next-to-least interesting is that Ubisoft's naming conventions were thrown out the window when it hurried to disassociate itself from Assassin's Creed 3 by hurriedly slapping a "4" on Black Flag, and now it doesn't give any shits whatsoever. The next is that Unity doesn't get a number because it's not a traditional series entry, following the regular formula, but a, a, a - well, let's say, a persistent online multiplayer world with RPG progression and massive world events. Or something. I will lose my shit if this happens, probably buy another hoodie.
The story was planned out ages ago. Bless Assassin's Creed 4 and its little cotton socks, but nobody seemed to really dig the meta-narrative this time, perhaps because we all spend quite enough time lurking in corridors avoiding doing any actual work. Meanwhile, the franchise does have quite a - let me find a suitable adjective - existent meta-narrative, and with the closing of Desmond's story it's definitely time to kick off another arc. We know Ubisoft has been teasing Unity since Brotherhood, so hopefully Unity's meta-story is a bit more involved than "oooh, a new, unexplained baddie".
In short, we're pretty excited about this one. We'll learn much more about Assassin's Creed: Unity at E3 2014, where Ubisoft is no doubt looking forward to having a big reveal to make as opposed to the platform exclusive demonstrations of previous years.