Assassin's Creed Origins shows off its stealthier combat options in this new gameplay footage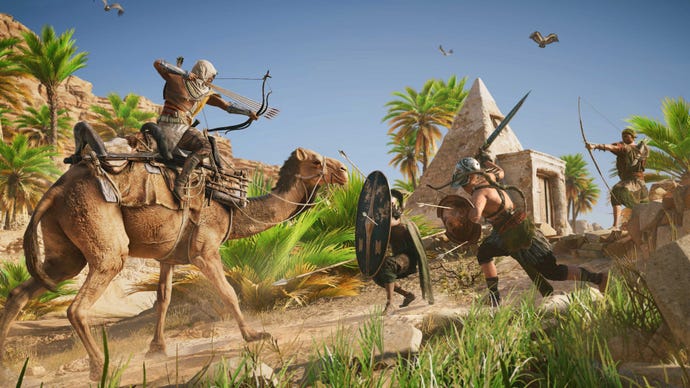 The Assassin's Creed series has always encouraged players to kill without being seen, and Origins will feature plenty of stealthy options to achieve this.
Today we've also found out a bit more about the open world of Assassin's Creed: Origins, and had a story trailer that gives us a good idea of Bayek's role in the game. But the hype train isn't going to stop rolling for the next month, we'd say, so here's some more footage.
This trailer, entitled 'New Stealth Gameplay in Ancient Egypt', runs through the specific strategies you can employ to get the best of your enemies without being seen. Some of them are very familiar - like simply crouch-sneaking up behind someone and giving them a quick stab - while others are more unique, making use of the new abilities and mechanics in the game.
For instance, there's a bow called the Predator Bow that lets you steer your arrows through the air after you've fired them. That's a bit different from anything we've seen in Assassin's Creed before.
Origins lets you prepare a little better than previous games - you can wait for time to move forward, for instance, and take on an area at night when guards are more likely to be asleep and lower lighting can hide your approach. Sleep and poison darts return, and the levels are designed to encourage sneaking.
The animals you've tamed can be used to create distractions and attack enemies too, which is brilliant. Why not send a lion on a rampage while you calmly skulk through the tall grass nearby, taking advantage of the fact that your enemies now have their hands full?
Assassin's Creed Origins is not far away now - it will launch on PC, PS4, and Xbox One on October 27.