Assassin's Creed Origins Players Report Graphical Downgrades After Recent Patch
On PS4 and Xbox One, some of the performance tweaks hit a beautiful game.

This article first appeared on USgamer, a partner publication of VG247. Some content, such as this article, has been migrated to VG247 for posterity after USgamer's closure - but it has not been edited or further vetted by the VG247 team.
In the past week, Ubisoft has updated Assassin's Creed Origins with two patches. Patch 1.0.3 was a hefty update released last week, offering Xbox One X enhancements support, new Photo Mode features, and a host of bug fixes and performance tweaks. Patch 1.0.4 was a follow-up on Monday, fixing one issue and offering improvements to performance and stability.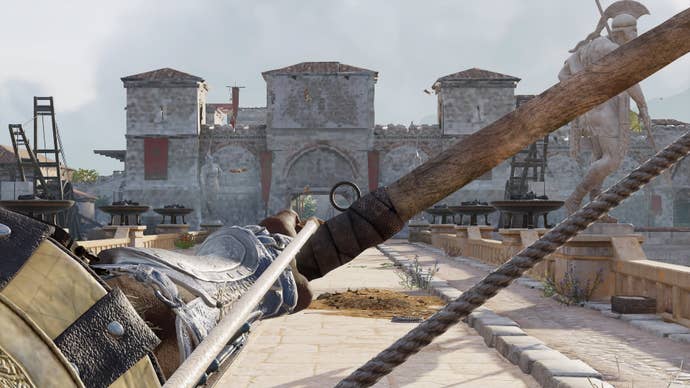 Since the release of both patches, some players have complained of visual downgrades in Origins on PlayStation 4, PlayStation 4 Pro, and Xbox One. Multiple reports have pointed to changes in overall lighting quality, poor draw distance, and removed texture filtering. Some have pointed to textures on buildings and other details loading slowly, especially when flying as Bayek's eagle Senu or using the sniper-like Predator Bow. Many players have included images of the problem, which are included in this article.
"Since the last patch lighting, pop-ins, textures, and draw distances seemed have been tampered with. I had little to no problem with performance before so I don't know why they changed this so much," wrote Reddit user SkiCowZoo.
"This is unacceptable Ubisoft. The game was looking and running great at launch, but thanks to Patch 1.03 it got downgraded one whole gen. What the hell Ubisoft? I had to delete my data, DLC etc just to play the game the way it was originally coded. Beautiful and bright. The current patched version is a distracting mess that looks barely above the Ezio collection," wrote Reddit user Dexcard.
"Xbox One X here; textures are lower res, lightning seems flatter," reports Reddit user Mattrobs.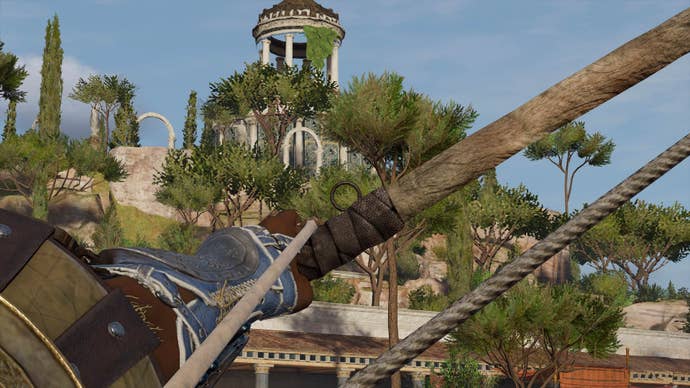 "I have noticed a massive graphics downgrade in Assassin's Creed Origins PS4 Pro since I installed 1.03 patch. Textures and draw distance are heavily impacted. I can assure you this problem did not exist before. It looked absolutely perfect before the patch I was amazed at the long draw distance but now it seems to be very short," said Assassin's Creed forum member Triumphant75.
"I just hope they do something about it, I'm pretty disappointed with how the game for me went from really pretty to flat featureless buildings . I was pretty happy with the game before 1.03," said AC forum member Kregen227.
What's interesting is the issues don't seem to be universal for every player, so it's tough to gauge how widespread the problem is. A number of folks either don't notice the downgraded graphics or are reporting that they aren't having any issues.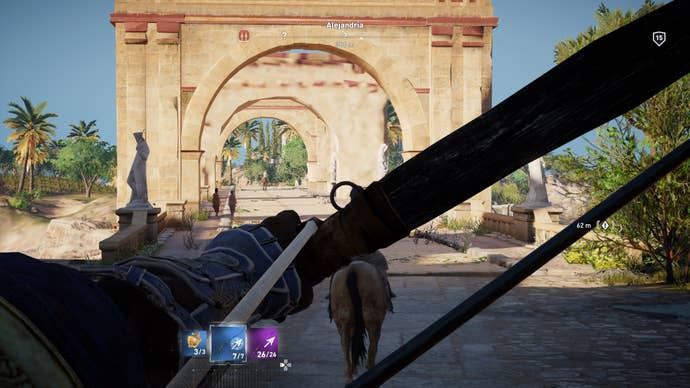 For its part, Ubisoft's community team has already stated that they're collecting information and the developers will be looking at the problem in a future patch.
"We received a few reports from players that after the 1.03 update that there were drops in the draw distance. Is this the issue you are experiencing after installing update 1.04? If so did you also experience this after installing update 1.03? As I mentioned this was reported and is currently being investigated," stated Ubisoft Support Staff member Ubi-Keo.
"We're investigating several PS4 visual issues at the moment. Please keep an eye on the Known Issues thread for information and updates," added Community Representative Black_Widow9.
Hopefully, Ubisoft is able to address the problem in a subsequent patch, either by finding a good middle ground, or offering a toggle between the best image quality and better performance.