Assassin's Creed Origins is an action RPG with skill trees, boss battles, all new combat system and peeing NPCs - screens
Assassin's Creed Origins is all that and a bag of chips. Good chips, too - not the dollar store knock-offs.
Assassin's Creed Origins is a heck of a revamp for the refreshed franchise.
The new game is set in Ptolemaic Egypt, according to the UbiBlog. That's a period of about 300 years dating from 332 BC, ending when Egypt came under the direct rule of the Roman Empire - so sort of the last hurrah of the 3,000 years of Egyptian self-rule throughout ancient and classical history. As the title suggests, during the events of Assassin's Creed Origins the Brotherhood is in its absolute infancy.
The region on show at E3 2017, Faiyum, is just a tiny slice of the overall world map, which includes the lush Nile delta as well as the deserts that spring to mind. It is populated by much more complex NPCs than in past Assassin's Creed games, with full day and night schedules which include "working, sleeping, socializing, eating, peeing, and so on". This gives you more options for infiltration and assassination, but also offers risk; guards sleep at night, but bandits abound.
In the E3 2017 demo, using viewpoints doesn't update your map - it unlocks fast travel points. The desert regions hide many points of interest to discover manually instead. Players can freely explore underwater in the open world. You'll find villages out there, but the wilds are full of wildlife such as goats, hyenas, cobras and camels - not to mention bandits. All of these will interact dynamically, attacking each other and the player, something like Far Cry. You can use this to cause distractions.
Protag Bayek can ride camels, horses and chariots, and can make purchases at stables. Blacksmiths, weavers and bazaars also offer a chance to shop, upgrade and customise. Bazaars even have daily quests which can earn you mystery chests.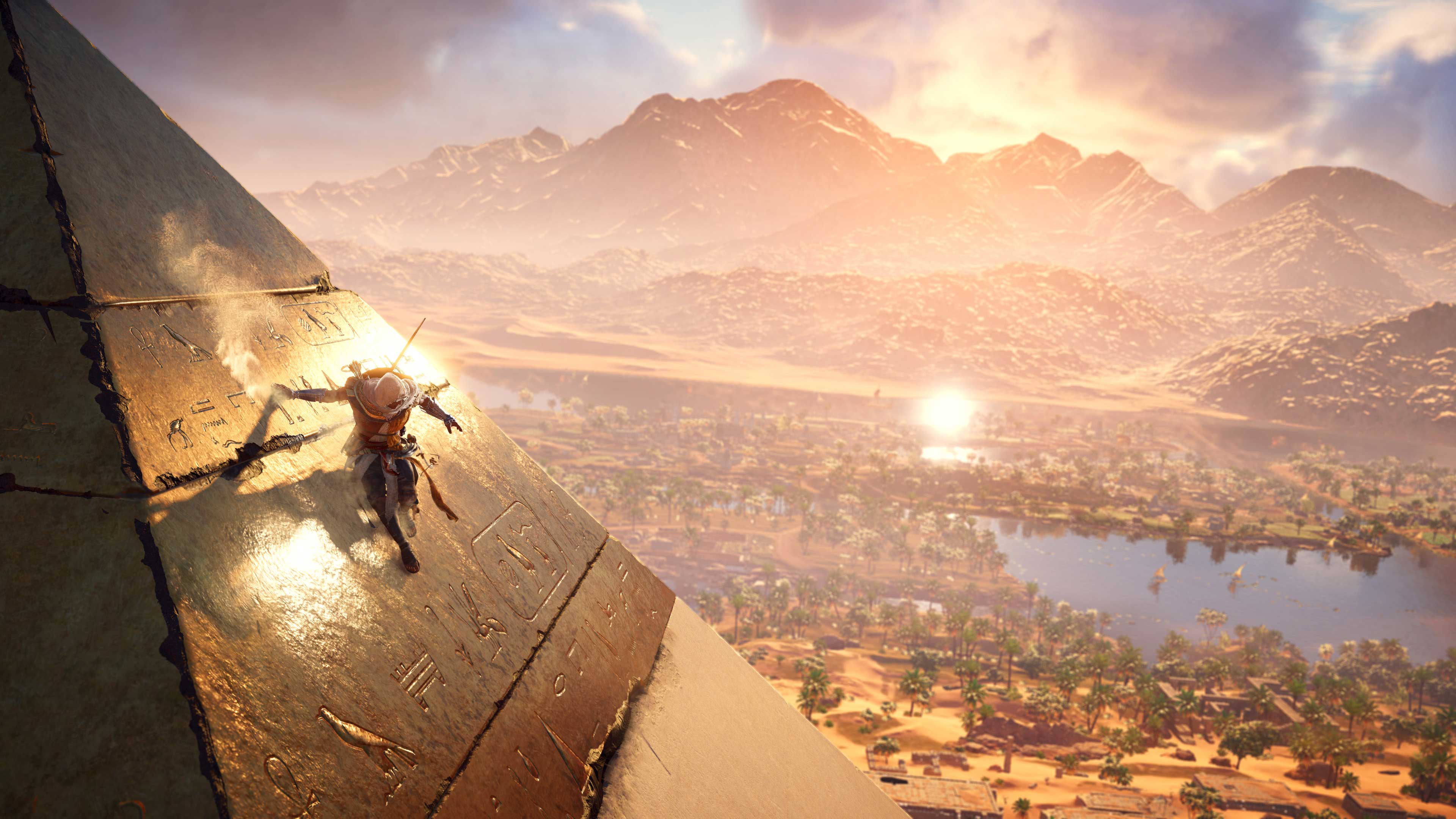 Combat has been rejigged to de-emphasise counters and instant-kill attacks in favour of more active and aggressive melee: light and heavy attack combos, blocks and dodges.Successful atatcks raise Bayek's adrenaline, building up to your choice of a single devastating attack or a frenzy period. The control system has been overhauled to fit the new playstyle, but you can reset it to franchise default if you like.
Although the era means there aren't many gadgets on offer, smoke bombs do return, and Bayek has a selection of ranged weapons, too. Different weapons are more effective on different types of enemies, and players are expected to learn the foibles of each one. The preview mentions a khopesh and iron spear, while the full arsenal includes straight swords, sickle swords, dual blades, heavy clubs, heavy blades, scepters and spears, as well as bare handed combat. Players can initially equip one melee and one ranged weapon, but will later unlock the ability to switch between two of each. Because the Brotherhood is in its infancy, Bayek doesn't acquire a Hidden Blade immediately, but it will turn up early on.
With the new combat emphasis comes a chance to try it out in boss battles. Yep. To ensure you're prepared for these challenges, you can collect and upgrade weapons, tools and armour. Upgrades are completed via crafting. The hidden blade requires constant upgrades, apparently.
Bayek can use torches to light his way in the new, darker environments - or set things on fire, again similarly to Far Cry. Stealth has been changed a bit so that visibility matters more, so it's in your interests to meditate and fast-forward time to creep about in the darkness. Sleep darts, poison clouds, traps and firebombs allow for creative infiltration approaches. You can even tame animals and sic them onto foes.
Most of these abilities are locked up behind skill trees. You'll have to decide whether you want to pursue the Hunter (ranged and stealth), Warrior (melee) or Seer paths (everything else) - or mix and match.
Rather than using Eagle Vision, Bayek has an actual eagle named Senu, which cna be used to get a literal bird's eye view of the area. (Wow, wasn't that in Far Cry Primal? Dang, Ubisoft.) Senu can be upgraded to allow Bayek to tag distant enemies, locate objectives or even attack or cause distractions. She'll be important because there's no mini-map - just floating markers. Missions are non-linear in that you can pursue any active quest whenever you like rather than being locked into one at a time.
Assassin's Creed Origins release October 27 for PC PS4 and Xbox One. There will, of course, be a Deluxe Edition, with the following goodies:
The Digital Deluxe pack
An exclusive mission Ambush at Sea: Take command in the fight for naval supremacy on the rough seas of the Mediterranean.
The Desert Cobra Pack, including:

The desert cobra outfit: Sneak in the sand and strike as fast as the wind with this outfit.
The horse, Fangs: This tusk-toting horse stirs fear in the hearts of your enemies.
Snakes legendary shield: These twin-snakes will protect their master.
Eye of Apep legendary blunt weapon: This snake may not bite you, but you will feel its sting.
The fang legendary sickle sword: The Fang is designed to shred anything it touches in pieces.
Three additional ability points to enhance your Assassin's starting skills.

Physical content (PS4 and Xbox One versions only)

The world map: Explore the Egypt of Assassin's Creed Origins own Egypt with this hand-drawn artistic representation.
The game's official soundtrack.