Assassin's Creed Odyssey's newest DLC ignores gay characters, Ubisoft offers apology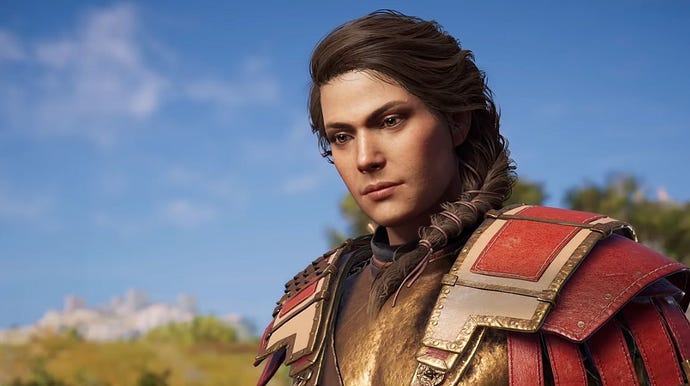 Update 2: Ubisoft has apologized for 'missing the mark' with the DLC, Legacy of the First Blade Part 2 - Shadow Heritage.
According to creative director Jonathan Dumont, players will not be forced to engage in a "lasting romantic relationship" with the DLC character. While the player will engage in procreation to carry on the Assassin's bloodline, they can choose to move on afterward or continue the relationship.
Obvious spoilers for the Bloodline DLC follow in the full statement from Dumont.
Reading through player responses of our new DLC for Legacy of the First Blade, Shadow Heritage, we want to extend an apology to players disappointed by a relationship your character partakes in. The intention of this story was to explain how your character's bloodline has a lasting impact on the Assassins, but looking through your responses it is clear that we missed the mark.
Alexios/Kassandra realizing their own mortality and the sacrifice Leonidas and Myrrine made before them to keep their legacy alive, felt the desire and duty to preserve their important lineage. Our goal was to let players choose between a utilitarian view of ensuring your bloodline lived on or forming a romantic relationship.
We attempted to distinguish between the two but could have done this more carefully as we were walking a narrow line between role-play choices and story, and the clarity and motivation for this decision was poorly executed. As you continue the adventure in next episode Bloodline, please know that you will not have to engage in a lasting romantic relationship if you do not desire to.
We have read your responses online and taken them to heart. This has been a learning experience for us. Understanding how attached you feel to your Kassandra and your Alexios is humbling and knowing we let you down is not something we take lightly.
We'll work to do better and make sure the element of player choice in Assassin's Creed Odyssey carries through our DLC content so you can stay true to the character you have embodied throughout.
Update: Ubisoft has sent out a statement regarding the events of the DLC.
"We strive to give players choice whenever possible in Odyssey and apologize to those surprised by the events in this episode," the developer said to Kotaku. "Without spoiling it, you will engage in an important relationship as part of a set story. The motivation behind this relationship is yours to explore in game and will be reflected in your character's story arc. There is one episode left in Legacy of the First Blade which will tie your character's actions together."
Original Story: One of the best things about Assassin's Creed Odyssey is how it allows you to mould your character how you see fit.
For example, my Kassandra shagged everyone. Sex was just another weapon in her arsenal, and her antics were enough to make even Ezio blush.
Whatever your choices, the latest DLC, Legacy of the First Blade Part 2, doesn't seem to care.
Spoilers for the DLC and ending follow.
In the new DLC, you are forced to have a baby with another character, unlocking the Achievement 'Growing Up'. Not only does this suggest having a child is the default state of an adult - some end goal to aspire to - it also undermines anyone who has thus far roleplayed as a gay character.
According to one redditor, they refused the character's advances and sent them on their way, but they still ended up having a child.
At a guess, this is Ubisoft's way of setting up future games, kicking off the Assassins' lineage - the series has long been about memories and skills passed through DNA.
The issue is, it just doesn't gel with the big deal Ubisoft made when marketing the game, saying we could shape our hero, even down to their sexual orientation. In the words of VG247's Lauren Aitken, it comes across as "sexist garbage".
It also doesn't make much sense, since you can start the DLC during the main quest. This means Kassandra takes a year out of her cultist-killing revenge spree to have a tiny person. If you have finished the game, you become the immortal guardian of Atlantis, so it still makes no sense to be settling down with a screaming infant.
On top of that, the game teaches you all the way through that romances are a side thing. Your quest is the most important, and romance is a simple distraction - a single cutscene and you're on to your next conquest. This changes all the rules and not in a good or clever way.