Assassin's Creed - all the games ranked from worst to best
Where do you even begin with the Assassin's Creed series? In its 11 year history, it's simultaneously made some drastic alterations to its familiar historical setup, while also playing it safe perhaps a little too often. With Assassin's Creed: Odyssey set for release next month, we've taken a look at the past games in the series and figured out which ones are still worth checking out. Bear in mind - we've skipped the mobile versions for a very good reason. Give 'em a hard pass.
Here are all the Assassin's Creed games, ranked from worst to best.
Assassin's Creed: Bloodlines
Set just after the first Assassin's Creed game (and the only PSP based release), it's hardly surprising that Assassin's Creed: Bloodlines missed the target so easily. It aimed to bring the experience of the first core game to the small screen, with an open world environment and a fair mix of stealth and action.
The AI is dimwitted and key features to the series like Eagle Vision were omitted, due to the PSP's lack of buttons. Worst of all, it's all a bit oddly quiet out there. With the lack of hustle and bustle we've come to expect from the franchise, Bloodlines lacks personality.
It was visually stunning at the time, but that really doesn't hold up nine years later. Its sole benefit now is being able to see how far we've come.
Assassin's Creed Altair's Chronicles/Assassin's Creed II: Discovery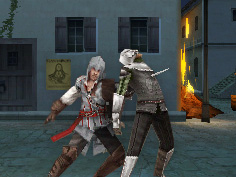 The sole DS releases for the franchise, Assassin's Creed Altair's Chronicles and Assassin's Creed II: Discovery are fairly different, but in terms of quality - nah, they're not really worth it. At least, not unless your only gaming option is an ageing DS. Assassin's Creed Altair's Chronicles is a third party hack 'n' slasher with limited stealth options, while Assassin's Creed II: Discovery is a side-scrolling adventure.
In both cases, they're heavily squashed down versions of their more fully developed counterparts. Altair's Chronicles offers up some mini-game type interactions to spice up pickpocketing and interrogation, while Discovery tries to toss in similar missions to Assassin's Creed II and, well, it was never going to quite work on a small screen. Too often, the controls feel fiddly and unintuitive. Over the years, that's felt an even bigger issue. These two are incredibly dated instalments now.
Assassin's Creed
Look, Assassin's Creed is massively important. Of course it is. It's the first game in a now hugely loved franchise. That doesn't mean it's a good game, though. At the time, it looked gorgeous. The idea of a 12th century world to explore through some rather neat parkour tricks seemed incredibly thrilling. In reality, it didn't entirely work out.
You can see the potential there. Being able to blend into the crowd, chase targets, and scale buildings like it's no effort whatsoever felt very cool at the time. There were plenty of different missions to partake in, from pickpocketing to eavesdropping or simply assassinating specific targets.
Much of the problem was that it wasn't actually much fun. Things turned repetitive fast thanks to a weak storyline, and combat was especially limited and dull. It just didn't quite gel, no matter how original it felt. The foundations were there but it wasn't quite the Assassin's Creed we know and love.
Assassin's Creed Unity
Assassin's Creed Unity offered some significant changes to a familiar format, but at the cost of innovation.
Unity sported a much needed visual upgrade, along with some far neater and more attractive parkour, but it was ridiculously bug prone. Ubisoft issued an apology not long after release, and provided compensation to some users. Bugs can be fixed, but the lack of truly gripping new mission types, and some finicky control options are a further reaching problem.
There are some neat new extras, at least. You can customize your abilities for the first time, opting to lean towards stealth or combat. There's co-operative multiplayer too, with a scattering of missions that are multiplayer only. Don't expect a gripping story, though. It's all a bit 'by the numbers'.
Assassin's Creed Chronicles: China/India/Russia
All three of the Chronicles games are very alike. 2.5D side scrolling platformers, they're nothing like regular Assassin's Creed games. Instead, they're far more stealth based and look reminiscent of the old Prince of Persia series. The slightest misstep can lead to you failing, which leads to some frustration, but it's satisfying adapting to some culturally relevant weapons each time.
By being so heavily stealth focused, they're not for everyone. There's not much story to pay attention to, with the level design of the games standing out the most. As an Assassin's Creed game, they're inessential, not really offering much to the franchise's storyline. However, as appealing stealth games, they're quite charming in their way.
Assassin's Creed III: Liberation
Kind of like how Uncharted: Golden Abyss seemed really good at the time on the Vita, Assassin's Creed III: Liberation seemed like a breath of fresh air in 2012. A reduced version of the core Assassin's Creed games, it was kind of fun.
There was the rare inclusion of a female protagonist in the form of Aveline, and the interesting setting of New Orleans. So, what's the issue? Gimmicks, mostly. Much like with Golden Abyss, Liberation uses the Vita's touchscreen and rear touch pad a little too much. Used for things like pickpocketing and chain killing opponents, none of it feels as satisfying as it ought to.
The storyline is flawed but gripping. Aveline is the daughter of a freed slave who falls in with the Brotherhood, but you never get to see how she becomes that person. There are just too many gaps in the narrative, leaving you with the feeling that this was a rushed release.
Still, there are some neat additions that other titles could have embraced, such as the Persona system that has Aveline switching between Assassin, Slave (so she can blend in with workers), and Lady with all the airs and graces of an entitled woman needing to hide amongst the elite. It's the HD remastered version for the Xbox 360 and PlayStation 3 that works more so, stripping away the gimmicks of the Vita control system.
Assassin's Creed: Revelations
There's nothing wrong with Assassin's Creed: Revelations - it's just too much like Brotherhood that came before it. The final part of the Ezio trilogy, it's necessary if you want to see how things unfold, but it feels almost like an expansion pack than a whole new game.
Playing out just like every other core Assassin's Creed game, Assassin's Creed: Revelations offers up some minor tweaks. There's a new hookblade which can be used to zipline across the city. It's far from essential but it's briefly cool to use every once in a while. New bomb variations are included too, although it's hardly a massive selling point. Finally, capturing districts is more tower defence-esque than seen in Brotherhood, but it's more than a tad gimmicky. More of the same isn't better.
Assassin's Creed Rogue
Arriving at the tail end of the last console generation, Assassin's Creed Rogue is worth returning to in its remastered form. For a change, you play as a Templar rather than Assassin, in amongst the Seven Years War in the mid 18th century.
It's a lot like Assassin's Creed IV: Black Flag, fully embracing naval warfare. If you're keen on leaping around tightly woven streets, this isn't for you. It's a lot of fun though. Ship combat has been improved with additional weapons like an oil slick, and the ability for enemies to board you mid combat. There's the risk of icebergs too, which makes the water seem a little more threatening.
Like Black Flag, it's a far cry from more typical Assassin's Creed fodder Still Rogue is a good time, even if it is a touch on the short side, and lacks a strong lead character.
Assassin's Creed III
Another deviation from the familiar format, Assassin's Creed III has you exploring 18th century Boston, New York City, and the American frontier. Its storyline is immediately interesting, and its cast suitably diverse.
Far more vast to explore than earlier games, there are also new weather simulations with the seasons changing and the risk of snow drastically slowing you down as you explore. Weapons are a little more outdoorsy too, with rope darts and tomahawks.
Think Tomb Raider and you're not far off with some of the stealthy moments here. Assassin's Creed III is one of the most underrated games of the series.
Assassin's Creed Syndicate
Rectifying the mistakes left by Unity, Assassin's Creed Syndicate is set in Victorian era London, following the story of twin assassins. Immediately, it feels different to past entries. You can switch between the twins at key points, and exploring London is a joy.
Unusually for the series, the narrative is quite lighthearted at times, with some fun frolicking missions through the streets on a carriage ride. New weapons like brass knuckles and cane sword make combat a little meatier as well.
Carriage riding is a little awkward at times, and there's still the risk of repetition. For the most part though, this is one of the best Assassin's Creed games out there, so it's unfortunate that it sold very poorly due to the issues Unity provided earlier in the franchise.
Assassin's Creed: Brotherhood
Assassin's Creed II was a tough act to follow but Assassin's Creed: Brotherhood did a pretty good job of it. It added the recruitment system, allowing you to recruit new members to help you out in times of need, or simply earn you some easy cash.
The new setting of Rome is glorious to traverse, as well as huge, adding plenty of new opportunities. It's easy to spend hours roaming the city, simply checking out new things, rather than following the main storyline.
Crucially, the combat system is further improved with fast-paced combat that rewards good timing over cheap blows. New horse-related assassinations were fun to experiment with, too. Throw in the underrated multiplayer mode, and Assassin's Creed: Brotherhood is a very solid effort for the series.
Assassin's Creed IV: Black Flag
The best Assassin's Creed games are the ones that breathed new life into the series, and Black Flag certainly did that. Set in the Caribbean in the 18th century, you play a Welsh pirate as he, well, does pirate-y things.
The focus is on ship-based exploration rather than leaping around, but there's still room for some stealth and land-based exploration. However, this side of things is a little samey. It's the ship based combat that truly grips you. Exploring sea locations and exploring underwater shipwrecks is consistently enjoyable. It all feels so much freer than its predecessor - Assassin's Creed III. Being able to upgrade your ship each step of the way is a nice touch, giving you a sense of progression that had been missed for a little while.
Assassin's Creed Origins
Assassin's Creed Origins is so different from the others and yet also the good kind of familiar. Set in Egypt near the end of the Ptolemaic period, you control a Medjay called Bayek - he couldn't be much further removed from Ezio or Altair. As the name suggests, this is the origins of the Assassins and the Brotherhood, making it a perfect entry point if you feel overwhelmed by the amount of games in the series.
There are seemingly endless missions to partake in, as well as countless weapons to unlock. There's almost too much to do, but it all makes Origins feel more like an action RPG than past instalments.
Combat is revamped extensively here, and the new hit box system takes some adjustment but it works remarkably well. Eagle vision is also revamped, with your eagle companion providing insight into the enemies around you, assisting you when you're trying to be stealthy.
Its sheer size means that repetition can be an issue - a common flaw in the entire franchise - but there's no denying it's a ton of fun. It's a fine reminder that 11 years in, there's still life in the old dog yet.
Assassin's Creed II
Look, Assassin's Creed II is a bit glorious. Even nearly 10 years after its first release. It's the game that the original Assassin's Creed should have been.
Exploration is focused around Venice, Florence, the Vatican, and other parts of Italy. It's not as vast as Origins, but that doesn't really matter. There's relatively little filler here (something that all subsequent releases have suffered from) with fun to be had acquiring shops for your personal gain, or exploring the many tombs that are scattered around the area.
Inspiration strikes when it comes to the inclusion of Da Vinci's flying machine, along with other contraptions of his, and this was the first time you could hire groups of mercenaries or courtesans to do your bidding when trying to sneak into an enemy area.
Combat isn't quite as refined as it is now, but it's a solid mixture of timing based blows, and disarming foes along the way. The story is one of the best too, with the introduction of Ezio Auditore beginning a more compelling arc within the franchise than Altair managed to offer.
If there's only time to ever play one Assassin's Creed, this is the game to play.