Assassin's Creed: Brotherhood sells 1 million in EU, series hits 20 million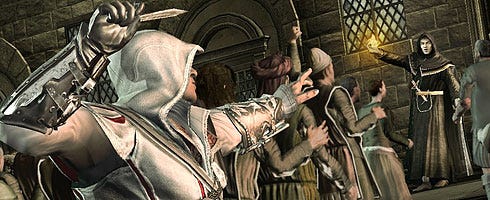 Ubisoft's confirmed it's sold 1 million units of Assassin's Creed: Brotherhood within a week of its release in Europe.
The franchise has now sold 20 million units and is due to hit the 30 million mark by the end of next year.
The figures come courtesy of an MCV interview with the publisher's EMEA chief of marketing, Geoffroy Sardin.
"If you compare [the 1m in a week] with last year's ACII sales this is a big jump – so it's a great achievement.
"It's the best launch in the history of Ubisoft's European sales, and our best-selling launch title ever."
Sardin also said that 60 percent of Brotherhood players have been playing the multiplayer mode - it's the first time MP's been added to the series.
Brotherhood has already seen DLC released, with the Copernicus Conspiracy a PS3 exclusive, while Ubisoft announced earlier this week a new multiplayer mode and map for both PS3 and 360.
That launches on December 14. But more DLC is on the way, although Ubi's still to decide if some content will be free or not.
Sardin further confirmed remarks from Ubi CEO Yves Guillemot that a new Assassin's Creed title was on the way for next year.
"Yes, Yves mentioned it last week in our financials – and more details will be forthcoming. But what I can say is that next year we will have another big Assassin's Creed game."