Apex Legends: best guns in Respawn's brand-new battle royale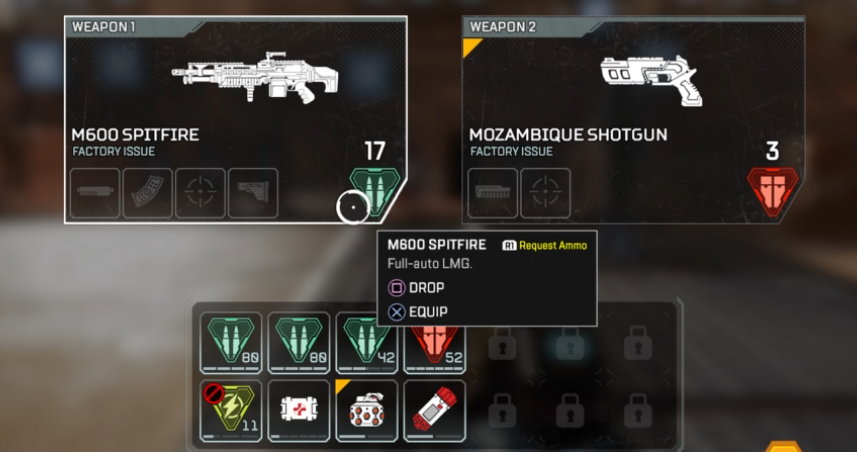 Respawn Entertainment revealed Apex Legends yesterday and it's already proving popular with battle royale fans.
In this guide, we'll be looking at the best weapons you can get your hands on in Apex Legends. Weapons can be found in buildings and in supply caches and there's one for every play style, so let's crack on.
You might have noticed that aside from the usual guns, ammo and health kits, you can also pick up items such as Optics and Mag Attachments to aid you in battle. You can take them for yourself or ping them for a squadmate to find.
Some weapons are hybrids, but there's something for everyone here. The best way to get a feel of each weapon is to head into the Training Mode and try them out for yourself.
Apex Legends best guns
Apex Legends was released little over 12 hours ago and already over a million players have battled it out. While Titanfall fans were disappointed to learn that Titanfall 3 isn't in the works, Apex Legends offers a new style of Battle Royale that feels great to play, mixing together Legend-specific skill sets with excellent gunplay.
If you're unsure whether Apex Legends is for you, check out our Apex Legends FAQ page.
Assault Rifles
The R-301 Carbine is one of the first weapons you'll encounter and it's a decent fully automatic, high accuracy assault rifle. The Hemlok Burst AR fires three-round bursts with little kick back, but my personal favourite was the VK-47 Flatline. This fully automatic weapon offers great stability and accuracy and will be useful for tearing down enemies at close range and at a fair distance.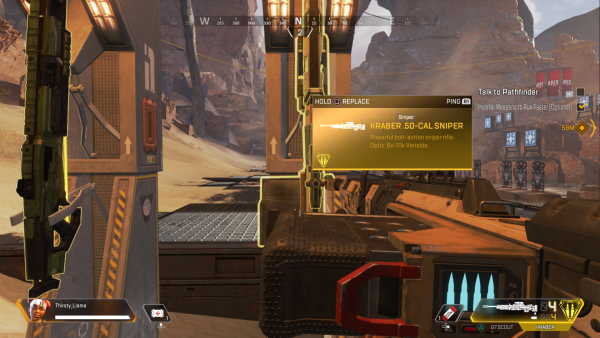 Sniper Rifles
There are four sniper rifles to get your hands on in Apex Legends. There is a clear winner in this category: the Kraber .50-Cal. The Kraber is a Legendary weapon and only holds eight rounds, so use it wisely. One shot from this can put your enemies down, giving you a real edge in the final minutes of a match. You can also toggle the zoom on the Kraber.
The G7 Scout is a semi-automatic sniper that holds six rounds per mag and has little kickback or drifting with each shot. It's a quick-fire weapon with good optical range and will be useful if you can see a squad approaching rapidly from a vantage point. The Triple Threat sniper offers much the same except it has five rounds per mag, so it's up to you to decide which one feels best.
Pistols
The Mozambique shotgun-pistol hybrid is a powerful little beast. It has a triple barrel and does 45 bodyshot damage and 66 headshot damage, giving you the edge in close quarters combat.
The Wingman high-powered Revolver is another contender for best pistol. It has six rounds in the mag and can knock your enemy down pretty rapidly. I'd recommend keeping a pistol to hand for quick reload and firing in short range combat.
Shotguns
The Mastiff Legendary shotgun has a powerful kickback, but in turn, absolutely blasts your opponents out the way. The projectiles fire in a horizontal line, which makes it equally powerful when firing from the hip. It's a rare find, but one that could turn the odds in your favour.
The EVA-8 auto is a fully-automatic shotgun that quick-fires projectiles at your opponents with little kickback and good stability. It's less powerful than the other shotguns but can get you out of a tight spot with relative ease.
SMGs
The Alternator SMG handles similar to a pistol. It fires slower than other weapons in this category but has significantly better aim and stability, compared to the R-99 which strays quite a bit.
The Prowler Burst PDW holds five rounds per mag which it fires in rapid bursts. You can do a lot of damage quite quickly with this SMG, providing you've a quick aim.
LMGs
Finally, let's take a look at the LMGs.
The M600 Spitfire is easily one of my favourite weapons on this list. It's a fully-automatic LMG with high accuracy and pretty decent damage. It also has a faster than usual reload speed for a weapon of this class. It's a decent nod to the Call of Duty Spitfire SMG.
The next LMG is the Devotion, which requires a focused aim to be effective. It's also fully-automatic but uses energy ammo. It's fire rate increases over time, though it does tend to drift quite a bit, making the Spitfire the stabler of the two.
The latest LMG thrown into the mix is the L-Star, a Gold weapon which you can find in supply drops. It has special experimental ammo which comes in limited supply, fires three 60-round magazines, though sustained fire can cause it to overheat.
Now you're confident with the weapons of Apex Legends, check out our full guide to the Legends themselves, finishing moves, loot and more.