Anthem might be multiplayer, but BioWare says you'll still have control over the story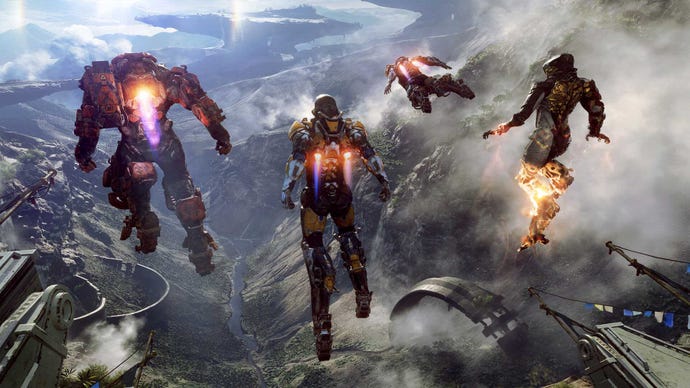 Since the announcement of Anthem, a shared world shooter from RPG developer BioWare, people have been concerned about its story.
Most people know BioWare games as epic single-player RPGs with branching stories, where the player gets to shape the world through their dialogue choices.
When the studio's next game, Anthem, was shown off for the first time, none of that was on display. Instead, we got what looked like a scripted, first-person walk through a market stall, followed by action-heavy, third-person, co-op shooting.
Obviously, this demo didn't show everything Anthem has to offer. That's why BioWare GM Casey Hudson just released a blog post to lay out the studio's vision and creative ethos.
"Videogames are a unique medium," Hudson said. "The only thing that stays the same is that they are constantly evolving. Many of the things we love about games now were not possible a few years ago. And that's one of the hardest things about making games - continuing to innovate and evolve, while staying true to expectations players have from previous experiences."
With that in mind, BioWare has updated its mission statement, which now reads the following:
"We create worlds of adventure, conflict, and companionship that inspire you to become the hero of your story."
This companionship could come in the form of a predefined squadmate in Mass Effect, or it could be another player like it is in the Knights of the old Republic MMO or Anthem. Still, whether you are playing a multiplayer game or single-player, BioWare wants you to be able to shape it.

"In a BioWare game, you should feel like the story is about you," Hudson continues. "You create your own character, you decide what happens next, and you become the hero. I think the reason people are concerned about whether these things are possible in a multiplayer game is because it just hasn't been solved well before.
"With Anthem we're taking this problem head-on and structuring the entire game design to provide a specific solution for this. We'll be sharing details on how it works very soon.
"We think it creates a unique experience where you have control over your own story, but your story is set in an ever-changing multiplayer world. And yes, even though Anthem is meant to bring out the best parts of playing as part of an online community, you can choose to play through the story with only your friends, or even on your own."
We'll find out more about how this works at EA Play, just before E3.