Anthem: Inscriptions explained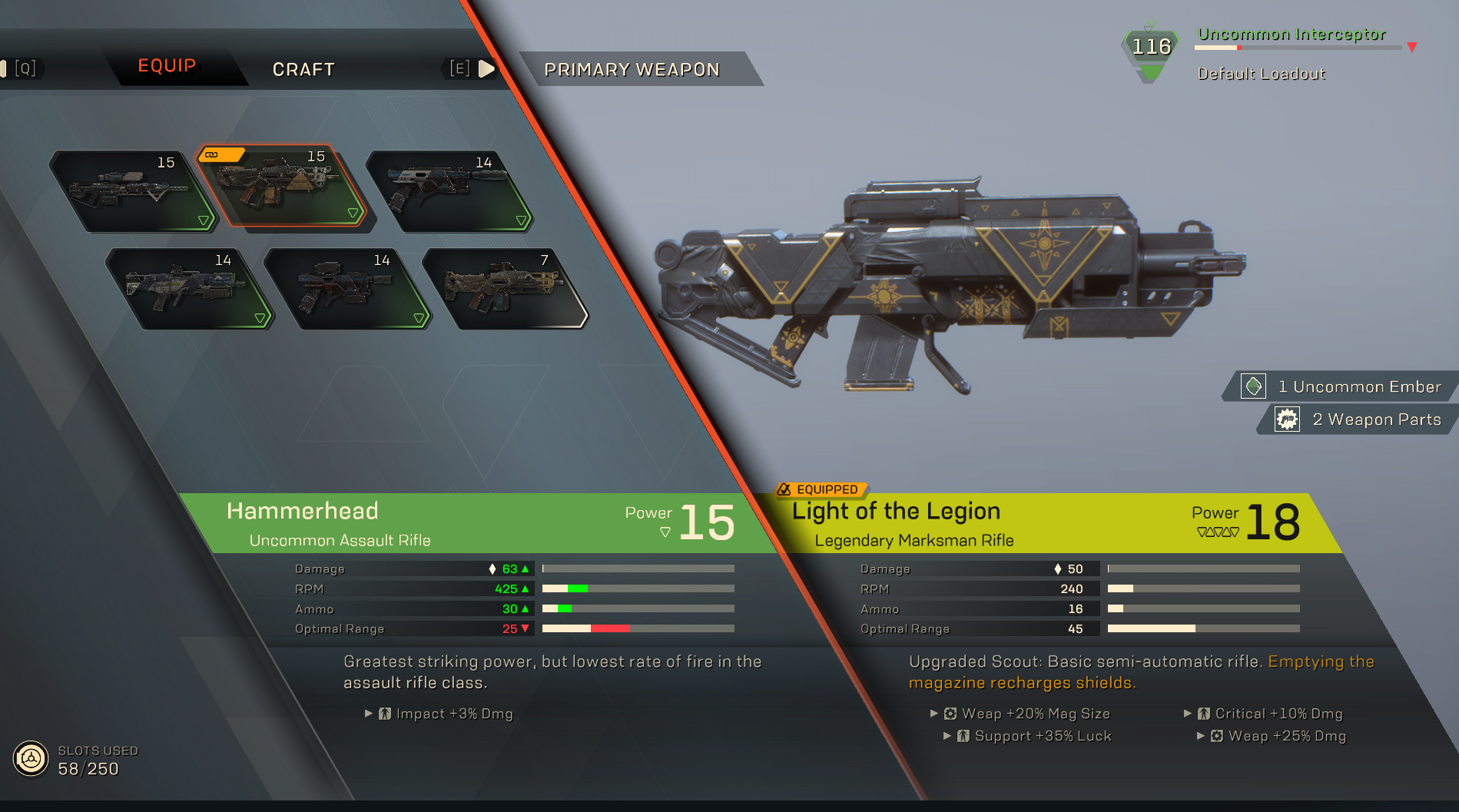 You might have noticed certain weapons and items come with Inscriptions in Anthem, but what do they actually do?
Inscriptions appear at the bottom of weapons and gear and give you bonuses while you're out on Expeditions These bonuses can affect damage, health, armour, elemental damage - you name it, there's probably an Inscription for it.
There are two main damage modes in Anthem: Impact damage and Blast damage. Quite simply, Impact damage is single target damage, and Blast damage is any exploding or Area of Effect damage.
When looking at a component or a weapon, you'll see two icons below the item's description. The Gear icon means that this specific bonus only applies to that particular item. The Javelin icon, as the name suggests, means that the bonus applies to your character.
It's a good idea to have a solid mix of Javelin Inscriptions that apply to your build across the board mixed in with a few item-specific Inscriptions, like a Strike component.
Arekkz has made a video you can check out which explains the different kinds of Inscriptions available - which we've listed down below - if you're looking for more clarity.
Anthem: Inscriptions
Inscriptions are a random roll and a hotfix has been released to combat some of the useless Inscription rolls players were getting. You're more likely to get an inscription that will either be useful to that weapon or Javelin wide.
Base bonuses
Impact: damages a single enemy or target.
Blast: Area of Effect damage or explosive damage that affects multiple enemies or targets.
Melee: boosts your Melee Skills and attack damage.
Guns: Improves either Impact damage or Blast Damage if a Grenade or Rocket Launcher.
Javelin augmentations and bonuses
Ultimate damage: Ultimate Skill damage increased.
Ultimate cooldown speed: Ultimate Skill cooldown reduced.
Melee damage: melee and Skills damage increased.
Combo damage: Combo damage increased.
Combo targets: Detonating Primed enemies chains to additional enemies.
Critical damage: Critical Hit damage increased.
Support speed: Support Skill cooldown reduced.
Elemental damage: Elemental Skills and item damage increased.
Damage: damage increased across the board.
Force: reduces damage required to cause a Stagger Effect.
Effect: increase all status effects applied to enemies/ can Prime enemies quicker.
Element Effect: increase all status effects applied to enemies from the chosen elemental effect.
Pickup Radius: bigger pickup area for dropped items.
Thruster Life: can fly for longer before overheating.
Thruster Speed: jet cooldown time increased.
Overheat Delay: reduces the time it takes to recover from overheating.
Element Resist: reduces damage taken from attacks of named element.
Armour Damage Resist: increased resistance to damage.
Armour Max: increases your green Armour bar.
Shield Max: increase your blue shield bar.
Shield Delay: reduces the time it takes to recover your shield.
Shield Refresh: how quickly your shield recharges once it starts recovering.
Class specific augmentations
Storm Combo: increases the number of Combo chains by two.
Interceptor Aura effect: increases the damage that Interceptor Aura pulses for.
Skill augmentations
Skill damage: Skill damage increase for chosen skill.
Gear damage: overall Skill damage increased.
Skill Speed: chosen Skill cooldown reduced.
Gear Speed: overall Skill cooldown reduced.
Elemental bonuses
Fire: fire damage over time, doing +25% damage against armour and -25% against shields.
Ice: freezes enemies, with +25% damage against shields and -25% against armour.
Thunder: charges before spreading damage to nearby enemies, with +50% damage against shields and -50% against armour.
Acid: reduces resistance, with +50% damage against armour, and-50% against shields.
Weapon augmentations
Weapon damage: increases weapon damage.
Weapon mag size: increases magazine size.
Weapon ammo: bigger ammo reserves.
Weapon fire rate: increased rate of fire.
Weapon reload time: increases reload speed.
Weapon Blast damage: more explosive damage caused.
Weapon type damage: increased damaged for a specific weapon.
Increases Drop Rate Inscriptions
This kind of Inscription increases the rate at which you'll find ammo, Health and Items.
Ammo Drop Rate: more ammo.
Repair Drop Rate: more Health.
Supply Drop Rate: more Items.
Increases Drop Quality
This Inscription increases the quality of dropped items like Health and can give a Harvest bonus when collecting crafting materials
Ammo Pickup Amount: more ammo per drop.
Repair Amount: more Health per drop.
Support Luck: a chance for better Items per drop.
Harvest Bonus: can be earned by collecting crafting materials.
You can find out how to get Masterwork items, where to find Challenges and how to set up Combos in our ultimate Anthem guide.