Anthem story, gameplay, and how multiplayer works detailed by Bioware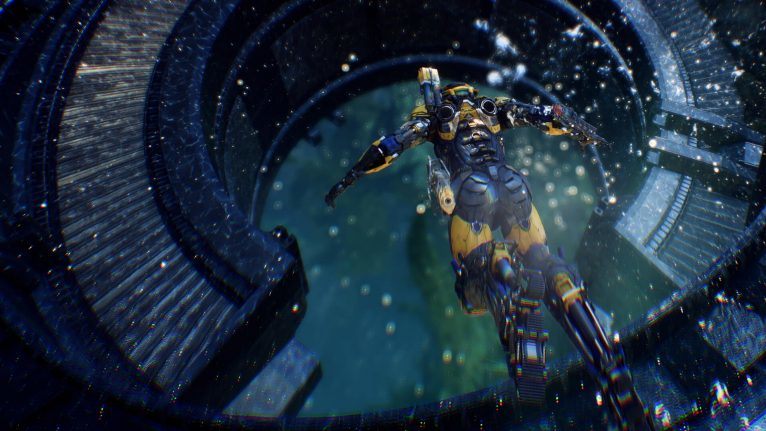 This developer video from Bioware goes into more detail on Anthem's story, gameplay, classes, and how the multiplayer works.
Bioware discussed its new sci-fi RPG Anthem during EA Play 2018 at E3 today, but this developer video goes into mush more detail.
Anthem puts players in a futuristic powers and sends them off to a world so dangerous, these suits must be worn at all times.
These suits, called Javelins, are basically piloted by the player. Different ones can be worn by the player depending on their needs, or the role they choose to play in a group.
Bioware has announced three Javelin suits so far: the Colossus (tank), Ranger (multi-class), and Storm (magic-user). There are others, but the team isn't ready to discuss these just yet. Each of these exosuits can be customized with various weapons, skills, and appearances.
Each has its own specialty, but all can fly and move through the world in its own "exotic way."
The world of Anthem was described by Bioware as one the gods started on, but they left before it was finished. There are these "shaper artifacts" which have created horrible creatures. When out in the game world, players will encounter these machines which turn on and interact with the world. This means the machines will reshape the world, forming mutations and even storms.
Two different factions of inhabitants were discussed, but there are at least four: the Scar, Dominion, Sentinels and Freelancers.
Freelancers are basically trying to hold humanity together to help them survive in such a hostile world. This faction sends the player out into the world as a protector to deal with "acute threats" in a very specific and pointed way.
Each freelancer group has a crew with multiple roles. The player's crew has a Strider Pilot. The Strider is basically a remote base used to resupply, rearm, and "get back into the adventure" when out in the game world.
Bioware isn't ready to discuss the Scar, which have ties to the shapers, but players will find out more through the story. The Dominion serve as the primary antagonist over the core story. This faction "desperately wants something related to the shapers." It's basically a relic important to their survival.
The world is always changing, and one of the things Bioware wanted to maintain with Anthem was a living world with its own lore, inhabitants, and story. While that sounds like a typical Bioware game, this time out, players can go out into the world either solo, or with up to four friends.
Should the player decide to go an expedition with other players, there will be a dedicated server. When Bioware holds a in-game event, all the players across all servers will be able to "see that event." One type event involves Titans. Players will encounter these "Ancient Guardians" out in the game world, and they are destroyed during thee live, world events.
Another world event, Shaper Storms, are on a larger scale. These storms happen dynamically when Freelancers are out expeditions. Players can fly into these spacetime storms and appear on the "other side," where we're pretty sure something formidable awaits.
The map is where players will "do most of the matchmaking" and see what other players in "their social graph" are doing. This will allow players to easily jump into another's experience.
Contracts is another option. When in the middle of a mission, players are able to "broadcast" spaces available in their party. Other players can jump into this mission at any point.
Fort Tarsis is the main hub players will leave when venturing out into the world. Here is where the player can talk to different game characters, form relationships, and more as a solo player. These interactions are not shared with other players, which allows for consistency in player choices or consequences.
If you watch the developer video posted by IGN, the team goes into more detail.
Anthem will release on PC, PS4, and Xbox One February 22. It is available for pre-order from today.