Anthem has fallen to under £10 on console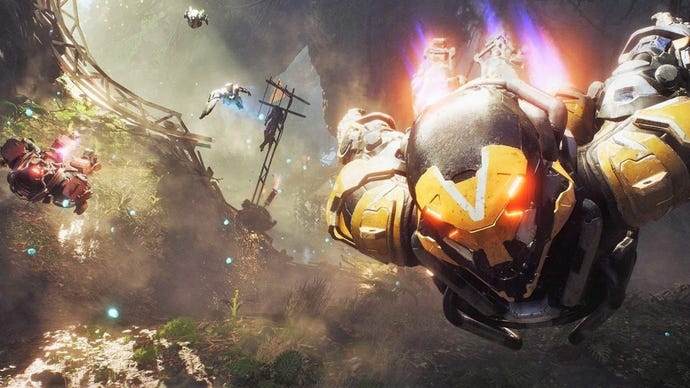 BioWare's long-suffering shooter Anthem is now fallen to under £10 on both PS4 and Xbox One.
There are flashes of brilliance in the Anthem's combat and there's some joy to be found in gliding around the world pretending to be Iron Man for a few hours. Past that, it's mostly disappointment that awaits. The story is massively underwhelming by BioWare standards, while technical issues and a tedious endgame will prevent you from sticking with it for long.
At this price, though, it's not bad to take a punt on it.
The developer recently reactivated elements of the Cataclysm event, which sadly did little to revitalise the evolving side of the shooter. Plus, with the recent news that BioWare is changing the structure of Anthem updates, it's hard to know what to expect for the future of the game. With that in mind, don't expect an ongoing experience like Destiny 2 or The Division 2 if you pick the game up while it's so cheap.
A few other terrific gaming deals available right now, too. Head over to Amazon UK where you'll find Resident Evil 2 for £24.99 on PS4 and Xbox One. There are also some excellent console bundles available as well, including this Xbox One X Gears 5 Limited Edition bundle with The Division 2 and FIFA 20 for £399.99. A similar bundle is available in the US without those bonus games for $499.99.
You can always follow Jelly Deals to ensure you're kept up to date with all the latest gaming and tech offers. Join us right now to find the best price for The Last of Us 2 now that's been given a release date on PS4. There's also our top picks for Xbox One external hard drives and the best PS4 external hard drives.