Animal Crossing New Horizons: how to make a tarantula island and earn thousands of bells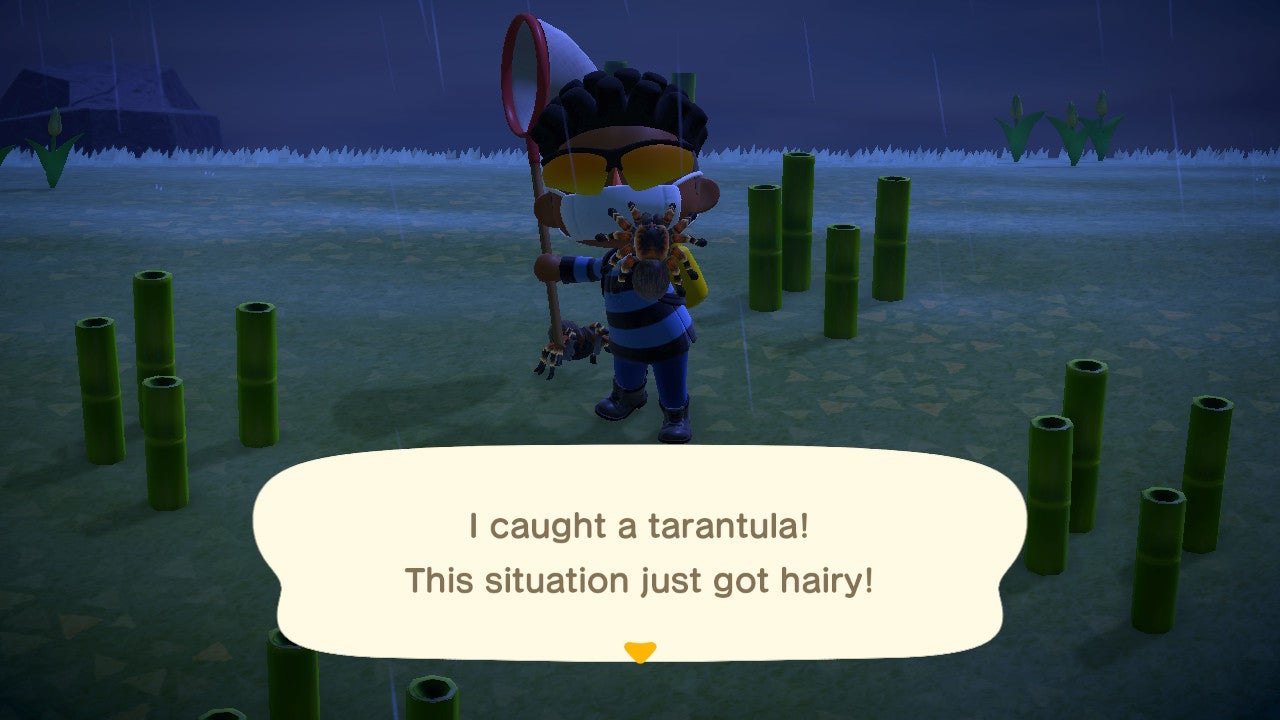 A spider island sounds like an absolute nightmare, but in Animal Crossing New Horizons an island full of tarantulas is actually an incredible path to get rick quick.
Creating an island full of spiders, or more specifically a tarantula island, is rapidly turning out to be one of the most useful ways to make a whole bundle of cash. You see, Tarantula are worth 8000 bells each - so if you can find a way to manipulate New Horizons into spawning a lot of them, you can catch a bunch and then sell them back to Timmy and Tommy in the Nook's Cranny shop for a massive profit of 200,000 bells or more.
The bad news is that spiders are a rare spawn, but the good news is that there's totally a way to manipulate this in-game. Right now this works - though given it's a bit of an exploit, it might end up getting patched by Nintendo. Then again, it also might not - exploits like this tarantula island manipulation to make money have been so common in Animal Crossing it's practically a series tradition.
How to create a Tarantula Island in Animal Crossing New Horizons for spider catching
As you'll likely already know, a great way to get extra resources such as Iron Nuggets and Gold Nuggets in New Horizons is to spend a Nook Miles Ticket to travel to a randomly-generated island. This takes you to a new island temporarily that you can strip of resources before flying home, like a monster. Which type of island you get is random - it might be one with rare pools of fish, one with bamboo to export, or one with non-native fruit. Sometimes you can find new villagers on these islands, too. And then there's tarantula island.
Tarantula Island is a naturally-occurring type of island you can randomly visit off the back of a Nook Miles Ticket. It's a generally flat island, and tarantulas spawn often there. There's not an enormous amount of other resources there. However, the chance to visit it is very low. But - and this is the key - you can manipulate any island to turn it into a tarantula island if you're careful.
Here's what you need to do in order to create your very own spider island in New Horizons, as initially pointed out by Zach Soares on twitter:
Buy a Nook Miles Ticket and use it to fly out to an island at night time - in Animal Crossing terms, that's after 7pm. Spiders don't appear in the day.
Take a bare minimum of tools; one axe, shovel, net, plus a vaulting pole and a ladder should do it.
Spiders only spawn on flat, plain land. We also want to minimize the chance of any other type of bug spawning, so there's less competition for the spiders. So, clear the island:

Chop down all trees with a sharp axe and use your shovel to remove the tree stumps (this stops non-spider bugs from spawning in these places)
Remove all rocks. To do this, eat a fruit for each rock you need to remove then hit it with an axe or shovel - the rock will explode completely
Pick all the flowers (you don't have to uproot them, just pick their flowers) and remove all weeds

At this point, you've minimized the chances of non-spider bugs spawning. If any bugs spawn, simply chase them off.
Spiders will only appear off-screen - so walk around the island and they'll spawn. Continue to chase off any non-spider bugs.
Once you've done the above, you can dump any resources picked up on the island on the beach. Spiders don't spawn down there. You should dump your resources to make more room for tarantulas that you catch, and I'd even recommend leaving behind your axe, shovel and other tools if they haven't broken - you want to take home as many as you can!
Keep in mind that this process might take you an hour or more; the spider spawn rate is still low, but you can maximize it if you take your time. I was able to do two runs in two hours for a total profit of around 400,000 bells - take that, house loan! Look:
One more important note-- Don't put your tarantula bounty into the Nook's Cranny drop box if the store is closed by the time you get back; the drop box takes a small percentage of the sale as an administration fee, so you're better off storing the creepy crawlies in your house and selling them in the morning.
And that is that. If you need more ways to make bells fast, check out our guide to earning lots of money quickly in Animal Crossing New Horizons