Animal Crossing New Horizons Ladder: how to climb up ledges by crafting a ladder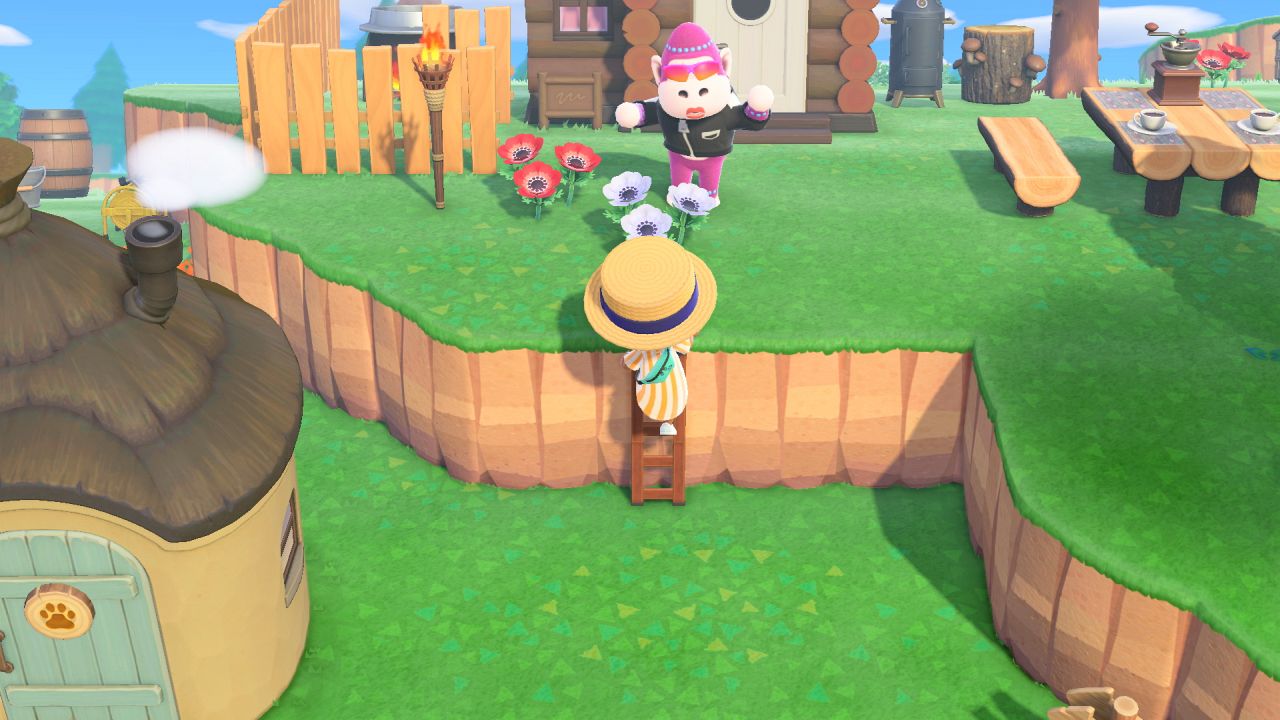 When you first arrive on your deserted island getaway in Animal Crossing: New Horizons, there'll be areas of the island you simply can't access. You'll need various items, including a ladder, to explore it all.
The higher levels of your island will be something of a tease when you first see them. There they are, with trees, fruit, rarer flowers and plenty of weeds to pull up - frustratingly out of your reach. The game forces the vaulting pole which lets you cross rivers into your hands pretty early - within the first hour or two - but the ladder, the item needed to mount the ledges to the higher levels of your island, remains out of reach for longer. That's why we're here - to explain how you can get it a little faster to fully explore, if you need to.
The ladder is an item you can craft, but in Animal Crossing: New Horizons you can't just build crafting items from imagination. You have to unlock the recipe, and Tom Nook is holding the ladder recipe back from you. Grr. Here's how to make him cough it up.
How to get the ladder to climb ledges and explore the upper levels of your island
As we mentioned in our New Horizons review and elsewhere in places like our guide to making lots of money fast and expanding your inventory space, this entry in the Animal Crossing series has a more structured nature early on. It slowly introduces and layers in the traditional elements of the series over time, and part of that is limiting your movement around the island early on.
The Vaulting Pole that lets you cross rivers comes nice and early - so early that players probably won't wonder where it is and how to cross rivers - but there really is a wait for the ladder, which lets you climb up the ledges on your island to reach the upper levels. Here's the point at the game you need to reach to unlock the ladder...
Simply put, you'll need to grow your island to progress to the ladder. That means you'll need to progress past a tent to a brick-built home by paying off your tent with Nook Miles and then taking out a cash loan to have a house built. As you progress you'll also likely build your first shop. Then you'll need to invite some new villagers to live on your island beyond the initial two that you first arrive with.
There's two ways to do this. You can wait for the camp site, at which point new arrivals crop up at random or can be summoned through using compatible amiibo. But the faster way to do this is to use 2000 Miles at the Nook ATM to buy a ticket to fly to a random island. This little excursion is usually used for resource gathering, but you can also meet other Animals there and coax them to come back to live on your island. You might need to do this more than once.
When there's a queue of people waiting to live on the island, businessman Tom Nook sniffs opportunity and gets excited - but you need homes for these people. At this point he'll offer you a bridge construction kit crafting recipe - this uses 4 log stakes, which are crafted from wood, plus some clay and stone. The bridge construction kit allows you to surpass the river gap without the vaulting pole.
Once the bridge is in place, Tom Nook will then ask you to use the new space across the river to place three new housing plots. Do that, and then return to Nook. He now asks you to use your DIY and crafting skills to build some basic furniture for each of the new homes - six items each. Some of the items you'll need to craft require items you won't have, however... items that are found up those ledges, on the upper level of the island.
Tom Nook will realize this and give you a phone call. He'll then text the crafting instructions for the Ladder right to your phone. Crafting it only requires four softwood and four hardwood - easy enough to get. You can now clamber up ledges! Noice. Later, you can have Tom Nook build stairs and inclines up these ledges, removing the need for the ladder in the same way the bridges do the vaulting pole.