Revenge of the Sith scene recreated in Animal Crossing: New Horizons is pretty solid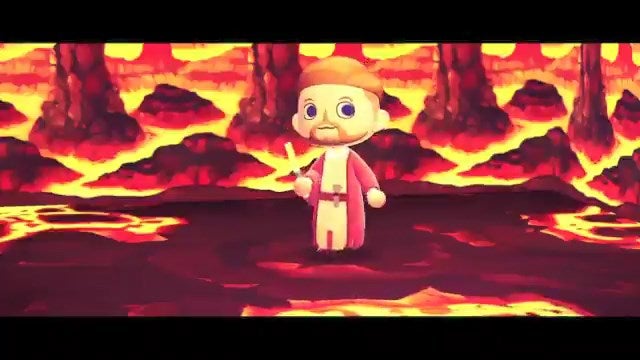 It was only a matter of time before a Star Wars thing got recreated in Animal Crossing: New Horizons.
Animal Crossing: New Horizons players love to recreate scenes and moments from the wider pop culture in their game.
New Horizons offers just enough tools and props that you can convincingly recapture the magic of early 2000s music videos, or recreate the entire Sinnoh map from Pokemon Diamond & Pearl.
Sumo Digital's David Dino was excited to get the the magma floor and wall, so he decided to recreate the iconic high ground scene from Revenge of the Sith. As a bonus, he used the K.K. Slider Cover of Duel of the Fates by Rybean1.
It's pretty short, but fun nonetheless. Now, someone please add the dialogue from the film.
Apologies for the high effort/low quality, but I had to remake the "high ground" scene from Revenge of the Sith when I got the magma floor/wall... xD #AnimalCrossingNewHorizons #anch #nintendoswitch #StarWars pic.twitter.com/1egVYxNtbt

— David Dino ?? (@gevurah22) May 29, 2020
If you're still deep in a New Horizons hole, we just released a full guide on the Wedding Season and how to get Heart Crystals. As always, our ever-popular Turnip prices, fish prices and how to spot fake art guides remain as helpful as ever.