Animal Crossing New Horizons: how to get pop the floating balloon presents to get a gift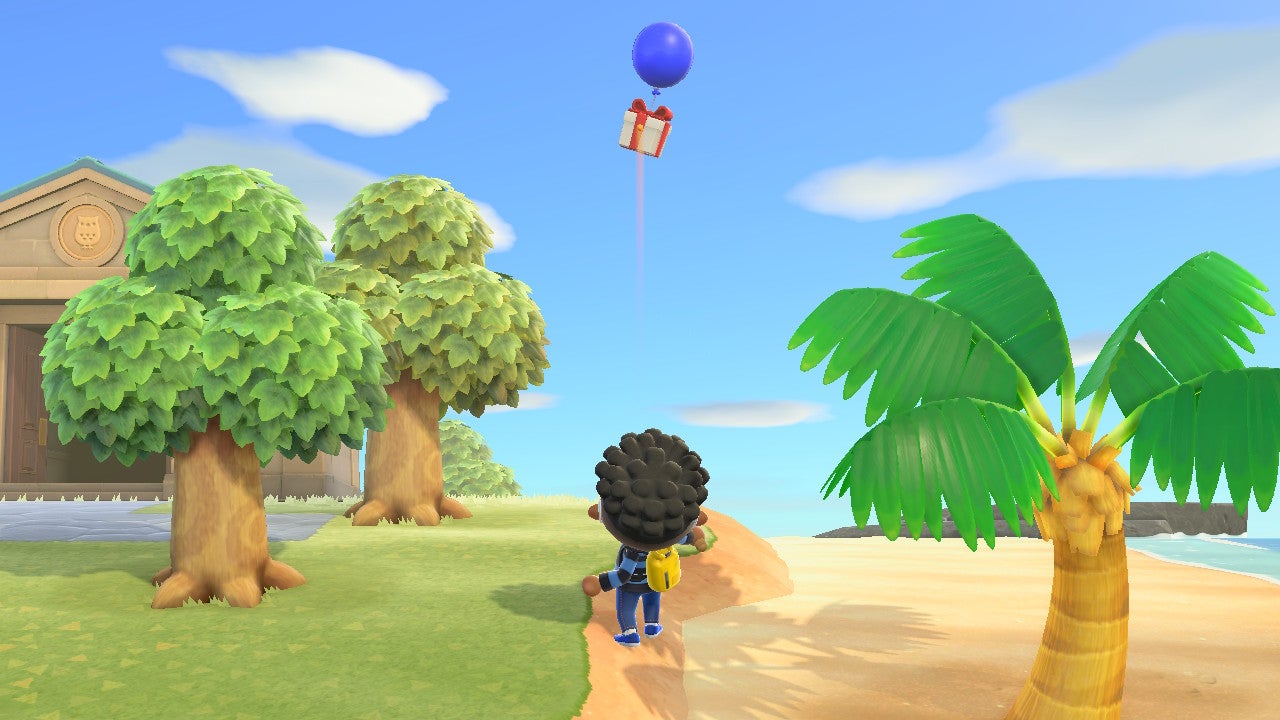 You might have moved to a deserted island, but one thing hasn't changed in Animal Crossing New Horizons: some weirdo is still using balloons to create floating balloon presents.
What the mysterious balloon benefactor gets out of this has always been unclear. Perhaps they're a god of floating presents. Perhaps they're just a bit strange and get a kick out of it. But every now and then on your island, you might notice a shadow of a present, or see one in the sky. You might even hear the telltale noise of the wind whipping around something. Look up to the sky and-- is it a bird? Is it a plane? No! It's a Digital Alarm Clock. Okay then.
How to get the floating balloon presents in Animal Crossing New Horizons using a Slingshot
Animal Crossing veterans will know all about how to get these presents down, but newcomers will find a clue in the fact that it's floating on a balloon. Balloons are fragile, and so you simply have to hit it with some ordinance to bring the present down to earth.
Once it lands, you can pick it up, unwrap it, and enjoy what's inside. That is most often furniture, but balloon presents can also be cold, hard cash, too, ideal for paying off your loan to Tom Nook. Unwanted presents can, of course, be sold to the Nook's Cranny shop once it opens or gifted to fellow island dwellers to up your relationship with them.
In order to shoot the balloons and get the floating presents you'll need a Slingshot. The slingshot first appears for sale when Nook's Cranny opens, so if you haven't got the shop yet you'll need to progress the island and build that shop. Once it opens, Timmy and Tommy will be selling both already-created Slingshots for 900 Bells and the recipe to create them for a little more.
Longer-term, it's worth getting the recipe - it'll save you money, as crafting a slingshot only uses up 5 hard wood - it doesn't require any iron nuggets or anything like that. Slingshots have limited durability, so like other key tools they will eventually break.
Anyway, once you've got the Slingshot, simply equip it when a floating balloon present is nearby, position yourself underneath the present and fire. Ammo is unlimited (other than the slingshot durability), so you can take your time to line up a shot. Keep in mind a present will drop where it is - so if you shoot it down over a river or sea, it'll drop into the drink and be lost forever - though there is a one-off Nook Miles reward for doing that.
There's also an upgraded gold slingshot with increased durability, but we're not sure how to unlock those - but if they're anything like the other gold nugget tools, it'll unlock after you shoot down 100 balloons or something like that.
For more help with every aspect of your deserted island lifestyle, check out our full Animal Crossing New Horizons guide, which covers everything from beginner stuff like this to in-depth, late-game mechanics.