Animal Crossing New Horizons Dream Address Codes: How to visit Dream Islands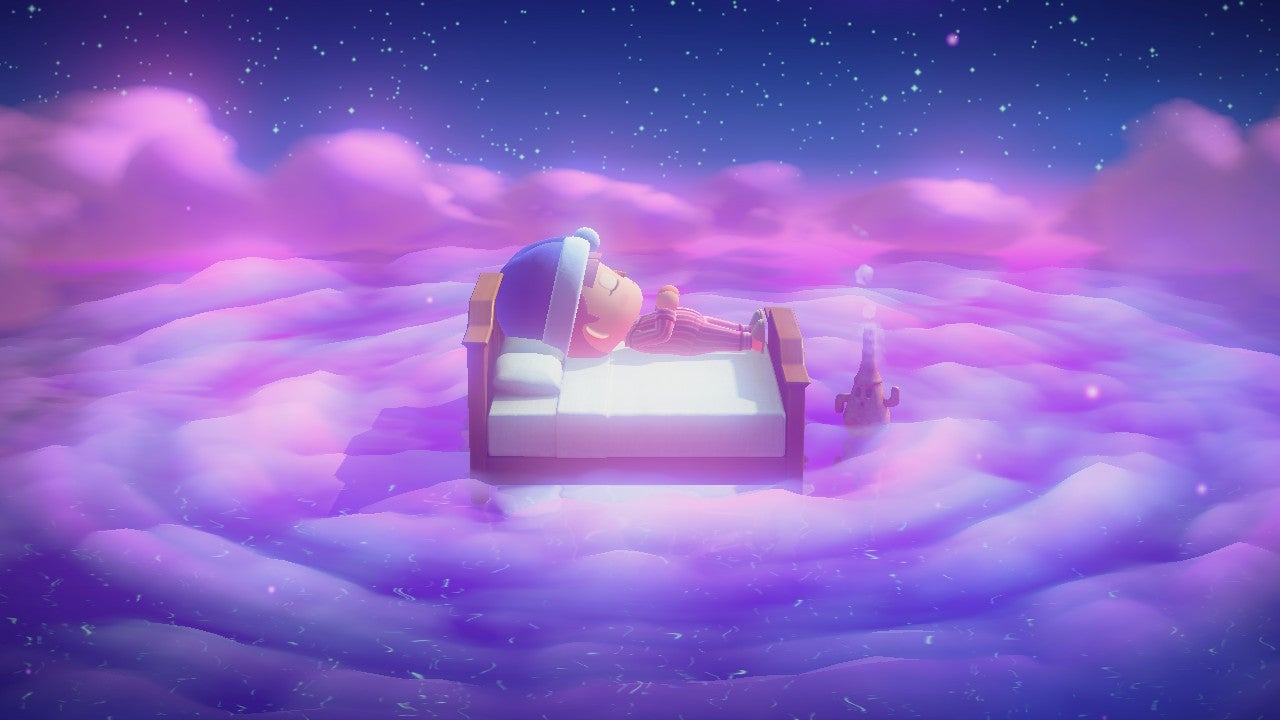 Do villagers dream of sleepy tapirs?
The first year of Animal Crossing: New Horizons is rapidly approaching its end, as the game will mark the first anniversary of its release on March 20th.
But thanks to a dedicated player base, whose love of the game has encouraged Nintendo to announce a second year of regular content updates, there are plenty of new things to see and do within the community — including plenty of cool and interesting Dream Islands to visit.
In the far-off days of last summer, Animal Crossing: New Horizons welcomed back another of the series' returning characters - Luna - an elegant tapir who has the hypnotic ability to astrally project players to Dream Islands from the comfort of their own bed.
Dreaming offers a number of benefits over ACNH's traditional multiplayer: it allows you to check out the island fantasies of other players without the frequent nightmare of lost connections and wonky internet; and unlike traditional travellers, dreamers can't actually make changes to the islands they're visiting, so it's a potentially much safer way to invite strangers to check out your island.
This vision of far-off islands is granted through the magic of Dream Address Codes, which let you visit new places without the other player having to be there all of the time.
Keep reading for the basics of how Dream Addresses work, where you can access your own Dream Code, where you can get other people's Dream Address Codes, and our pick of the Best Dream Addresses you can visit in ACNH right now.
ACNH: How to visit Dream Islands
Luna the Tapir first appeared in Animal Crossing New Leaf, where she had a whole shop related to dream-time hallucinations of visiting your friends' islands.
The process of visiting Dream Islands has been simplified for New Horizons, so all you need is a soft bed in your home and the Dream Address Code of the island you would like to visit.
This can be any bed you have. There are no special requirements, other than that you will need a Nintendo Online subscription to join in.
When you lie down on the bed, you'll be given the option to either get some sleep or just lie down.
Choose to go to sleep and you'll be transported to Luna's dream realm.
From here, say "I want to dream". You'll then be prompted to enter the Dream Address Code of the island you want to visit. Input the code and you'll be whisked off to the dream version of that person's island.
As of the November 2020 update, you can also request that Luna "Surprise me" with a visit to a random Dream Island instead.
It's just like if you'd flown to an island normally, but with a few notable exceptions:
You can't go to sleep with a wand outfit on, so properly change into the outfit you want to wear on your journey
You can't take anything with you to the Dream Island, or bring anything back
The only "souvenir" you will be able to collect is any design on display in that island's Custom Designs Portal (if they've made any)
ACNH: How to share your Dream Address Code
Sharing your own Dream Address Code is easy.
All you need to do is sleep in a bed to visit Luna, then pick the second dialogue option to share your Dream Island.
This will upload the current version of your island to the internet and generate the Dream Address Code that you can give to friends and family in person, via in-game message, or through any other messaging app.
If you make changes to your island and want them to be reflected in your Dream Island, you have to visit Luna again and upload those changes to the internet. You can do this once per day.
By uploading your island you agree to share some of your island's data publicly. This data includes your in-game name, your passport info, the look of your entire island, rooms in homes, your custom designs, any bulletin-board posts, and "more".
Dream Bell Exchange Tickets
Uploading your Dream Island to the internet pockets you a Dream Bell Exchange Ticket, which has no other use than to sell to Timmy and Tommy for some Bells.
Where to find ACNH Dream Address Codes
You can find Dream Address Codes anywhere that you'd find QR and Able Sisters custom design codes.
This can be in YouTube Videos, by running a Twitter search, or by looking in designated Reddit threads (all linked in the previous sentence).
There's also the brilliant fan-site ACNHTour (linked), which lists more than a thousand top-tier islands lovingly built by dedicated players. On their homepage click "Islands", and you'll be able to view the full list of submitted creations. Many of the more recent additions also list the creator's Dream Address, so you can visit the island yourself.
Best Dream Islands you can visit right now
By now there are countless Dream Islands available to visit in ACNH, and with the introduction of the "Surprise me" feature that allows Luna to pick a random Dream Address for you to visit, it can be very fun just to send your character to sleep and see where they end up.
However, if you're looking for a little inspiration to get you started, here are a few of our favourite Dream Islands.
Disneyland a.k.a. "Cookie Resort" (DA-5064-2996-8566)
An Editor's Choice over on ACNHTour.com, the island of Cookie by user Ron Sao has been fully transformed into a loving recreation of Disneyland.
With trips to theme parks a distant memory for most of us at the start of 2021, it's a wonderful bit of escapism indeed to wander the park. The island of Cookie features ACNH-ified versions of nearly forty Disneyland locations, ranging from the iconic (like Main Street USA, Space Mountain, and the Haunted Mansion) to contemporary favourites (including Elsa's Castle from Frozen and the Pixar Pier).
The latest update to the Dream Address includes an overhaul for the festive season, so if you missed out on some of that enchanted Christmas magic this winter, it's sure to go some way towards scratching that itch.
Pro travelling tip: keep the ACNH Tour page open while you visit, as Ron Sao's detailed map of Cookie's various sectors comes in very handy — unless you want to relive a childhood trauma of getting very lost in Disneyland.
Grandma Audie's island (DA-3280-5622-8262)
Audrey Buchanan became a viral sensation in early 2019, when the then-87-year-old's grandson revealed on Twitter that she'd clocked up an impressive 3,500 hours on Animal Crossing: New Leaf.
"Grandma Audie" was a hit with Animal Crossing fans and even, it seems, within Nintendo itself — if their decision to name one of the eight new villagers in New Horizons "Audie" is anything to go by.
Now you can use the Dream Address above to visit Audie's ACNH island, where she's averaged three hours' playtime a day since the game launched.
You can also check out this incredibly wholesome video of Audie giving her grandson Paul a guided tour of Wells Island:
Twin Peaks (DA-7730-7085-1178)
When ACNH was released, a lot of players reported naming their island paradise after a favourite location from fiction — popular names included Derry (from the recent It movies), Arcadia Bay (the setting of the first two Life is Strange games), and many others in a similar vein.
Initially, ACNHTour user pnthr just wanted to pay a small homage to a beloved TV series with the name of their island. But after realising how many items in the game actually leant themselves neatly to the look and feel of the surreal crime drama, they decided to take things a step further.
Now you can wander to your heart's content around an island that's chock full of references big and small to the original 1990s series, the prequel movie, and the 2010s revival of the cult classic show.
Ellegarden (DA-1270-8867-4174)
For a lot of us, playing ACNH has been the closest thing we've had to a foreign holiday in over a year. ACNHTour user kyri, creator of Ellegarden, has taken this to its logical conclusion.
They've repurposed their previously cottagecore themed island as a European Grand Tour in miniature, with sections inspired by Paris, Venice, Mykonos, and more. In the spirit of the winter season, there's even a traditional Bavarian Christmas market on there at the moment.
New Hyrule (DA-9114-1462-2579)
It's not the first time these two Nintendo franchises have met — there have actually been a small number of official crossovers in previous Animal Crossing games — and in fact, you even have your choice of Legend of Zelda themed ACNH islands to visit in Dreams.
But for my money, Twitter user @DaegaH has created an island that really captures the feel of the Zelda games. Rather than aiming to faithfully recreate any single game from the franchise, New Hyrule is an impressive Dream Island in that it has both a trailer and an actual story, with secrets and Easter Eggs you can uncover over the course of your visit.
Good Place (DA-3717-6450-2072)
Believe it or not, it's already been a year since we said goodbye to the acclaimed fantasy sitcom The Good Place. Ending on one of the most emotional finales in television history, The Good Place left us feeling satisfied without outstaying its welcome.
If you can't resist one more visit to Neighborhood 12358W, check out the island of Good Place, created by ACNHTour user geekpoppa. A faithful homage to the bright colour palette and wholesome veneer of the TV show's setting, Good Place makes great use of what ACNH has to offer even if you're not familiar with the source material. Plus, visiting it in a Dream feels especially appropriate.
Youtuber and community creator dream codes
On top of those, many notable community members, creators and YouTubers have already shared their codes, and I've done a quick trawl to list them in the table below.
Follow the links to view their respective profiles and channels:
For more on Animal Crossing New Horizons, check out our list of guides, here.
Here we have a full list of ACNH's fish prices, along with when and where to find them.
While we also have the prices and locations of every bug in Animal Crossing New Horizons, here.